An Educational Framework Emphasizing High Achievement Through Active Learning, Character Development and Teamwork
"I regard it as the foremost task of education to insure the survival of these qualities: an enterprising curiosity, an undefeatable spirit, tenacity in pursuit, readiness for sensible self-denial, and above all, compassion." — Kurt Hahn, Founder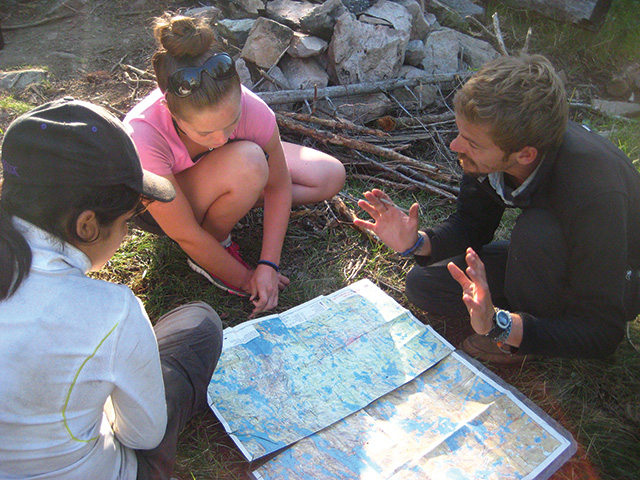 Outward Bound's expeditionary learning approach is an educational framework that emphasizes high achievement through active learning, character development and teamwork – across diverse learning environments.
Outward Bound's approach to teaching and learning is rooted in the classroom. It is a methodology that places equal emphasis on development of the character and the intellect. Outward Bound expeditionary learning can occur nearly anywhere, with nearly anyone: in the classroom; on a grueling mountain ascent; in the post-course debrief, or in the days following a return from the wild.
The positive outcomes our students experience — whether they are middle and high school age, college age or adults — can be seen in the consistently high level of enthusiasm upon completion of an expedition. Strangers become life-long friends. Small accomplishments on a course become life-long habits. Through shared challenges, adversity, failure and success, students discover and develop new skills, confidence and passion. 
What sets an Outward Bound expedition apart from any other learning experience is the practice that expedition members are "crew, not passengers." We don't encourage students to contribute to the group; we require it.
After all, on an Outward Bound expedition, awareness of others is not optional; it is necessary for success. This idea that "they are needed," no matter who they are, is a critical ingredient to the success of Outward Bound programs. 
Design Principles
Outward Bound expeditions are designed and delivered according to three core principles:
Learning through Experience
Facilitating engaging, relevant, sequential experiences that promote skill mastery and incorporate reflection and transference.

Learning from success as well as failure.
Challenge and Adventure
Using unfamiliar settings to impel students into mentally, emotionally and physically demanding experiences.

Utilizing and managing appropriate risk.
Supportive Environment
Designing an experience that supports physical and emotional safety.

Developing a caring and positive group culture.

Values
We teach to and work by these values:

Compassion
Demonstrating concern and acting with a spirit of respect and generosity in service to others.
Integrity
Acting with honesty, being accountable for your decisions and actions.
Excellence
Being your best self, pursuing craftsmanship in your actions, and living a healthy and balanced life.
Inclusion and Diversity
Valuing and working to create communities representative of our society that support and respect differences.
Outcomes
These are the outcomes common to all of our programs and what we measure:

Character Development
Demonstrating increased self-confidence and self-actualization.

Demonstrating compassion toward others and living a healthy and balanced life.
Leadership
Demonstrating the ability to set goals, and inspire and guide others to achieve them.

Demonstrating the ability to collaborate, communicate, solve problems and resolve conflicts effectively.
Service
Demonstrating social and environmental responsibility.

Actively engaging in service to others.