Established in 1994, the Wilderness Risk Management Conference (WRMC) provides a venue where educators, leaders, administrators, students and other members of the outdoor industry can learn and share common risk management practices. The WRMC provides a premier networking and professional development forum for today's leaders in the field and a vital opportunity for outdoor professionals to immerse themselves in a culture of risk management, discuss practical solutions to challenging issues and join in a dialogue about an ever-evolving set of risk management practices. Outward Bound partners with NOLS and the Student Conservation Association to produce this event, and we invite all members of the outdoor community, regardless of size or history, to be a part of this incredible opportunity to learn, collaborate, provide a voice and make a difference.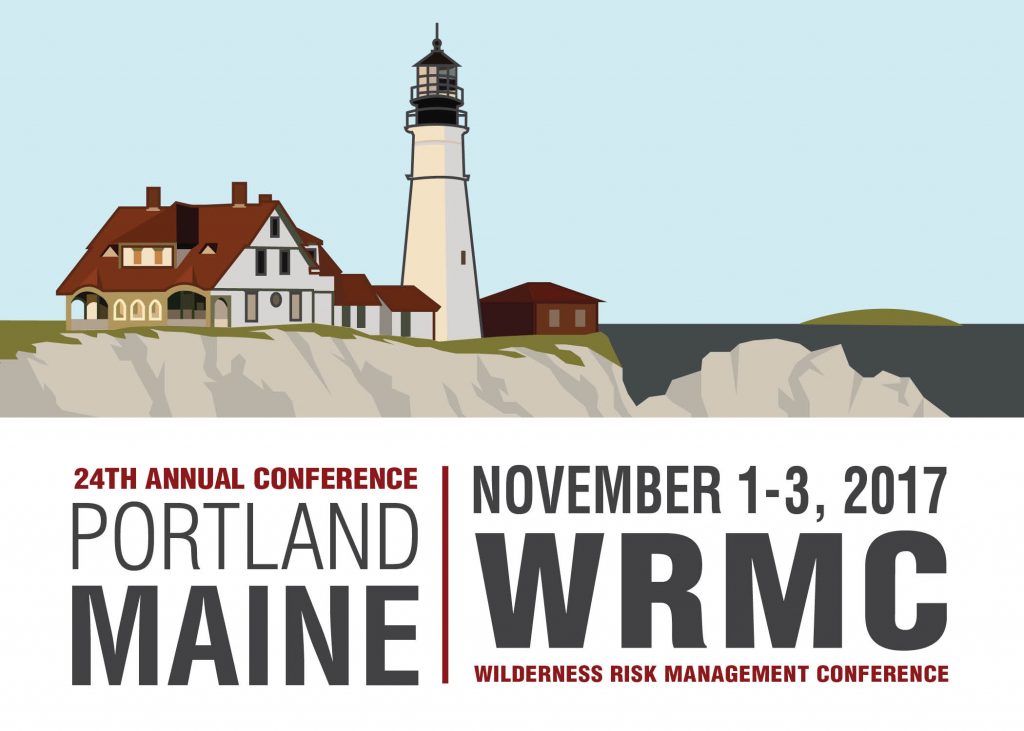 WRMC 2017 is coming to Portland, Maine on November 1-3. If you're not already planning to attend, get registered today and take advantage of early bird registration available until August 18!
This annual event offers an outstanding educational experience, and resources to help mitigate the risks inherent in exploring, working, teaching and recreating in wild places. Check out 10 reasons why you shouldn't miss this year's conference!
1. Hear from a dynamic and engaging Keynote Speaker, Whitney Tome
Whitney Tome will provide the conference keynote address, Emotional Risk: Inclusion and Belonging in the Wilderness Experience. As referenced on the conference website, here is a sneak peek of the keynote speech:
In the conservation movement, we fight for land, wildlife, air and water, both for their intrinsic value and so that all people may safely and responsibly use and enjoy these things. Yet, all people are not engaged in the fight or in the experience of enjoying natural wonders we fight to protect. As the diversity of the American population is increasing, engagement of people of color in our movement is not keeping pace. Over 48.4% of Americans engaged in some outdoor recreation in 2015, yet 74% of those participants were white. If by 2042 more people of color aren't engaged in the love and exploration of nature, we will miss the opportunity to do our best work and to have the impact and reach we desperately need.
While getting participation numbers up is part of the battle and key to our success as a movement, the major hurdles are the readiness of organizations to include people of color and appropriately address the emotional risk that they face in exploring the wilderness. The wilderness is as eye opening an experience for people of color as for anyone else, but they are too often alone in navigating the dominant culture and perception of them as outsiders. This keynote will unpack the complexities of these emotional risks, and how people and organizations can prepare and address them going forward. 
Whitney Tome, Executive Director of Green 2.0, leads a campaign to increase the racial diversity of the mainstream environmental movement. Whitney was the director of diversity and inclusion at the National Parks Conservation Association, and a program manager and mediator at the Meridian Institute. At Environmental Defense Fund, Whitney served as a strategist in dozens of state and federal political campaigns and launched the Fisheries Leadership and Sustainability Forum. Whitney earned a B.A. from Middlebury College and a J.D. from American University's Washington College of Law.
2. Soak in new information at the workshops
Conference workshops offer insightful, expert perspectives on relevant risk management topics, both exciting, new topics and trusted, familiar themes from previous years. Workshops include themes of emergency planning and crisis response, field practices and legal considerations.
Below are just a few presentations and workshops you won't want to miss, many presented by current and past Outward Bounders:
Honing Accident Analysis Skills: Classic Cases in Outdoor Pursuits, Jed Williamson
Through reviewing real accident reports from high school, college, camp, and outdoor programs, those attending will hone skills in how to analyze causes and prepare for possible next steps, which usually include talking to parents/guardians, peers, administrators, and possibly lawyers. Come prepared to participate.
Mental Health First Aid for Youth, Amberleigh Hammond
The course teaches participants the risk factors and warning signs of a variety of mental health challenges common among adolescents, including anxiety, depression, psychosis, eating disorders, AD/HD, disruptive behavior disorders, and substance use disorder. Participants do not learn to diagnose, nor how to provide any therapy or counseling – rather, participants learn to support a youth developing signs and symptoms of a mental illness or in an emotional crisis by applying a core five-step action plan.
How To Feed Alligators: Ten Things You Need to Know About Communicating in a Crisis, Skip King
When the news is bad, it seems like you're in the swamp – and the residents are ill-tempered and hungry. But if we understand what reporters and social media audiences really want to know, we're in a better position to provide it. Further, if we understand how and why they behave the way they do, we can actually gain the upper hand. In this session, you'll gain key understanding of both conventional and social media best practices in crisis situations, and learn how to plan for successful swamp navigation.
Crisis Management: A Preplan in Action, Drew Leemon
Responding to a crisis, such as a participant fatality, presents a complex situation that demands a thoughtful and reasoned response. This workshop will provide attendees with an overview of the five elements of successful crisis management, begin to delve into the complexities of responding to crisis situations through the presenter's personal and professional experience while providing a forum for exchanging ideas and sharing experiences of the audience. Additionally, this workshop will provide a starting point for creating a crisis management plan.
Interagency Incident Response, Search and Rescue Case Studies (SAR), and the National Incident Management System (NIMS), Steve Neal (Moderator);
How does your organization interact with other stakeholders during a critical incident, SAR, or disaster response? This session will explore the importance of developing relationships and a preplan with all potential stakeholders prior to being thrown into the real deal. Federal Agency representatives will share SAR case studies from the coast of Maine and provide an overview of the National Incident Management System (NIMS) and Incident Command System (ICS) – systems used to provide consistent nationwide templates for government, private sector, and other organizations to work together.
Getting Your Board on Board with Safety and Risk Management, Mark Vermeal & Ginger Mihalik 
"My Board says that safety is our number one priority, but they don't have a clue about safety management." Does this sound familiar? The Boards of not-for-profit organizations have a key role in governance and oversight of safety management. Is your Board competently filling this role? This presentation will focus on developing a culture of safety at the Board level, and the skills and tools for them to effectively execute their safety governance and oversight role. We will discuss and provide useful examples of topics like: metrics (such as Incidence data, internal reviews, progress towards annual goals) that a Board can use to evaluate safety performance, and the composition of a Safety or Risk Management Committee.
In addition, poster sessions offer an informal way to browse, learn and ask questions. Poster sessions for this year's conference include topics such as Answering a Rapidly Growing Organization's Top 5 Risk Management Questions, Managing Risk Through Participant Engagement, Working with Independent Contractors and much more.
A full schedule of events can be seen here.
3. Learn new, concise facts through the Short Talk Series
The Short Talk Series is an exciting addition to the conference line-up. This new, informational format is structured to provide information in a series of 18-minute talks. Topics include:
Online Tools for Instructor Training
Understanding Cultural Barriers
Cloud-Based Incident Reporting
Student Applications and Interviews
4. View the pre-conference emergency drill
Join a brand new pre-conference event on Cow Island basecamp on Casco Bay as Rippleffect tests their emergency response plan in a simulated critical incident. Attendees will be active observers to a scenario that will test Rippleffect, the U.S. Coast Guard and other regional agencies' emergency response plans. Participants will be positioned to observe all aspects: field response, coordinated emergency services, administrative response, post incident protocols and an incident/scenario debrief. During the debrief attendees will be invited to share their thoughts on the effectiveness of Rippleffect's response as well as engage in a facilitated discussion on topics relating to the day.
5. Ask questions and get expert opinions
Engage in thoughtful dialogue and have the chance to ask meaningful questions through each workshop. Workshops will include practical risk management examples, tools and tangible strategies to take back to your organization. Participate in the poster sessions and get real-time feedback on your questions and ideas.
6. Network with industry experts
The WRMC attracts a wide variety of outdoor professionals, including outdoor program administrators, land managers, instructors, recreation degree students, lawyers and insurance representatives. Nearly everyone you meet at the WRMC will offer unique and practical insights into the risk management culture – and serve as valuable future contacts. Gain practical risk management knowledge from leaders in the outdoor industry and strengthen your network of allies. Through structured networking, you can join your peers for some engaging and informal conversations and hear how like organizations manage similar challenges. Conference organizers will facilitate the formation of small discussion groups.
The conference also happens to be a lot of fun, especially for individuals who attend each year. The WRMC serves as a central meeting place to catch up, swap stories and reconnect. Opportunities to connect through social hours and networking sessions are intentionally planned throughout the conference.
7. Information, information, information
The WRMC is all about the education sessions. You will leave the conference armed with a ton of information, ideas and tools. The true value of attending the WRMC is in the resulting action you take upon returning to your organization. Workshop proceedings and action steps are available on the conference website.
Check out these immensely valuable resources on emergency planning and crisis response, field practices, legal considerations, program administration and staff training and decisions making here.
8. Practice your conflict communication skills
Test your conflict communication skills in the interactive Parent Phone Call Practice Lab. Spend three hours preparing for and practicing challenging phone call scenarios and hone your skills by serving as both caller and coach. After each call, the "parent," an experienced program administrator, will offer feedback to help you develop your skills. You will review successes and persistent challenges, and you will leave with strategies for applying lessons learned in your own program.
9. Get into the flow
Get your mind right for networking and a day of soaking up vital information by participating in yoga! Awaken your mind, body and spirit with Yoga for Outdoor People, a multi-level Vinyasa Flow yoga class. Bring a yoga mat (or towel) and wear comfortable clothing. The class is suitable for any skill level, and takes place Thursday and Friday morning before conference activities start.
10. Learn from the best
Be in the room with the best in the industry as the Charles (Reb) Gregg Wilderness Risk Management Award is announced. The award recognizes an individual who has made significant contributions in risk management to the outdoor education and adventure professions. "Reb has truly been the pioneer in the practice of law as it relates to outdoor education and recreation,' said John Gans, the Executive Director of NOLS. 'His leadership and uncanny ability to balance legal necessities and ethical obligation have made him the role model for the industry. The Charles (Reb) Gregg Award is an appropriate way of honoring Reb's professional legacy."
Don't miss out on this incredible opportunity to connect with other risk management leaders. Get registered today and take advantage of early bird registration available until August 18!