Backpacking Adventure - Reach Beyond Your Limits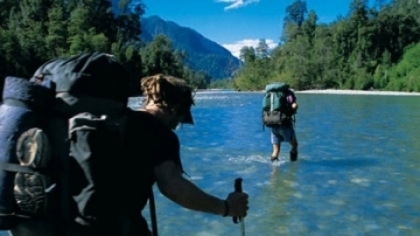 An Outward Bound backpacking trip will enhance your endurance as an individual and enrich your ability to work as a member of a team, as you and your group tackle miles of wilderness terrain every day. Challenge your mind to interpret topographical maps and translate them into the landscape before you. Your body will become comfortable carrying and living out  of your pack.
Backpacking takes you to some of the most remote, beautiful places in the American wilderness (and beyond) - where you can have lunch on a rock outcrop on the Northern Appalachian Trail in Maine, pause to gaze up at the waterfalls of Pisgah National Forest in North Carolina or take in the view from 12,000 feet atop a summit in the Rocky Mountains in Colorado.
Your backpacking expedition will teach you about challenge and accomplishment.  You learn that by choosing your path, instead of letting it choose you, you can go further than you ever imagined you could.  Discover your true abilities and potential - and gain a genuine sense of accomplishment. 
Please click here to sign up for our email newsletter, or use our Course Finder to search for backpacking & hiking camps in your area.