Desert Backpacking Training - Learn the Lessons of the Desert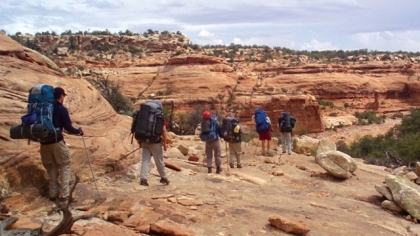 Despite their barren reputation deserts are very much alive with ancient flora and fauna.  It is a place of secret shade and ingenuity, both of which you will rely on, as you seek protection from heat and learn to live in this rugged environment.
By day as you journey through the desert you will scramble through boulder-filled canyons, rock climb, rappel down the rim of a canyon, and traverse the open, high desert. By night set up camp and cook and sleep under the diamond-studded night sky.
Many of our desert backpacking expedition alumni tell us how the magical beauty of the desert landscape made their courses so memorable. More importantly, they also talk about what they learned when thriving in an environment where it seems incredibly hard to do so. The desert has a toughness to it. All the plants and animals that make their home there do as well. You have to find that toughness in you to thrive in the desert for your course. It is a discovery that will be with you long after you leave Outward Bound. It is a lesson you will carry with you for the rest of your life.
If you are interested in backpacking camps, backpacking classes or backpacking training, an Outward Bound desert expedition is a great option. Please take a look at courses available now.