Dog Sledding - Mushing Is Not A Passenger Sport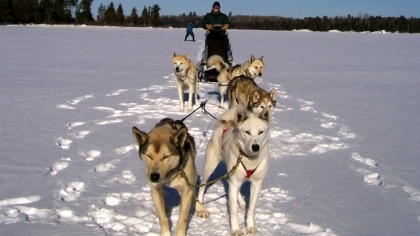 As a musher, you work almost as hard as the dogs, helping to steer a sled loaded with the group's food, tent, and stove or skiing ahead of the sled to break trail. In a frozen winterscape, you learn to travel in extreme weather, to care and manage your dog team, and to read the ice of frozen lakes. And deep in the backcountry, you learn a strength of character that will transform a harsh, unfamiliar environment into your personal winter playground. It's one of the rewards for the few who choose to accept the challenge.
Winter camping does not have to mean being cold. Your instructors teach you what you need to know about staying warm. At night, create a camp for you and the dogs while learning winter camping skills.  Count on amazing yourself with how warm you can be despite how cold it may be. You'll also be amazed at how you realize you are tougher than you thought you were, how you build trust and teamwork with your crewmates and the dogs so quickly, and how much the quiet beauty of the winter landscape can help you think about where you are at in your "real life"and what you'd like to do with your new strength when you get back.
Please click here to sign up for our email newsletter, or use our Course Finder to search for dog sledding trips now available.