Mountaineering - Reach for the Summit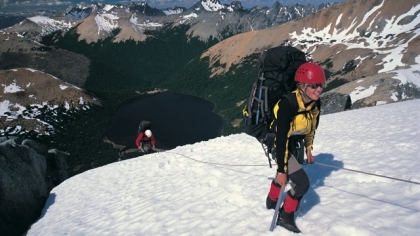 Come climb snow-capped peaks. Practice mountain rescue techniques. Cross glaciers and crevasses. Surround yourself with the world's most incredible mountain environments. Outward Bound mountaineering courses teach the skills necessary to summit, provide an opportunity for the adventure of a lifetime, and put you face to face with pure challenge.
Mountaineering courses work toward peak ascents, usually requiring the use of ropes and an ice axe. These courses are exciting, challenging, and achieve higher altitude than backpacking expeditions. There is a strong possibility that there will be snow even on the early summer courses.
Our instructors will teach you the technical skills you need to know to accept this amazing challenge with confidence.  You will tackle terrain most people only stare at from afar.  And when you summit - you are on top of the world. You made it because you reached for it.  In the end you'll realize this strength is always there, even after Outward Bound; And you can draw on these experiences for the rest of your life to help you "summit" all the other challenges that will come your way.
Please click here to sign up for our email newsletter, or use our Course Finder to search for mountaineering trips now available.