Snowboarding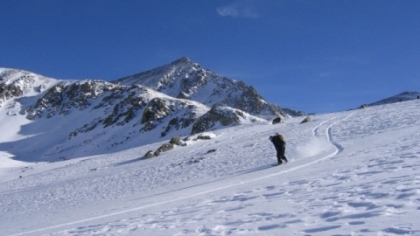 Riding pristine backcountry slopes in the backyard of Outward Bound's Colorado basecamp, students experience what it means to truly choose the path less traveled – going deep into the Rocky Mountains with their board and their entire world strapped to their backs.
Tailored to boarders who want to take their skills to the next level, these courses offer a once-in-a-lifetime experience. Outward Bound places boarders in the heart of adventure, challenge and self-discovery. Students realize their own true potential more than they ever believed possible while making friends and building relationships to last a lifetime.
Camping and traveling in pristine alpine terrain in demanding and often extreme conditions, snowboarders are outfitted with split-boards, which are snowboards that efficiently and cleverly can be 'split' in half to create cross-country skis for skinning up peaks and across snowy terrain.
What Will Students Learn?
How to safely travel in the winter backcountry
Avalanche awareness and hazard evaluation
Winter navigation, terrain management and cold weather physiology
Decision-making techniques
First-aid, winter camping equipment selection and care
How to set up camp in extreme winter conditions
Advanced boarding techniques, focusing on backcountry turns in variable, ungroomed snow conditions
How to use essential equipment needed for traveling in avalanche terrain
Respect and care for the environment and Leave No Trace principles
Please click here to sign up for our email newsletter, or use our Course Finder to search for course options now.