Participants will discover what it's like to live, work and play in the great outdoors of Western North Carolina on this classic, multi-activity leadership course. This journey will take students deep into some of the oldest mountains in the world, over rocky mountain faces and through racing rivers.
Although it seems like a long time, this course is actually the most optimal for getting the true Outward Bound experience. In the Pisgah and Nantahala National Forests students will work together to make their way through lush forests, cook their own meals and set-up camp in the backcountry, navigate rivers by canoe, build trust belaying one another and learn Leave No Trace techniques to minimize their impact on the land. After long days of challenge and adventure, students will be rewarded with skills that will last a lifetime.
During this course students will spend most of their time backpacking over varied terrain but there will be ample breaks and time to enjoy beautiful blue mountain vistas and the company of the crew. There will also be a few days spent climbing up rock faces and paddling down refreshing whitewater by canoe to break-up the expedition days.
Longer courses also allow enough time to conduct a service project. Whether maintaining trails, partnering with nonprofits or helping at local farms and gardens, stewardship has long been a part of the mission and values of an Outward Bound program. These projects help students discover the true meaning of giving back to their community, the value of compassion and their ability to lead. On 28-day courses, students will also have the opportunity to earn a Wilderness First Aid and CPR certification on this course through a nationally accredited organization.
Classic Courses
Outward Bound Classic expeditions traverse some of the wildest, most rugged, awe-inspiring landscapes in the world. Our students work for every technicolor sunset; every super-fresh morning; every breathtaking vista. And when they arrive at their destination, and pause to take it all in, they know, without a doubt, that they earned their place there. By the time they finally drift to sleep, our students have put in a full day of moving their bodies, learning, cooperating as a team, puzzling through problems, and digging deep to find what really lies within – always, inevitably, more than they know.
Although each expedition is unique, certain key components are a part of every Outward Bound Classic Expedition. The expedition begins with hands-on, progressive training in a variety of expedition and personal skills. As students learn to cook, sleep, stay warm, navigate and select routes together, crew members not only do their part; they also take turns leading and following. The idea that students are "crew, not passengers" is central to the Outward Bound learning approach. Wilderness living does not encourage students to contribute to the group; it requires it. After all, on an Outward Bound expedition, awareness of others is not optional; it is necessary for success.
Throughout the expedition, students build, practice, and reflect on skills, conduct service projects and also tackle at least one challenge element - rock climbing, a peak ascent or a big whitewater day - that pushes them to find undiscovered strength. During the expedition's final phase, students experience a rare gift and highlight of the course: time to think and reflect on the Solo. With sufficient food, equipment and skills, individuals spend three hours to three days alone at an assigned campsite – with Instructors periodically checking in on them. As the course nears the end, Instructors may gradually transfer leadership responsibilities to the students, culminating with a Final Expedition. During the Final Expedition, students work as a team and utilize the skills they have acquired to solve problems and make group decisions, while Instructors maintain overall risk-management for the group with check-ins and advanced scouting.
Backpacking
During this course, students will be backpacking in the Pisgah National forest of Western North Carolina. Students and their crewmates will learn safety precautions for backcountry foot travel, how to find campsites, how to navigate varied terrain, how to use a map and compass, as well as how to do these activities responsibly. Equally important will be time spent learning conflict resolution, communication styles, leadership and team building. After practicing all these skills, the instructors will step back and let the crew work together to collectively navigate through the wilderness.
On 28-day courses, participants will also have the opportunity to prepare for the unexpected by earning a Wilderness First Aid certification. This fast-paced, hands-on training is designed to teach skills to care for those who become ill or injured and are far from definitive medical care. This certification will include classroom lectures and demonstrations, combined with realistic scenarios where mock patients will challenge you to use what you have learned. This certification is offered through a partnership with Landmark Learning, who is an accredited organization. After successfully completing the WFA and CPR certification students are eligible to apply for academic credit for this certification.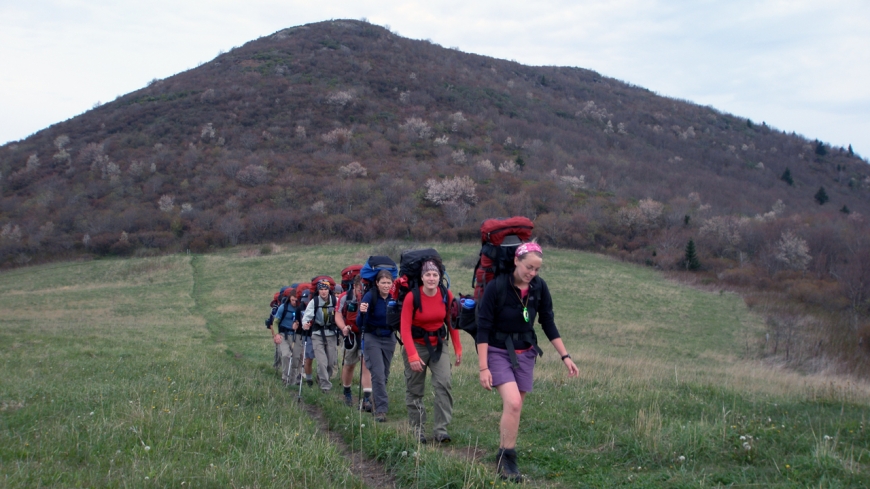 Rock Climbing
After having backpacked for a few days, students will spend a few days either climbing up a mountain or rappelling down one. Depending on weather and group dynamics, the crew may even have the opportunity to experience a high ropes obstacle course. These activities will push students to step outside their comfort zones to communicate and trust one another. With a focus on safety, this course activity will start with the basics, such as working with ropes and learning to tie knots.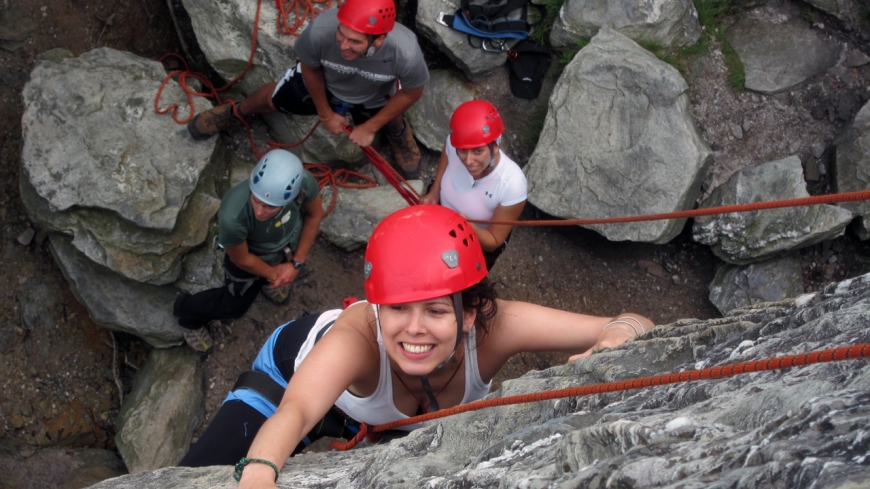 Whitewater Canoeing
Participants will also spend a few days of their trip maneuvering Class I-III whitewater through sculpted rock channels in tandem (two person) canoes which are perfect for fostering collaboration and communication skills between crewmates. Students will execute synchronized strokes, dynamic eddy turns, peel-outs and ferries on eitherthe French Broad or Tuckaseegee Rivers and occasionally on the Chattooga, New and Nantahala Rivers. Some of the topics crews may cover during this portion of the course include: Basic water safety and rescue techniques, identification and use of paddling equipment, how to work with paddling partners to successfully negotiate class l-III rapids and flat water and whitewater paddling strokes and maneuvers.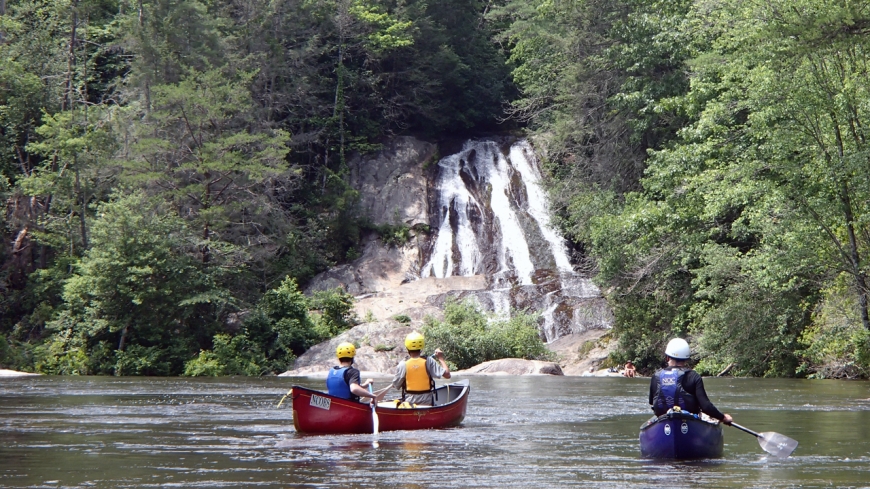 Course Area
Blue Ridge Mountains, NC
The Southern Appalachians, which include the Blue Ridge Mountains, are some of the oldest in the world and the birthplace of the North Carolina Outward Bound School. Western North Carolina is home to hundreds of waterfalls, over a million acres of national forests, park and public land, unique flora and fauna, rushing rivers and some of the highest peaks in the Eastern United States (the highest being Mt. Mitchell, 6,684 ft.) Because of its diverse and beautiful landscapes the Southern Appalachians have appeared in many motion pictures, some of the highest grossing being, the Hunger Games, Last of the Mohicans, The Fugitive, Dirty Dancing and Patch Adams.
Because the Appalachians were once one of the largest mountain ranges in the world they have many different geologic landforms, climates and soils. This long evolutionary history and temperate climate create an area which is teeming with life. Participants can expect to share the wilderness with over 700 different kinds of trees, more than 50 types of mammals, 150 different types of birds and about 40 species of amphibians.
Temperatures in this area range from 50-85 degrees in the summer, 30-65 degrees in the spring and fall, and 10-50 degrees in the winter.
Getting Started
If you are ready to enroll on a course click the enroll button next to the course you wish to select or you can enroll over the phone by speaking with one of our Admissions Advisors (toll-free) at 866-467-7651.
To secure your spot on a course you must submit an enrollment form and $500 deposit that is applied toward the total cost of the course and includes a $150 non-refundable enrollment processing fee. Click here to learn more about the complete enrollment process.