Students will embark on the adventure of a lifetime on this 72-day, multi-region, international semester course as they climb rock faces in the cool autumn mountains of North Carolina, journey by river through the canopied forests and barrier islands of Florida and complete their expedition by summiting peaks in Patagonia.
This course offers the chance for participants to challenge themselves, practice leadership skills and foster a strong sense of personal development. While living and traveling in the classroom of the great outdoors, students will gain a clear sense of their abilities, build strong bonds with their group and walk away with a greater understanding of the wilderness, the world, and themselves.
This course is broken into three phases: Phase I - The Blue Ridge Mountains of North Carolina, Phase 2 – Waterways of Central Florida, Phase 3 – Patagonia, South America. Although semester programs seem different than traditional academic programs, many colleges recognize the value of going on course and students may earn college credit while on course. This course also offers a Wilderness First Aid course through a national accredited organization and a service project component.
Gap Year/Semester Expeditions
Gap Year and Semester expeditions seek to develop problem-solving, group-management and advanced leadership skills for enhanced performance in and out of the classroom. Every step of the adventure is designed to instill a sense of personal autonomy and real-world responsibility. Because Gap Year and Semester courses last up to 3 months, and are comprised of highly motivated participants, students have time to actively synthesize feedback provided to them by Instructors and crewmates, adapt their own behavior, and see even deeper, more significant outcomes at the end of the journey. Although each expedition is unique, certain key components are a part of every Outward Bound Gap Year/Semester expedition. The expedition begins with hands-on, progressive training in a variety of expedition and personal skills. The idea that students are "crew, not passengers" is central to the Outward Bound learning approach. As they learn to cook, sleep, stay warm, navigate and select routes together, crew members not only do their part; they also take turns leading and following.
Throughout the expedition, students build, practice, and reflect on skills, conduct service projects and also tackle at least one challenge element - rock climbing, a peak ascent or a big whitewater day - that pushes them to find undiscovered strength and resolve. During the expedition's final phase, students experience a rare gift and highlight of the course: time to think and reflect on the Solo. With food, equipment and skills, individuals spend three hours to three days alone at an assigned campsite – with Instructors periodically checking in on them. As the course nears the end, Instructors may gradually transfer leadership responsibilities to the students, culminating with a Final Expedition. During the Final Expedition, students work as a team and apply the skills they have acquired to solve problems and make group decisions, while Instructors maintain overall risk-management for the group with check-ins and advanced scouting.

Outward Bound is accredited with the American Gap Association and is the longest running program in this elite group dedicated to providing safe, meaningful and high-caliber educational experiences to students.
Phase I:
Blue Ridge Mountains of North Carolina-Approximately 30 days
This phase of the semester course will bring participants to the ancient mountains of Western North Carolina. From the beautiful valleys, to the 6,000 foot summits of the Appalachians the crew will learn about navigation skills while backpacking, rock climbing, and whitewater canoeing.
During the rock climbing portion of this 30-day phase students will be pushed to step outside their comfort zones, communicate and build trust with their new crewmates. With a focus on safety, this course activity will start with the basics, such as working with ropes and learning to tie knots. Depending on the weather and group dynamics, students will then move on to learning the basics of bouldering and then progress to a top-rope climb or rappel. Students may also engage in a high ropes obstacle course to further foster group dynamics and teamwork.
Weather and river permitting, participants will also spend a few days maneuvering Class I-III whitewater through sculpted rock channels in tandem (two person) canoes. Some of the topics crews may cover during this portion of the course include: Basic water safety and rescue techniques, identification and use of paddling equipment, how to work with paddling partners to successfully negotiate class l-III rapids and flat water, and whitewater paddling strokes and maneuvers.
This leg of the journey will end with a multi-day, unaccompanied expedition that will bring the group together and draws on individual strengths, leadership and problem-solving.
Participants will also have the opportunity to prepare for the unexpected by earning a Wilderness First Aid certification. This fast-paced, hands-on training is designed to teach skills to care for those who become ill or injured and are far from definitive medical care. This certification will include classroom lectures and demonstrations, combined with realistic scenarios where mock patients will challenge you to use what you have learned. This certification is offered through a partnership with Landmark Learning, who is an accredited organization. After successfully completing the WFA and CPR certification students are eligible to apply for academic credit for this certification.
Phase II:
Waterways of Central Florida-Approximately 18 days
After spending the first part of the expedition with heavy packs, students will welcome the chance to carry their gear for the next phase in their canoe. Students will find a unique experience as they paddle through Central Florida, home to some of the country's most historic and biologically diverse waterways. During this phase participants can expect to spend a good deal of time each day in canoes going from campsite to campsite. These canoes are tandem, which means the crew will work together in teams of two. Depending on the weather, the level of difficulty will vary day to day, but crews will learn: marine expedition risk assessment and management, marine route planning and navigation, paddle strokes, canoe-based rescues, equipment use, and how to work with a paddling partner.
Phase III:
Patagonia, South America-Approximately 23 days
Students will end their adventure in one of the least populated regions in the world. In the Nahuel Huapi National Park, participants will learn to alpine trek and perfect their technical skills as they prepare to summit an Andean peak in the portion of Patagonia that extends into Argentina (weather depending). Patagonia's unique flora and fauna, snow-covered volcanic peaks, ice slopes and unique terrain has attracted many scientific expeditions over the years, including those of Charles Darwin.  After extended backcountry living and a cross-cultural service project, students will soon realize and appreciate the connection between teamwork and individual success. Students will also complete a service project while in Patagonia. This project could include fence building, painting homes, harvesting fruit and building structures with local farmers. Participants can receive service project credit for going on this course and simply need to alert their Instructors prior to the course start.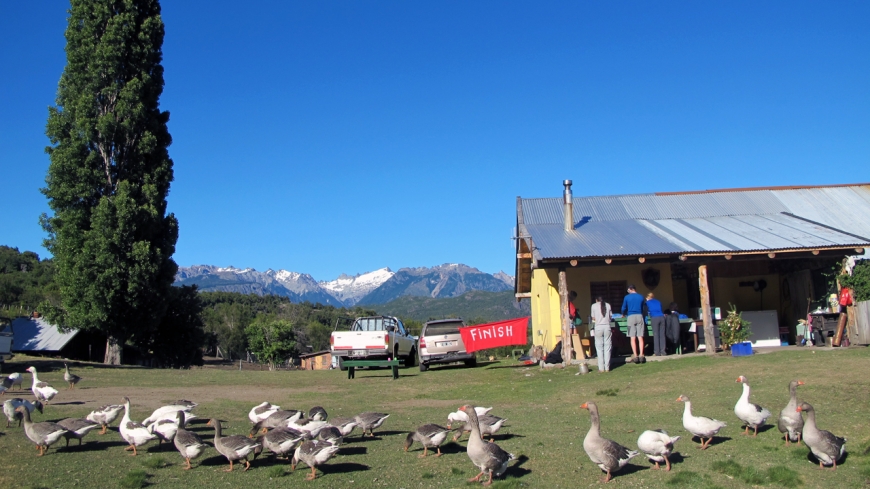 Course Area
Blue Ridge Mountains, NC
The Southern Appalachians, which include the Blue Ridge Mountains, are some of the oldest in the world and the birthplace of the North Carolina Outward Bound School. Western North Carolina is home to hundreds of waterfalls, over a million acres of national forests, park and public land, unique flora and fauna, rushing rivers and some of the highest peaks in the Eastern United States (the highest being Mt. Mitchell, 6,684 ft.) Because of its diverse and beautiful landscapes the Southern Appalachians have appeared in many motion pictures like The Hunger Games, Last of the Mohicans, The Fugitive, Dirty Dancing and Patch Adams.
Because the Appalachians were once one of the largest mountain ranges in the world they have many different geologic landforms, climates and soils. This long evolutionary history and temperate climate create an area which is teeming with life. Participants can expect to share the wilderness with over 700 different kinds of trees, more than 50 types of mammals, 150 different types of birds and about 40 species of amphibians.
Temperatures in this area range from 50-85 degrees in the summer, 30-65 degrees in the spring and fall, and 10-50 degrees in the winter.
Patagonia, South America
One of the least populated regions in the world, Patagonia is a semi-arid plateau that covers over 250,000 square miles in South America located mainly in Argentina but extending partially into southern Chile. Patagonia's unusual wildlife has attracted many scientific expeditions over hundreds of years, including those of Charles Darwin. The terrain is incredibly diverse with snow-covered volcanic peaks flanked by glaciers, ice slopes and permanent snowfields. The Patagonian steppe is one of the windiest and driest climates in South America, a sharp contrast to the western slopes of the Andes that receive some of the highest rainfall of anywhere in the world.
This course begins in San Carlos de Bariloche, usually known as Bariloche. The city of Barioche (population 108,205) is situated in the foothills of the Andes on the southern shores of Nahuel Huapi Lake and is surrounded by the Nahuel Huapi National Park. The park was established in 1934, and is the oldest national park in Argentina and the largest in the region with an area of nearly 2 million acres. Its landscapes represent the north Patagonian Andean Zone which is dominated by the high mountain chain of the Andes, many lakes and rivers, waterfalls, snow-clad peaks, glaciers, and extensive forests.
Waterways of Central Florida
Central Florida is home to some of the country's most historic and biologically diverse waterways. It offers paddling on small, winding canoe trails as well as larger rivers and lakes, with camping in a variety of environments from hardwood hammock forests to barrier islands. The Suwannee River, Ocklawaha River, and St John's River offer hundreds of miles of paddling in some of the country's most unspoiled wilderness. These rivers are home to a variety of ecosystems including freshwater springs, swamps, sandy beaches, hardwood hammocks trees, and salt marshes. Shaded by giant Cypress and Tupelo trees, these rivers offer an abundance of wildlife and have deep cultural histories. On Central Florida's east coast, the Indian River Lagoon, which encompasses Merritt Island National Wildlife Refuge and Canaveral National Seashore, is the most diverse estuary in North America. Nearly one third of the country's manatee population calls this 156 mile-long waterway home, along with an abundance of dolphins and other marine life.
Getting Started
If you are ready to enroll on a course click the enroll button next to the course you wish to select or you can enroll over the phone by speaking with one of our Admissions Advisors (toll-free) at 866-467-7651.
To secure your spot on a course you must submit an enrollment form and $500 deposit that is applied toward the total cost of the course and includes a $150 non-refundable enrollment processing fee. Click here to learn more about the complete enrollment process.