More than just a camping trip, this 15 to 22-day canoeing expedition takes you into the heart of the Boundary Waters Canoe Area Wilderness near Ely, Minnesota – and incorporates a challenging high ropes course and a reflective solo experience. On this Outward Bound expedition, do more than learn to paddle. Learn how to explore and even live comfortably in one of the most beautiful, remote environments on the planet. Learn to take calculated risks, practice critical thinking skills and develop self-reliance. Discover how appreciating the diversity of your group is a transferable skill – to be applied upon your return home. Together with your instructors and crew, learn how to care for one another, work together - and accomplish more than you ever thought possible.
Classic Courses
No two Outward Bound expeditions are ever quite the same. Every crew is unique; every route is distinct; and every adventure is dynamic. But one thing remains the same. On each course, students rise to meet exhilarating natural challenges in some of the country's wildest places – and find strength and determination along the way.
Build core skills: Learn and practice wilderness, teamwork and leadership skills. Form a crew that supports and encourages one another, and in the thick of challenges, discover there is more in you than you know.
Practice Outward Bound values: Learn to incorporate Outward Bound values into everyday life by pushing your own limits and seeking challenge as an opportunity for personal growth.
Demonstrate mastery: As the course nears the end, take on more leadership and decision-making responsibilities. Work together to apply new skills and achieve team goals during this final phase of the expedition.
What you'll learn: Return home a stronger, more resilient individual. Discover increased self-confidence, improved leadership, and a desire to make a difference.
CANOEING
Students complete an extended canoe expedition that is entirely self-supported. This expedition includes learning the art of paddling a canoe in a variety of conditions as well as portaging, map and compass reading, route finding, expedition planning, and Leave No Trace® wilderness living principles. Paddling partners work together to navigate a variety of waterways such as lakes, rivers and swamps.
PORTAGING
Groups work as a team to carry packs and canoes over portage trails when transitioning from one lake to another or around challenging rapids. Portage trails are rugged and often rocky or hilly. They vary in length from 10 yards to a mile or longer. Pack weights vary depending on the length of the trip. Personal packs weigh at least 40 pounds and sometimes considerably more; food and equipment packs usually weigh between 50 and 70 pounds. Each 75-pound canoe is carried upside down on one person's shoulders by utilizing the pads attached to the center thwart.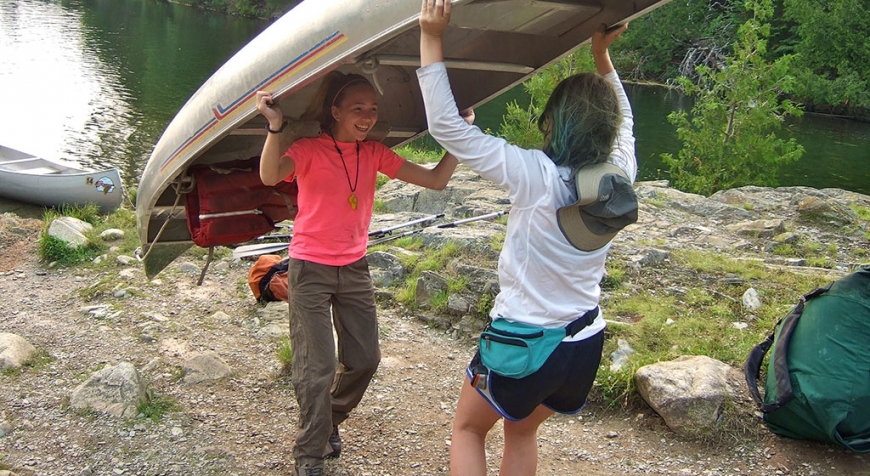 High Ropes Course
Students tackle an incredible obstacle course set 30 feet in the air. Students look out over the top of the boreal forest as they swing from Tarzan ropes, walk on a tight-rope wires, and climb a cargo net before jumping off the zip line for a smooth ride back to solid ground. Most groups have an opportunity to test their nerve on the ropes course if their course incorporates a short stay at the Outward Bound basecamp, usually before or after their field expedition.
Kayaking
On the 22-day course, students are introduced to the thrill of whitewater paddling. A half day of whitewater kayaking adds to the excitement and breadth of the experience. Students learn how to "read" water and trust themselves to make split-second decisions in order to determine the best routes through the rushing waves.
Service
Service is an integral part of the Outward Bound curriculum. We encourage service to the environment in the form of leaving campsites cleaner than we find them and practicing Leave No Trace ethics throughout the expedition. Woven within the curriculum fabric are lessons emphasizing compassion and service. Students gain an appreciation and desire to help and understand others without the expectation of personal gain.
Additionally, students have a structured opportunity to put giving back into action through either a half day or full day of community service. We coordinate service projects with land managers (US Forest Service, Bureau of Land Management, National Park Service, Habitat for Humanity, local land trusts), and select social service agencies (nursing homes, hospitals, and food pantries).
PERSONAL CHALLENGE EVENT
Time and weather permitting, the course ends with a Personal Challenge Event (PCE), a final individual physical push. In the summer, the PCE usually includes a triathlon-style paddle, portage, and run. The PCE is non-competitive. Each student sets his/her own time goal for completion and works toward it to see how their mental and physical stamina has grown as a result of their wilderness expedition. Students celebrate the completion of their wilderness expedition and PCE with a final banquet and graduation ceremony at the basecamp.
COURSE AREA
Boundary Waters Canoe Area Wilderness, Minnesota
Established in 1964, the Boundary Waters Canoe Area Wilderness (BWCAW) is a labyrinth of lakes and rocks that has been specifically protected as a true American wilderness. No roads, power lines, or motorized craft may enter its borders; therefore the Boundary Waters wilderness has changed little since its unveiling when the glaciers melted 10,000 years ago. Over 1 million acres in size, the BWCAW extends nearly 150 miles along the Canadian border. With over 1,200 miles of canoe routes, nearly 2,200 designated campsites and more than 1,000 lakes and streams, the BWCAW is an amazing place to experience the wilderness.
The BWCAW contains portage-linked lakes and streams, interspersed with islands, forests and crags. It has no piped water, prepared shelters or signs to point the way. Within these borders students can canoe, portage and camp in the spirit of the French-Canadian Voyageurs of 200 years ago. The Boundary Waters' 1,200 miles of paddling routes offer outstanding opportunities for solitude, remoteness, teamwork, adventure and challenge.
Getting Started
If you are ready to enroll on a course click the enroll button next to the course you wish to select or you can enroll over the phone by speaking with one of our Admissions Advisors (toll-free) at 866-467-7651.
To secure your spot on a course you must submit an enrollment form and $500 deposit that is applied toward the total cost of the course and includes a $150 non-refundable enrollment processing fee.