These 8, 15, and 22-day expeditions take place in the Boundary Waters Canoe Area Wilderness near Ely, Minnesota. Rock climbing, high ropes course and a solo experience make these courses more than just camping trips.
On an Outward Bound canoeing expedition students won't just learn how to paddle, they'll learn how to explore and even live comfortably in one of the most beautiful, remote environments on the planet. Together with your Instructors and your expedition team, you'll learn how to care for one another and work together to accomplish more than you ever thought possible.
While popular summer canoe routes in the Boundary Waters Canoe Area Wilderness (BWCAW ) provide an idyllic setting for day or weeklong expeditions, the longer 15 and 22-day expeditions allow you to get off the beaten track and discover what it really means to live in the wilderness.
Classic Courses
Outward Bound Classic expeditions traverse some of the wildest, most rugged, awe-inspiring landscapes in the world. Our students work for every technicolor sunset; every super-fresh morning; every breathtaking vista. And when they arrive at their destination, and pause to take it all in, they know, without a doubt, that they earned their place there. By the time they finally drift to sleep, our students have put in a full day of moving their bodies, learning, cooperating as a team, puzzling through problems, and digging deep to find what really lies within – always, inevitably, more than they know.
Although each expedition is unique, certain key components are a part of every Outward Bound Classic Expedition. The expedition begins with hands-on, progressive training in a variety of expedition and personal skills. As students learn to cook, sleep, stay warm, navigate and select routes together, crew members not only do their part; they also take turns leading and following. The idea that students are "crew, not passengers" is central to the Outward Bound learning approach. Wilderness living does not encourage students to contribute to the group; it requires it. After all, on an Outward Bound expedition, awareness of others is not optional; it is necessary for success.
Throughout the expedition, students build, practice, and reflect on skills, conduct service projects and also tackle at least one challenge element - rock climbing, a peak ascent or a big whitewater day - that pushes them to find undiscovered strength. During the expedition's final phase, students experience a rare gift and highlight of the course: time to think and reflect on the Solo. With sufficient food, equipment and skills, individuals spend three hours to three days alone at an assigned campsite – with Instructors periodically checking in on them. As the course nears the end, Instructors may gradually transfer leadership responsibilities to the students, culminating with a Final Expedition. During the Final Expedition, students work as a team and utilize the skills they have acquired to solve problems and make group decisions, while Instructors maintain overall risk-management for the group with check-ins and advanced scouting.
CANOEING
During your journey, you will complete an extended canoe expedition. This expedition includes learning the art of paddling a canoe in a variety of water conditions as well as portaging, map and compass reading, navigation, expedition planning, and Leave No Trace® wilderness living. Paddling partners work together to navigate a variety of waterways such as lakes, rivers, and swamps.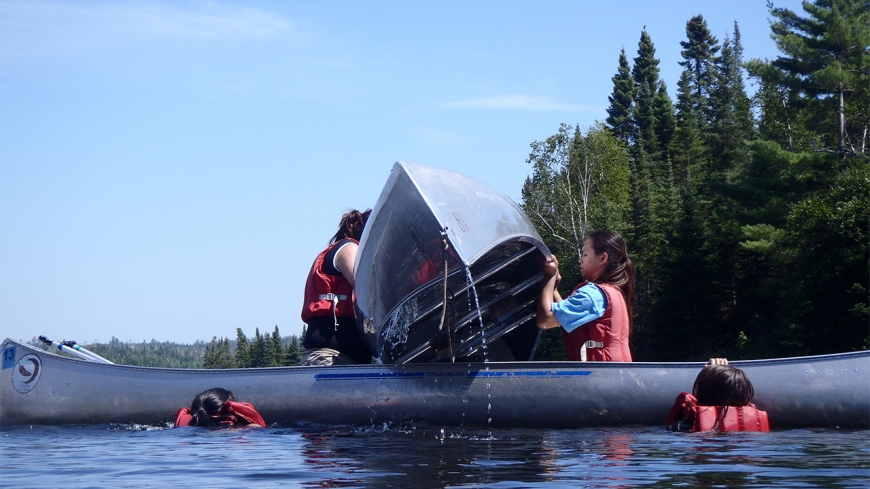 PORTAGING
To travel between lakes or around challenging rapids, your group will work together as a team to carry packs and canoes over trails. Portage trails are rugged and often rocky or hilly. They vary in length from 10 yards to a half-mile or longer. The group will work to sensibly and safely distribute portaging responsibilities, as the crew will work in teams to share carrying responsibilities. Pack weights vary depending on the amount and weight of personal gear that you and your canoe partner choose to bring on course. Personal packs weigh at least 40 pounds and sometimes considerably more. In addition, your group will carry several heavier packs loaded with food and equipment; these packs weigh between 50 and 70 pounds. The canoes weigh 75 pounds.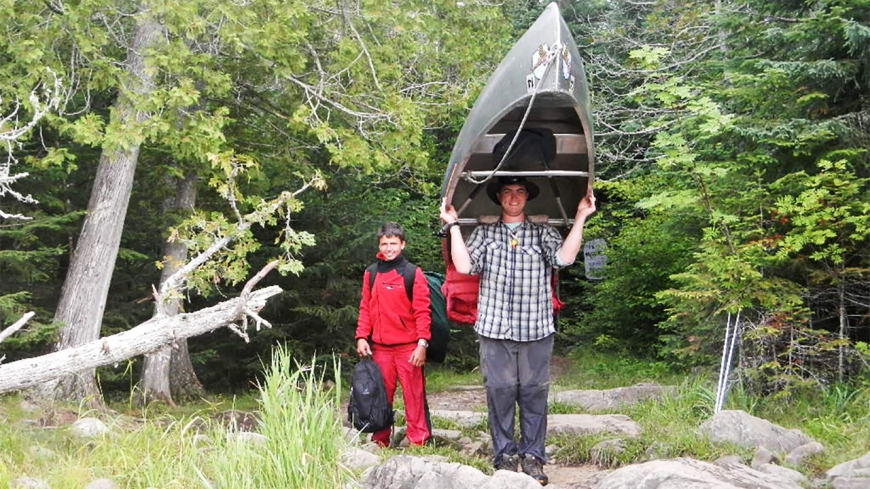 ROCK CLIMBING
Students will rock climb and rappel for one to two days. Instruction is from beginner level, and students will be harnessed at all times while climbing on a variety of surfaces - cracks, faces, and chimneys. Rappelling involves stepping over the edge and controlling their own descent.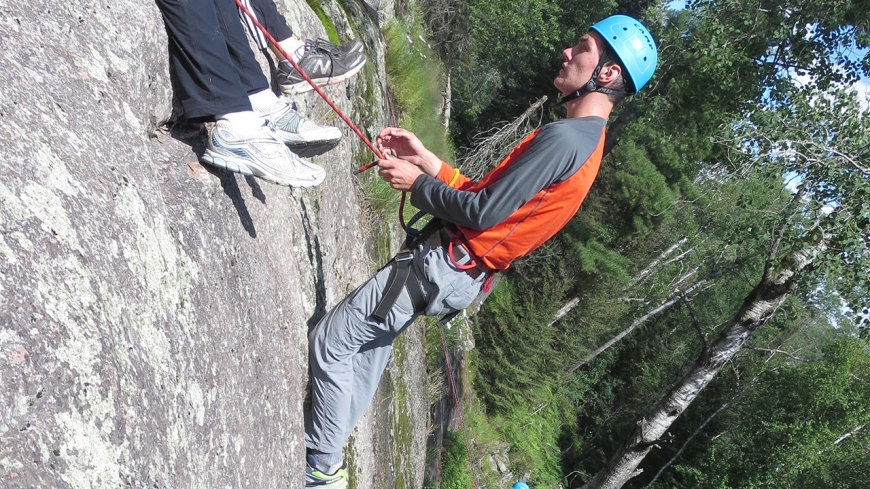 COURSE AREA
Boundary Waters, Minnesota
Boundary Waters Canoe Area Wilderness (BWCAW) - Established in 1964, this labyrinth of lakes and rock has been specifically protected as a true American wilderness; no roads, power lines, or motorized craft may enter its borders; therefore the Boundary Waters has changed little since its unveiling when the glaciers melted 10,000 years ago. Over 1 million acres in size, the BWCAW extends nearly 150 miles along the Canadian border. With over 1,200 miles of canoe routes, nearly 2,200 designated campsites and more than 1,000 lakes and streams, the BWCAW is an amazing place to experience the wilderness.
The BWCAW contains portage-linked lakes and streams, interspersed with islands, forests and crags. It has no piped water, prepared shelters or signs to point the way. Within these borders you can canoe, portage and camp in the spirit of the French-Canadian Voyageurs of 200 years ago. The Boundary Waters' 1,200 miles of paddling routes offer outstanding opportunities for solitude, remoteness, teamwork, adventure, and challenge.
Getting Started
If you are ready to enroll on a course click the enroll button next to the course you wish to select or you can enroll over the phone by speaking with one of our Admissions Advisors (toll-free) at 866-467-7651.
To secure your spot on a course you must submit an enrollment form and $500 deposit that is applied toward the total cost of the course and includes a $150 non-refundable enrollment processing fee. Click here to learn more about the complete enrollment process.