This comprehensive and practical Instructor Development course puts theory into action while focusing on skills development and facilitation of canoeing, sea kayaking, backpacking and rock climbing. Learn about wilderness education and Leave No Trace principles through direct experience – as a crew of seven. Participate in instructor-led seminars and discussions on how to effectively manage a wilderness expedition that is tailored to the goals of specific individuals and groups. Develop outdoor technical, group and individual management skills, and also learn the Outward Bound philosophy and curriculum. Gain hands-on experience with group facilitation methods, creative course planning strategies and risk management. Put newfound knowledge to the test by planning and delivering a program for local youth, and then receive constructive feedback from instructors and fellow students on the facilitation and effectiveness of your program. Along the way, earn certifications in Wilderness First Aid and Adult CPR. Successful graduates are well-positioned for future work with camp programs, wilderness trip providers, high school or college outdoor programs and Outward Bound.
INSTRUCTOR DEVELOPMENT COURSES
Outward Bound Instructor Development courses open doors in the outdoor education industry. One of the nation's best outdoor education training programs, Instructor courses teach deep technical skills and provide in-depth knowledge of the Outward Bound learning approach. Guided by specialists in the field, get the hands-on training you'll need to jumpstart a career in the outdoors.
Build core skills: Refine backcountry, technical, and interpersonal skills - and practice teaching them. Evaluate options, manage risks, and learn to engage people of different ages and backgrounds in an environment where students are "crew, not passengers."
Practice Outward Bound values: Explore activity design, framing, facilitation and debrief methods, and then process what you've learned during reflection activities, Instructor conferences and group debriefs.
Earn Wilderness First Responder (WFR) certification: Learn the principles and techniques of patient assessment, care and treatment in remote and extreme environments.
Demonstrate mastery: As the course nears the end, take responsibility for course route, risk management decisions and leadership. Apply new skills and expertise as your crew plans and facilitates a local community project.
What you'll learn: Return home with proven technical and teaching expertise, a WFR certification, leadership experience and the skills necessary to obtain a career in the outdoor industry.
CANOEING
The 18-20-day canoe expedition through the rugged and remote Boundary Waters Canoe Area Wilderness provides opportunities to explore a gigantic 150,000 acre lake, paddle challenging primitive sections or conquer the Grand Portage, a nine-mile historic portage over land from the Pigeon River to Lake Superior. The canoe expedition is enhanced by the American Canoe Association's paddling curriculum, which focuses on the essentials of canoe touring and paddle strokes.
The Boundary Waters surround a thousand year-old trade route, which now defines the US Canadian border and was originally used by the Ojibwa people and Voyageurs. To travel between lakes or around large rapids, the group works as a team to carry packs and canoes over portage trails. The wilderness canoe expeditions in the Boundary Waters are not resupplied - making learning how to pack well an essential skill. This backcountry expedition requires participants to become a high-functioning group that is able to communicate effectively, make decisions, and take on challenges while learning how to facilitate, analyze, and foster teamwork.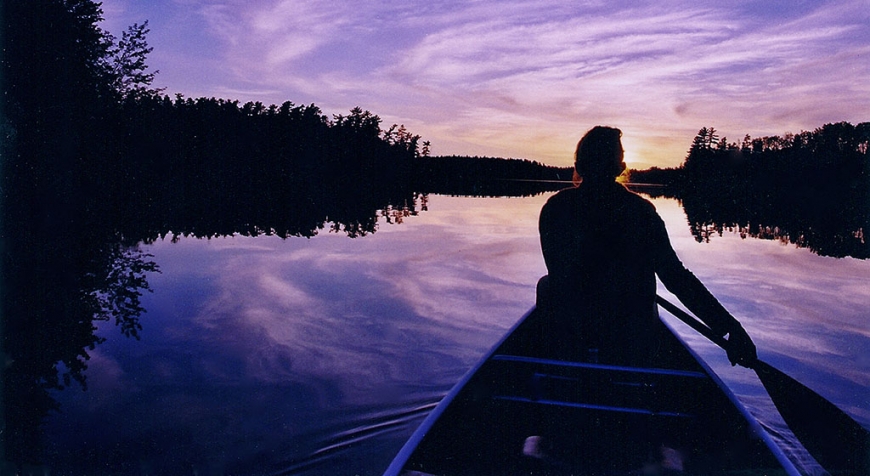 Portaging
Groups work as a team to carry packs and canoes over portage trails when transitioning from one lake to another or around challenging rapids. Portage trails are rugged and often rocky and hilly. They vary in length from 10 yards to a mile or longer. Pack weights vary depending on the length of the trip. Personal packs weigh at least 40 pounds and sometimes considerably more. Food and equipment packs usually weigh between 50 and 70 pounds. Each 75-pound canoe is carried upside down on one person's shoulders by utilizing the pads attached to the center thwart.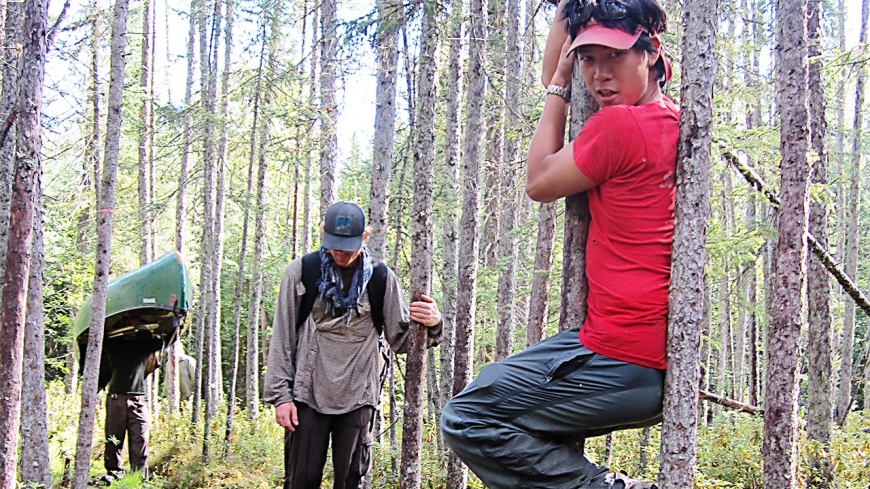 Sea Kayaking
Student groups travel to the Canadian north shore of Lake Superior to begin their sea kayak expedition from the Lake Superior National Marine Conservation Area (LSNMCA). Students learn the art of paddling a sea kayak in varied weather, landing the craft in a variety of conditions, and navigating and rescue techniques. Instructors share the secrets of handling and balancing the boat safely, regardless of the elements, and how to effectively teach these skills to others. Students develop their paddling and teaching skills and bond as a group while traveling and camping along the rugged, rocky Superior shoreline. Additionally, they experience challenging open water crossings where fog, waves, and weather necessitate the use of their newly acquired navigation skills.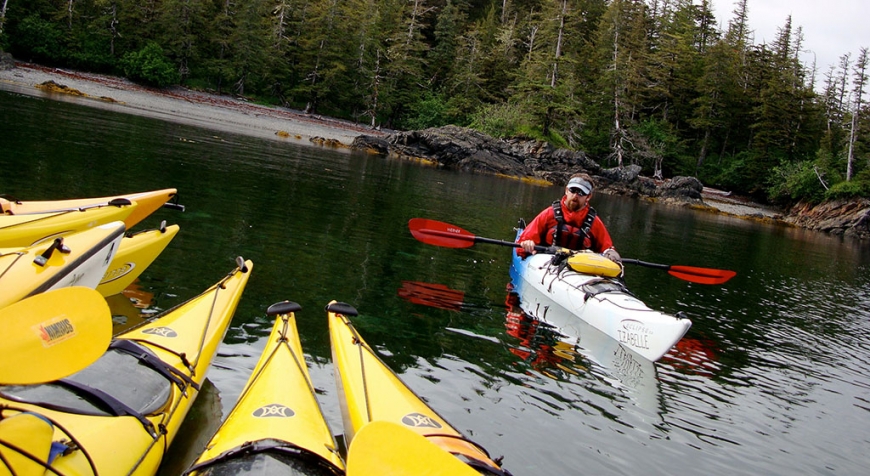 ROCK CLIMBING & ROPES COURSE
Students spend four to five days focused on rock climbing and ropes course facilitation and management. During climbing days, students learn about general rock-climbing equipment, safety and etiquette. Students have many opportunities to climb, belay, and rappel while learning and employing safety systems that are compliant with national standards. The rock climbing sites provide a number of different route options including cracks, sheer faces and chimneys. Regardless of a student's rock climbing background, they are sure to find a route that engages them and encourages the expansion of their comfort zone.
Looking out over the top of the boreal forest, the High Ropes Course is an incredible obstacle course set 30 feet in the air. Students swing from Tarzan ropes, walk on tightrope wires and climb a cargo net before jumping on the zip line for an exhilarating ride back to solid ground. The Rocks & Ropes training is grounded in how to facilitate a challenge-course experience while maximizing the transference of lessons learned by the students.
SERVICE & TEACHING PRACTICUM
Service is an integral part of the Outward Bound curriculum. We encourage service to the environment in the form of leaving campsites cleaner than we find them and practicing Leave No Trace ethics throughout the expedition. We coordinate service projects with land managers (US Forest Service, Bureau of Land Management, National Park Service, local land trusts), select social service agencies (nursing homes, hospitals) and Voyageur Outward Bound School.
Students also plan and facilitate a one-day teaching practicum where they instruct youth from a community organization or local school in one of the activities they have mastered.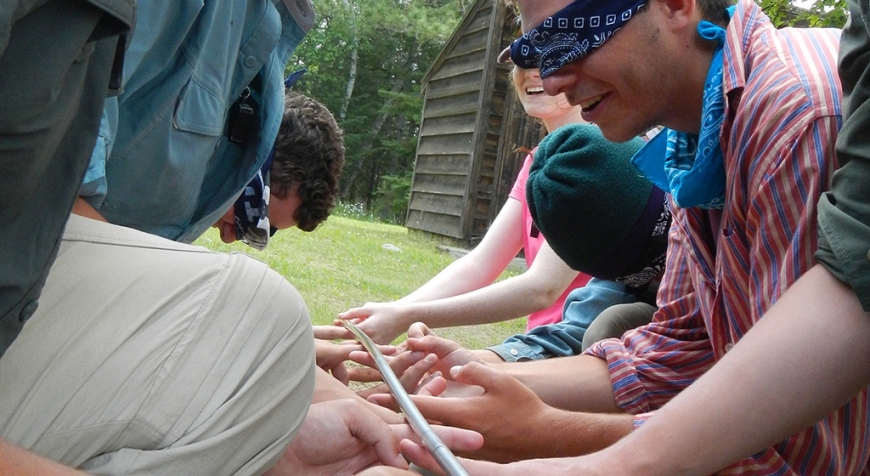 PERSONAL CHALLENGE EVENT
Time and weather permitting, the Instructor Development course ends with a Personal Challenge Event (PCE) that is a final individual physical feat. The PCE is non-competitive triathlon-style paddle, portage, and run to show each student how their mental and physical stamina has grown as a result of their wilderness expedition and training regime. Students celebrate the completion of their PCE and wilderness expedition with a final banquet and graduation ceremony at the VOBS basecamp.
COURSE AREA
Boundary Waters Canoe Area Wilderness, Minnesota, and Canadian Lake Superior
Established in 1964, the Boundary Waters Canoe Area Wilderness is a labyrinth of lakes and rock that has been specifically protected as a true American wilderness. No roads, power lines, or motorized craft may enter its borders. Therefore, the Boundary Waters wilderness has changed little since its unveiling when the glaciers melted 10,000 years ago.
Over 1 million acres in size, the BWCAW extends 150 miles along the Canadian border. With over 1,200 miles of canoe routes, nearly 2,200 designated campsites and more than 1,000 lakes and streams, the BWCAW is a truly amazing place to experience the wilderness.
The BWCAW contains portage-linked lakes and streams, interspersed with islands, forests and crags. It has no piped water, prepared shelters, or signs to point the way. Within these borders students can canoe, portage and camp in the spirit of the French-Canadian Voyageurs of 200 years ago. The Boundary Waters' paddling routes offer outstanding opportunities for solitude, remoteness, teamwork, adventure and challenge.
Lake Superior
The Lake Superior National Marine Conservation Area (LSNMCA) is a wilderness archipelago along the Canadian north shore of Lake Superior. The LSNMCA is a rugged and pristine landscape of sparkling, clear water, cliffs, pebble and sand beaches and numerous islands. It is the largest freshwater, protected marine environment in the world and a premier sea kayaking destination.
The Superior Hiking Trail (SHT) is a 296-mile footpath that largely follows the rocky ridgeline above Lake Superior on Minnesota's North Shore from Duluth to the Canadian border. Well-marked trails, campsites, and challenging terrain make this a perfect way to start your trip while building teamwork, increasing endurance, and gaining general outdoor skills to prepare for the canoe expedition.
Getting Started
If you are ready to enroll on a course click the enroll button next to the course you wish to select or you can enroll over the phone by speaking with one of our Admissions Advisors (toll-free) at 866-467-7651.
To secure your spot on a course you must submit an enrollment form and $500 deposit that is applied toward the total cost of the course and includes a $150 non-refundable enrollment processing fee.