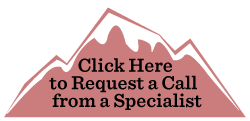 This 28-day Florida canoeing course is designed to serve struggling young adults and their families. These courses help address behaviors such as unhealthy risk-taking, low motivation, defiance, or poor school performance. Courses are presented as metaphors for the transition from childhood to adulthood and help young adults connect their desire for more freedom with the reality that they must take on additional responsibility.
Throughout the course students will be introduced to the joys and challenges of expeditionary canoe travel, camp craft, and group dynamics while traveling in the unique ecosystems of Florida's waterways. These new activities, crewmates and environments help to break bad habits and patterns as well as coach students on discovering the next positive step in their lives.
The typical Instructors for these courses are adventurous people with a breadth of life experiences, including a broad knowledge of outdoor activities, group facilitation skills and a passion for working with struggling youth and young adults. Many of our Instructors are Outward Bound alumni and are required to participate in a 12-day At-Risk New Staff Training which focuses on tools, techniques and theories for working with the struggling youth and young adult population. Instructors are also certified in Non-Violent Crisis Intervention through the Crisis Prevention Institute, and have been trained in Reality Therapy/Choice Theory and Motivational Interviewing.
During a struggling youth and young adult course the ratio of Instructors to students is, at maximum, 1:5 and there are at least two Instructors per course. Often times we have three staff and a maximum of 11 students. The groups of Instructors are generally co-ed, unless it is a student group of a single gender.
This course is broken down into four components: a Wilderness Expedition, Urban Section, Final Expedition and Family Debrief. Together these components focus on teamwork, communication, leadership skills, helping students practice positive decision-making, finding new strength/self-esteem and working to find new directions for a brighter future.
Struggling Teens & Young Adults Expeditions
Struggling Teens & Young Adult expeditions seek to identify and understand problematic, disruptive and destructive behavior, and in turn, to provide real life challenges and rewards in a structured, supportive environment, and to foster positive development and well-being. Although each expedition is unique, certain key components are a part of every Outward Bound Struggling Teens &Young Adults expedition. The expedition begins with hands-on, progressive training in a variety of expedition and personal skills. The idea that students are "crew, not passengers" is central to the Outward Bound learning approach. Wilderness living does not encourage students to contribute to the group; it requires it. After all, on an Outward Bound expedition, awareness of others is not optional; it is necessary for success. As they learn to cook, sleep, stay warm, navigate and select routes together, crew members take turns leading and following.
Throughout the expedition, students build, practice, and reflect on skills, conduct service projects and also tackle at least one challenge element - rock climbing, a peak ascent or a big whitewater day - that pushes them to find undiscovered strength and resolve. During the expedition's final phase, students experience a rare gift and highlight of the course: time to think and reflect on the Solo. With food, equipment and skills, individuals spend three hours to three days alone at an assigned campsite – with Instructors periodically checking in on them. As the course nears the end, Instructors may gradually transfer leadership responsibilities to the students, culminating with a Final Expedition. During the Final Expedition, students work as a team and apply the skills they have acquired to solve problems and make group decisions, while Instructors maintain overall risk-management for the group with check-ins and advanced scouting.Most expeditions for teens up to 18 years old close with a three-day conference in which parents and guardians discuss communication styles and healthy support mechanisms for the future.
Outward Bound does not expect students to be highly motivated to embark on an Struggling Teens program. We are not, however, an incarceration program. We require that all students agree to participate and require that they follow our rules. Outward Bound works hard to encourage full participation from all individuals, so while we make every attempt to keep motivation high, if students are not willing to complete the program or are determined to leave course, we will not keep them against their will.
This course is not a therapeutic program and cannot accommodate students with certain psychiatric conditions, significant struggles with chemical dependency or those with a history of violent behavior.
Wilderness Expedition
The expedition is designed to be a challenging 20 to 50-day expedition focused on:
Achievable goals - with a 1:4 average student/Instructor ratio, Instructors work individually with students to make solid self-assessments and set achievable goals,
Purposeful challenges - tackling personal and mental challenges, such as spending long days in canoes, allow students to discover they are stronger than they know,
Reflection – students take a 48-hour solo, where they camp alone near Instructors, allowing for them to rest and reflect on transitions back to their home and everyday lives,
Service – as students develop skills to help themselves, they are also involved in learning to care for others and the environment around them.
Students will find a unique experience as they paddle through Florida's unique ecosystems. During this course participants can expect to spend a good deal of time each day in canoes going from campsite to campsite. These canoes are tandem, which means student duos will need to learn to work together and communicate as they travel. Depending on the weather, the level of difficulty will vary day to day, but crews will learn: marine expedition risk assessment and management, marine route planning and navigation, paddle strokes, canoe-based rescues, equipment use, and how to work with a paddling partner.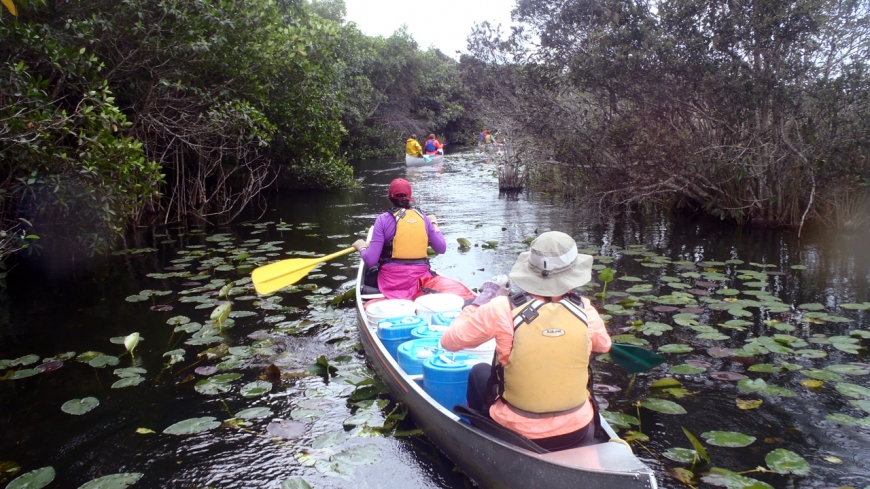 Urban Section
Three days of this course will be dedicated to an Urban Section. The Urban Section will include community service projects, workshops and seminars designed to help young adults determine the next step in their life; it might be college, a new job opportunity, or simply returning home with a new outlook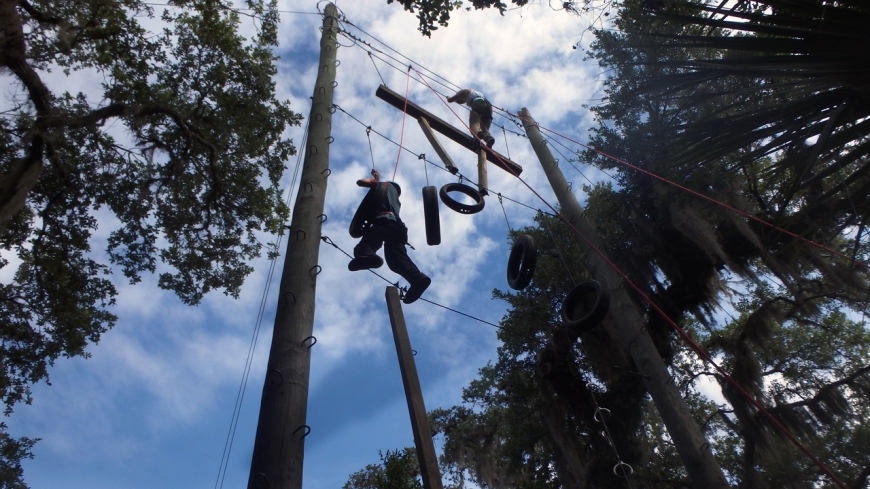 Family Debrief Call
After the course is completed the student, student's parents and the participating Instructors will follow-up with a debrief over the phone. During this debrief the Instructor will facilitate a discussion between parent and child about what the student learned on course, what the students goals are for their future and what the family expectations are going forward.
Course Area
This canoeing expedition will take place in one of the two areas:
Florida Central Rivers
Central Florida is home to some of the country's most historic and biologically diverse waterways. It offers paddling on small, winding canoe trails as well as larger rivers and lakes, with camping in a variety of environments from hardwood hammock forests to barrier islands. The Suwannee River, Ocklawaha River, and St John's River offer hundreds of miles of paddling in some of the country's most unspoiled wilderness. These rivers are home to a variety of ecosystems including freshwater springs, swamps, sandy beaches, hardwood hammocks trees, and salt marshes. Shaded by giant Cypress and Tupelo trees, these rivers offer an abundance of wildlife and have deep cultural histories. On Central Florida's east coast, the Indian River Lagoon, which encompasses Merritt Island National Wildlife Refuge and Canaveral National Seashore, is the most diverse estuary in North America. Nearly one third of the country's manatee population calls this 156 mile-long waterway home, along with an abundance of dolphins and other marine life.
Florida Everglades
This course takes place off the west coast of southern Florida in the Everglades National Park and Ten Thousand Islands national Wildlife Refuge. The Everglades are the largest sub-tropical wilderness in the United States and third-largest national park in the lower 48 states. The aquatic preserve is home to an array of wild creatures and exotic plant life. More than 350 species of birds, 300 species of fresh and saltwater fish, 40 species of mammals and 50 reptiles live within it. Because of this it is one of only three locations in the world to show-up on the following lists, an International Biosphere Reserve, a Wetland of an International Importance and World Heritage Site.
This course area is in a subtropical region, with a 12-month growing season. The Florida peninsula is believed to be the last part of the continental United States to rise from the ocean, making it the youngest region geologically and only Alaska can claim a longer shoreline. The Everglades are mild and pleasant from December through April, with low humidity and clear skies. Temperatures reach average highs of 88 degrees and lows of 54 degrees. Strong cold fronts may occasionally create near freezing conditions, but such events are rare in this subtropical climate.
Getting Started
If you are ready to enroll on a course click the enroll button next to the course you wish to select or you can enroll over the phone by speaking with one of our Admissions Advisors (toll-free) at 866-467-7651.
To secure your spot on a course you must submit an enrollment form and a $150 non-refundable enrollment processing fee. Click here to learn more about the complete enrollment process.