Alpine Backpacking in the spectacular Sierra Nevada will give students the opportunity to explore some of the most beautiful and pristine wilderness in the United States. Conservationist John Muir referred to these mountains as the "Range of Light," responding in part to how both moonlight and sunlight play on the granite peaks.
Today, the Sierra Nevada is considered one of the United States' premier backpacking locations. The Sierra is a superb destination due to its high-quality granite and stable, mostly sunny, summer weather! Alpine backpacking courses carry less weight than mountaineering courses and focus on covering greater distances through more diverse landscapes.
Thanks to funding from generous donors, Veterans courses are offered for FREE to our participants.
Veterans Expeditions
Veterans expeditions provide a structured time and place to build camaraderie, outdoors skills, and personal growth. As they improve communication skills, establish trust, and validate experiences among other veterans, participants experience increases in sense of self-worth, sense of purpose and sense of achievement, all in a non-military setting. Designed to facilitate a unique and exciting environment for veterans to reflect, share insights, and live in the present moment, the focus of these programs is around shared experiences and reconnecting with the sense of camaraderie and teamwork veterans and active duty service men and women experienced overseas. Although each expedition is unique, certain key components are a part of every Veterans expedition. The expedition begins with hands-on, progressive training in a variety of expedition and personal skills. The idea that participants are "crew, not passengers" is central to the Outward Bound learning approach.
As they learn to cook, sleep, stay warm, navigate and select routes together, participants create a positive, inclusive, supportive group dynamic. Throughout the expedition, participants build, practice, and reflect on skills, and tackle new challenges together - rock climbing, a peak ascent or a big whitewater day - that pushes them to rediscover the strength and peace of mind to navigate the often difficult transition to civilian life.
Backpacking
This multi-day backpacking expedition takes place in the heart of the Sierra Nevada. Course elements include on and off-trail navigation, use of a compass, setting up shelters and cooking in the backcountry. Travel will include time on and off-trail in pristine alpine environments.
Outward Bound courses are team-oriented, providing students the opportunity to work closely together to travel, navigate, set-up camp and overcome obstacles each day. In addition to assisting students with technical skills, instructors will facilitate the interpersonal skills that will allow the group to function effectively as a team to accomplish both group and individual goals.
Each course incorporates either a day of rock climbing or a peak attempt. These challenges are designed to impel students toward taking risks, drawing upon inner resources and developing trust in one another. Peak attempts are daylong ventures often requiring pre-dawn starts. Peak attempts on this course do not typically require the use of technical gear like ropes.
Successful completion of the course demands mastery of skill, trust, fitness, confidence, tenacity, leadership, initiative and compassion. The promotion of these qualities and the discovery of internal strengths is the purpose of Outward Bound.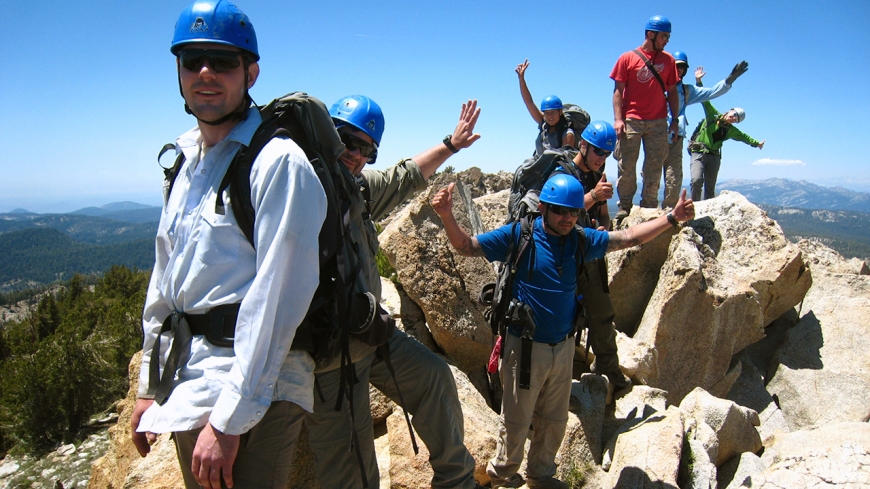 Course Area
Course Area
The Sierra Nevada Range is the largest continuous mountain range in the contiguous U.S. It extends over 400 miles from north to south and is 70 miles wide. The Sierra Nevada offers fairly stable and beautiful weather. Spring can have snow and cold temperatures but as summer advances temperatures tend to become more moderate. Temperatures are in the 70s to 80s during the day and 30s to 50s in the evening.
Our Alpine Backpacking programs operate in the Sierra National Forest as well as the John Muir and Ansel Adams Wilderness Areas. Our course area hosts some of the most famous alpine climbing and backpacking routes in the United States!