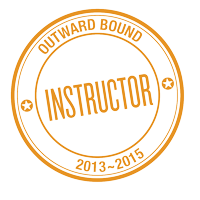 This 50-day semester is an outdoor tour de force that takes place in California's 400-mile-long Sierra Nevada Mountain Range—known as the "Range of Light"—filled with granite domes, steep peaks, and alpine lakes. You will learn how to navigate mountainous terrain, rock climb, and ascend technical peaks up to 14,000 feet. You'll earn a Wilderness First Responder certification, explore one of the most stunning areas of the United States, and gain the expertise required to pursue your own adventures!
COURSE DESCRIPTION
Our Wilderness Semester teaches you the skills necessary to plan and execute your own backcountry adventures. At the end of the course, you will leave with skill and experience in wilderness travel, mountaineering, and rock climbing. You will also have the opportunity to gain a certification as a Wilderness First Responder (WFR).
Your course begins at Fresno Yosemite International Airport in California. You will then travel by bus to the Minarets in the Ritter Range, a sub-range of the Sierra Nevada Mountains. Once at the trailhead, our staff will provide you with a course overview, lead introductory activities, and prep you for wilderness travel. You will spend your first night sleeping under the stars. The next morning, you will pack your backpack and start hiking!
Alpine Backpacking Skills (10-14 days)
The first phase of your course is spent learning the skills necessary to travel in wilderness terrain. Topics include group travel; gear selection and use; map and compass navigation; cooking and camp stove use; weather/hazard assessment; camp craft; communication skills; and how to work together as a team.
During this portion of the course, you will travel on established trails and have the opportunity to travel "cross-country" (making your own route because there is no trail). You will also have an opportunity to attempt a peak, dependent on weather and group dynamics.
Wilderness First Responder & CPR (8-10 days)
With the first phase of your expedition behind you, you will next learn the skills you need to provide first aid in a backcountry setting. These skills should give you and your group the confidence to address health and well-being issues more independently for the remainder of the course.
A Wilderness First Responder (WFR) certification is recognized as the standard level of expertise for backcountry first aid. Our WFR certification is taught by professionals—we bring in the best outside instructors. Your certification must be earned. At the end of the course, your WFR instructor, not Outward Bound, will make the decision as to if your skills are sufficient for certification.
You will cover the following topics during your course: patient assessment, basic knowledge of body systems, basic life support, equipment improvisation, environmental medicine, toxins, trauma management, evacuation and wilderness rescue.
Rock Skills (12-14 days)
The next several days will focus specifically on skills associated with technical rock climbing. Topics will include knots; anchors; movement over rock; top roping; belaying; use and care of harnesses and other equipment; site assessment and management. Students will have ample opportunity to actively climb and improve their personal skill with various types of climbs including bouldering, face climbs, cracks, and—possibly—multi-pitch. We use the granite domes and crags around the dramatic Courtright Reservoir for this section of the course.
Service (1-2 days)
Service is an integral part of the Outward Bound curriculum. We encourage service to the environment in the form of leaving campsites cleaner than we find them and practicing Leave No Trace ethics throughout the course. We coordinate service projects with land managers (US Forest Service, Bureau of Land Management, National Park Service, local land trusts, etc.) as well as with select social service agencies (nursing homes, hospitals, etc.).
Mountaineering Skills (12-15 days)
You and group will transfer to Sequoia and Kings Canyon National Park for the final phase of your course. You will build on the backpacking and rock climbing skills you learned earlier. In addition to teaching you more technical skills, your instructors will focus on honing your judgment and decision-making skills. You and your crew will have the chance to attempt a technical peak or two during this section. One potential objective is Mt. Whitney, the tallest mountain in the "lower 48" states! Attempting this peak is a significant undertaking and not a guaranteed objective. During this section of the course, if your group is ready, you will plan and execute a "finals expedition." During finals, your group will travel independently from your instructors, although they will certainly be available if you need them.
---
To apply for this course click the apply button next to the course dates that work for you. The non-refundable application fee of $125 is due at the time of application. For full fee schedule and process, click here. Course tuitions listed do not include our application fee or transportation fee.