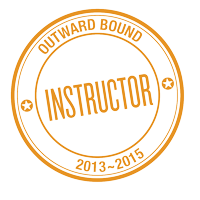 Step into the inspiring role of the Outdoor Educator on this exciting and challenging course that lets you explore some of the greatest mountain ranges on the continent. Designed to give you a deeper insight into the possibilities of experiential outdoor education, this course combines wilderness expeditions and classroom time with time spent actually facilitating students through a high ropes experience or a rock climbing day. You will have the opportunity to leave this course with all the basic requirements for an entry level position in the outdoor industry, as well as a deeper understanding of yourself and an expanded sense of what you are capable of accomplishing.
COURSE DESCRIPTION
The 52-day Instructor Development Course is an inspiring, fulfilling experience designed to help you learn the skills required to obtain an entry-level position in the Outdoor Education Industry. On this course, wilderness and classroom time are combined with time teaching younger students, giving you a chance to discover a deeper strength of character, an inspiring educator's voice and a stronger leadership ability. In Colorado, you will gain experience travelling through mountainous terrain and summiting peaks; climbing steep rock faces and teaching and facilitating outdoor education topics to your own students.
This course includes an 8-day Wilderness First Responder course, the standard medical certification in the outdoor industry, that gives you the skills to respond to remote backcountry medical emergencies.
As you gain the know-how to travel effectively as a group through the mountains and cliffs, you will explore and learn about your surroundings: their beauty and their risks; their needs and their possibilities; and how these activities and areas can be wound together to form the ultimate experiential classroom. After spending time becoming more comfortable with the outdoor classroom and educational techniques, you and your teammates will have the chance to facilitate younger students through the high ropes or a rock climbing day, teaching the skills and helping them feel empowered in their course.
This course will culminate with a final expedition in the Chugach Range of Alaska. Here, you and your team will have to draw on your experiences in the mountains, and with each other, to assume the responsibility of completing an expedition. If your group has shown sufficient investment in each other and in safe travel, your Instructors may even become shadows, there only to help manage any risks that may arise. When you complete this final challenge, you and your team will have hard earned knowledge and confidence that will last you the rest of your life: That there is more in you than you know.
COURSE AREAS
Rocky Mountains, Colorado - The Rocky Mountains are one of the most famous mountain ranges in the world, stretching 3,000 miles from Alaska to New Mexico. They have provided the foundation of legends and have had a profound influence on the development of the United States. Native Americans were the first to live among these peaks. In the 1800s, Colorado became a popular destination for pioneers, miners, cowboys and explorers, and you can see their legacy still today in the ruins scattered throughout the hills. Today, the state is famous for its abundant wilderness adventure possibilities, from skiing to rock climbing to mountain climbing. Colorado has the greatest concentration of high peaks in the lower 48, with hundreds of 'Thirteeners' (13,000+ foot mountains), and 54 'Fourteeners'.
Vedauwoo, Wyoming – In an untamed corner of Wyoming's Medicine Bow National Forest, the granite jewels of Vedauwoo (pronounced "vee-dah-voo") beckon committed rock climbers. This surreal land features phenomenal formations of rock nestled into aspen and pine forests. Herein lays the perfect mix of wilderness and classroom as well as an expansive spectrum of beginner to advanced crack and face climbing. The climbing routes vary in length from 50' to 200' and provide excellent opportunities for both single- and multi-pitch climbing.
Chugach, Alaska – This is the land of the midnight sun, where days are long and sunsets last hours. The Chugach Range sweeps along the Alaskan coast south of Anchorage in a stunning arc of tectonic upheaval. Everywhere in this range are the telltale signs: whether it's ice and snow high on a pass, or a U-shaped valley full of loose, gravel till and drained by a braided stream, it's obvious that this is glacier country. Thick brush and trees fill the lower valleys, clouds hover over everything, and the mist and rain often last days on end. Those who brave the rugged environment will be rewarded with pristine wilderness, world class views and, if you're lucky, sightings of moose or bears.
---
To apply for this course click the apply button next to the course dates that work for you. The non-refundable application fee of $125 is due at the time of application. For full fee schedule and process, click here. Course tuitions listed do not include our application fee or transportation fee.