"To Serve, To Strive and Not To Yield". Veterans' courses are designed to provide veterans and service members with hands-on opportunities to challenge themselves both physically and mentally while building on strengths and reinforcing the positive aspects of military training.
Veterans work together to regain personal independence, build camaraderie and improve self-confidence to help create a smoother reintegration into life at home.
Veterans Expeditions
Veterans expeditions provide a structured time and place to build camaraderie, outdoors skills, and personal growth. As they improve communication skills, establish trust, and validate experiences among other veterans, participants experience increases in sense of self-worth, sense of purpose and sense of achievement, all in a non-military setting. Designed to facilitate a unique and exciting environment for veterans to reflect, share insights, and live in the present moment, the focus of these programs is around shared experiences and reconnecting with the sense of camaraderie and teamwork veterans and active duty service men and women experienced overseas. Although each expedition is unique, certain key components are a part of every Veterans expedition. The expedition begins with hands-on, progressive training in a variety of expedition and personal skills. The idea that participants are "crew, not passengers" is central to the Outward Bound learning approach.
As they learn to cook, sleep, stay warm, navigate and select routes together, participants create a positive, inclusive, supportive group dynamic. Throughout the expedition, participants build, practice, and reflect on skills, and tackle new challenges together - rock climbing, a peak ascent or a big whitewater day - that pushes them to rediscover the strength and peace of mind to navigate the often difficult transition to civilian life.
SEA KAYAKING
Traveling by sea kayak is a close encounter with the elements of water and wind. As the wind moves across Lake Superior unobstructed, it often creates emerald green waves of water that provide an exhilarating paddling experience. Beginner kayakers are definitely welcome and intermediate students will have the opportunity to hone their skills further. You will learn the art of paddling a sea kayak in varied weather, landing the craft in a variety of conditions, and navigation and rescue techniques. Your Instructors will share the secrets of balancing your boat, handling it safely in the elements, and traveling as a group. You will develop your paddling skills and come to know your group while traveling from island to island and camping just inland from sandy-beached bays or rocky shorelines. You will receive map and compass instruction for taking on the more challenging open water crossings where fog, waves, and weather can make sea kayaking much more than just paddling. You will cook meals over our cook-stoves, as campfires are generally avoided in order to minimize impact on the shoreline ecosystem. The Apostles host a wide variety of craggy and smooth shorelines dotted by the occasional antique lighthouse and fringed by thick forests.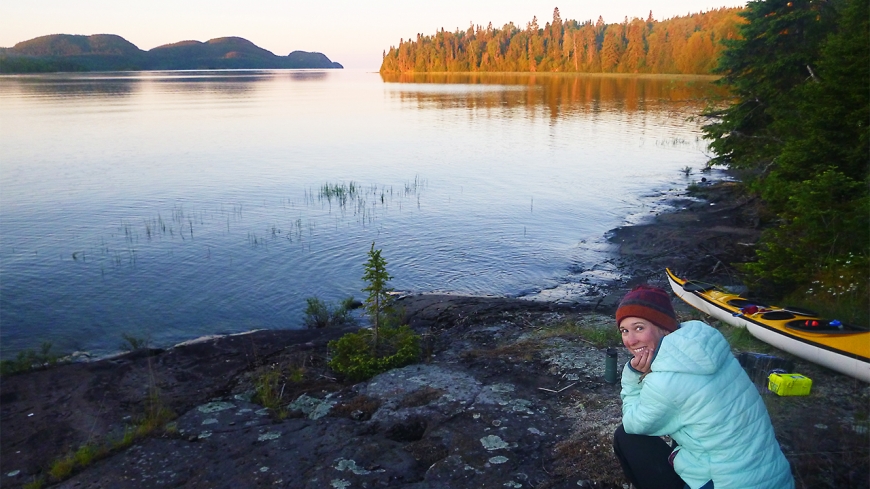 ROCK CLIMBING
You will rock climb and rappel for one to two days. Instruction is from beginner level, and you will be harnessed at all times while climbing on a variety of surfaces - cracks, faces, and chimneys. Rappelling involves stepping over the edge and controlling your own descent.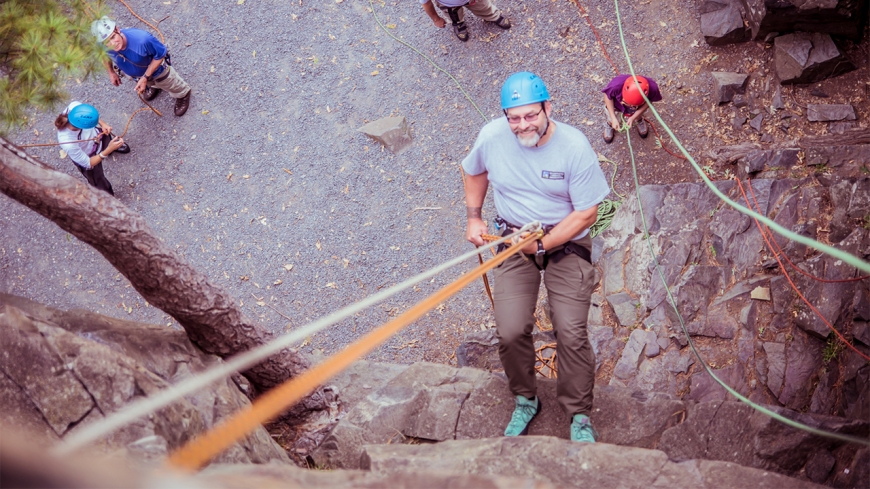 SERVICE
Service is an integral part of the Outward Bound curriculum. We encourage service to the environment in the form of leaving campsites cleaner than we find them and practicing Leave No Trace®ethics throughout the expedition. We coordinate service projects with land managers (US Forest Service, Bureau of Land Management, National Park Service, local land trusts) as well as with select social service agencies (nursing homes, hospitals). During your course, you may have the opportunity to participate in trail work or another service project.
PERSONAL CHALLENGE EVENT
We typically end our courses with a Personal Challenge Event (PCE), an individual final physical push. This might take the form of a run or a triathlon-style challenge such as a sequence of distance paddling, portaging, running or walking.
COURSE AREA
Lake Superior, Minnesota
Apostle Islands, Lake Superior - Located on the southern shores of Lake Superior, this national park has windswept beaches, sea caves, cliffs, and a rich history. The 21 islands and 12 miles of mainland host a unique blend of cultural and natural resources. Lighthouses shine over Lake Superior and the new wilderness areas. While the Apostle Islands are known for incredible clear blue skies, weather is always a factor when traveling on Lake Superior and it adds an exciting element of challenge to each course. Learning to handle varying weather is essential to successful wilderness travel. Lake Superior's weather can be unpredictable with a wide range of temperatures, so expect cooler evenings, morning mist, and summer rainstorms.