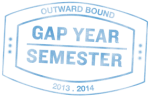 Invest in a progression of adventure while learning expedition and leadership skills to become a competent and prepared international service volunteer.
Begin with traditional sailing and navigation in an open sailing boat. Transition to Panama and immerse yourself in sea kayaking exotic coastal regions woven with service opportunities in remote villages. Complete the expedition and be welcomed as a highly prepared service volunteer with our partner organization, Safe Passage, to serve the children and families of Guatemala City, Guatemala for a final month. Return enriched and transformed and with expanded capacity as a leader.
Full description coming soon...
To apply for this course click the apply button next to the course dates that work for you. The non-refundable application fee of $125 is due at the time of application. For full fee schedule and process, click here. Course tuitions listed do not include our application fee or transportation fee.