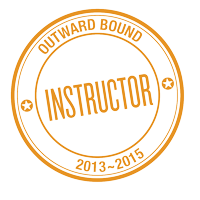 Designed for aspiring outdoor educators, this multi-expedition course offers you the chance to sea kayak, rock climb, mountaineer and backpack while developing skills necessary for an entry-level job in outdoor education. This 50-day expedition travels through two of Washington's most breathtaking and prized wilderness areas: the North Cascade Mountains and the San Juan Islands. Practice conflict resolution, group facilitation, risk management and course design while developing your leadership style and earning your Wilderness First Responder certification. After your course, embark on a new career path or simply embrace life's next adventures with a newfound confidence and strength.
COURSE AREA
The San Juan Islands are located between the Olympic Coast Range, Vancouver Island and the North Cascades. The combination of glaciated peaks and sparkling waters make the San Juan Islands one of the best kayaking venues in the world. Sightings of Orca whales, seals, porpoise and eagles are common. There are over 400 islands in Puget Sound that are rimmed by rugged shorelines, pristine beaches and mountains.
WILDERNESS LEADER EXPEDITION
Enhance your readiness to work in outdoor programs by participating in this extensive multi-faceted educational expedition. Develop your skills in sea kayaking, mountaineering and rock climbing. Learn group facilitation methods and creative course planning strategies. Study risk management with groups in a variety of settings and situations, planning for and actually teaching area youth. Wilderness First Responder course included; academic credit is available.
Your group will complete an expedition Outward Bound style, learning about wilderness education through direct experience. Your instructors and other staff will enrich your expedition with seminars and discussions about how to teach both the skills you know and those you learn, plus broader issues concerning how to manage a wilderness experience to achieve specific goals for individuals and groups.
THE OUTWARD BOUND DIFFERENCE
The wilderness inspires more than just personal introspection and a sense of awe and mystery. It can inspire leadership. If this is your calling, pursue a career in outdoor instruction through an Outward Bound instructor development course. Students are given the opportunity to thrive in genuine leadership situations and gain practical experience in leading a group toward common goals. You'll learn Outward Bound philosophy, teaching techniques and the fundamentals of experiential education. Discover first hand the power of learning by doing.
COURSE DESCRIPTION
The Northwest offers stunning course areas, and a reputation of expertise in training instructors that makes it an ideal location for a 50-day instructor course. During this course, students will have the opportunity to learn and master sea kayaking, rock climbing, mountaineering, wilderness medicine and light weight backpacking in some of the most renowned course areas in the United States, while building the human and educational skills necessary to be an effective instructor.
All the while, students are gaining their own Outward Bound experience, working in a team, pushing personal limits and exploring personal values. Students will also have the opportunity to explore how to structure this experience for others in the future. Because this course takes place at the height of the summer season, students will also experience first-hand the working of courses and base camps behind-the-scenes. At the end of the course, students will leave with Wilderness First Responder certification; skills and experience in sea kayaking, light weight backpacking, mountaineering, rock climbing, wilderness travel, and state-of-the-art training in safety management and educational programming. Instructor courses are designed for those with a serious interest in a career in outdoor education. They are not interchangeable with our semester courses.
WORKSHOPS (ONGOING)
Workshops include sessions on Outward Bound philosophy; adventure and experiential education; teaching styles and techniques; group dynamics; group facilitation and debriefing practices; leadership theory; conflict resolution; judgment and decision-making; risk management; course planning; and logistics design.
SEA KAYAKING
During this initial phase of course, you will learn how to paddle your sea kayak, perform self and assisted kayak rescues, plan routes and navigate on the water, set up camp and plan and cook meals. After mastering basic skills, you will learn and practice more advanced kayak skills, such as rolling, bracing and paddling in strong tides and currents.
WILDERNESS FIRST RESPONDER
Wilderness First Responder (WFR) certification is recognized as the standard level of expertise in backcountry first aid. Professionals from the nationally recognized Wilderness Medical Training Center will teach our WFR class at our beautiful basecamp in Mazama, WA. Get your certification and develop the following skills: patient assessment; knowledge of body systems; equipment improvisation; trauma; environmental medicine; allergies & toxins; wilderness protocols; backcountry medicine; and wilderness rescue.
MOUNTAINEERING
Your multi-day mountaineering expedition will take you into the heart of North Cascades and through the Sawtooth Wilderness. You will learn land navigation skills, and travel in the North Cascades will include time on and off-trail both above and below tree line. This phase of course covers a wealth of technical skills including basic knots and hitches, ice axe use, technical climbing on snow and rock and rope-team and fixed line travel.
ROCK CLIMBING & TOP ROPE SITE MANAGEMENT
During this phase of the course, you will learn more advanced rock climbing skills at our frontcountry rock sites while living on our basecamp in Mazama, WA. Topics will include knots, anchors, movement over rock, top roping, belaying, belay escapes, harnesses and other equipment, site assessment, and site management and facilitation skills.
EDUCATIONAL PRACTICUM
This phase of course involves 2 days of preparation to run a course, which is closely mentored by Outward Bound Staff. Once you are ready, your group will spend 2-3 days working with local students. You will facilitate their Outward Bound experience with the support and mentorship of your instructors. Your instructors will assess your performance in real time to offer useful feedback and learning so that you can improve rapidly as an outdoor educator.
BACKPACKING FINAL EXPEDITION
As you near the last days of course, you and your teammates will be able to maximize your independence and decision making as your Instructors empower you to use your newly acquired confidence and skills to make the decisions that will see you through the final days of your adventure. Your group will plan and undertake a significant backpacking itinerary. You will plan the itinerary, choose and pack your food, and develop leadership and risk management protocols for your group. If your group is assessed to be competent and ready, the group will travel independent of instructors, who will remain in the field with you for assistance if needed.
SOLO
Each Outward Bound course in Washington includes a solo experience. Your instructors thoughtfully manage solo so that it is a time where you can relax from the physical and mental rigors of course and spend some time reflecting upon the experience. While you will be largely alone during this time, you will be camping close to the instructor basecamp and your instructors will check on you regularly. Our courses also include a service component. Service projects range widely depending on the course, but may include projects such as trail repair, removal of invasive species, assisting at our local food bank farm or doing repairs at our community non-profit nursing home.
Successful completion of your course demands mastery of skills, trust, fitness, confidence, tenacity, leadership, initiative and compassion. The promotion of these qualities and the discovery of what strength is in you is the purpose of Outward Bound.
To apply for this course click the apply button next to the course dates that work for you. The non-refundable application fee of $125 is due at the time of application. For full fee schedule and process, click here. Course tuitions listed do not include our application fee or transportation fee.