The Smith Rock Climbing and Yoga course will offer students a journey through the crags and spires of one of Central Oregon's most distinct and renowned areas, Smith Rock State Park. While exploring this world famous climbing area, students will learn climbing techniques including gear use, belaying, rappelling, safety, and etiquette. Students are given ample opportunity to push their limits and test their learning amidst the grandeur of this towering geologic formation. Smith Rock State Park will also serve as the backdrop for your daily yoga practice and training. Incorporate breath, balance, focus, and flexibility into your movement on rock.
Classic Courses
Outward Bound Classic expeditions traverse some of the wildest, most rugged, awe-inspiring landscapes in the world. Our students work for every technicolor sunset; every super-fresh morning; every breathtaking vista. And when they arrive at their destination, and pause to take it all in, they know, without a doubt, that they earned their place there. By the time they finally drift to sleep, our students have put in a full day of moving their bodies, learning, cooperating as a team, puzzling through problems, and digging deep to find what really lies within – always, inevitably, more than they know.
Although each expedition is unique, certain key components are a part of every Outward Bound Classic Expedition. The expedition begins with hands-on, progressive training in a variety of expedition and personal skills. As students learn to cook, sleep, stay warm, navigate and select routes together, crew members not only do their part; they also take turns leading and following. The idea that students are "crew, not passengers" is central to the Outward Bound learning approach. Wilderness living does not encourage students to contribute to the group; it requires it. After all, on an Outward Bound expedition, awareness of others is not optional; it is necessary for success.
Throughout the expedition, students build, practice, and reflect on skills, conduct service projects and also tackle at least one challenge element - rock climbing, a peak ascent or a big whitewater day - that pushes them to find undiscovered strength. During the expedition's final phase, students experience a rare gift and highlight of the course: time to think and reflect on the Solo. With sufficient food, equipment and skills, individuals spend three hours to three days alone at an assigned campsite – with Instructors periodically checking in on them. As the course nears the end, Instructors may gradually transfer leadership responsibilities to the students, culminating with a Final Expedition. During the Final Expedition, students work as a team and utilize the skills they have acquired to solve problems and make group decisions, while Instructors maintain overall risk-management for the group with check-ins and advanced scouting.
Rock Climbing
Students will receive individual instruction and test their skills against vertical cracks, steep faces, and boulders. Camping will be in a front country site at Smith Rock State Park among the multicolored cliffs and spires. Students will learn about basic climbing equipment, rope management, wearing harnesses, tying knots, belaying and rappelling techniques, and movement on rock.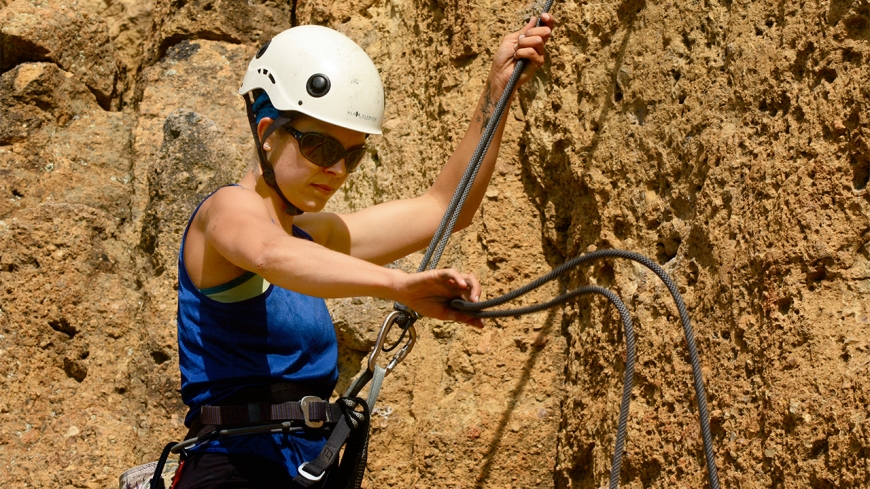 Yoga
Are you new to yoga? Do you already practice yoga but need further instruction and direction? Whether either of those questions applies to you, this course will be an opportunity to learn and practice yoga in a positive and supportive environment.
Course Area
Smith Rock State Park, Oregon–Smith Rock is a world-renowned climbing destination that attracts climbers of every ability level. It is widely considered to be one of the top sport climbing areas in the country. Smith Rock is a uniquely beautiful area that commonly graces postcards and calendars. The Crooked River lazily winds its way through the canyon, cutting a path through the cliffs and spires. To the west, the snow-capped volcanoes of the Cascade Range rise on the horizon, above the flat checkerboard of irrigated plains. One of the most striking features is a prominent spire, Monkey Face. Given the dry and temperate climate, rock climbing is feasible most of the year.
Getting Started
If you are ready to enroll on a course click the enroll button next to the course you wish to select or you can enroll over the phone by speaking with one of our Admissions Advisors (toll-free) at 866-467-7651.
To secure your spot on a course you must submit an enrollment form and $500 deposit that is applied toward the total cost of the course and includes a $150 non-refundable enrollment processing fee. Click here to learn more about the complete enrollment process.