For over 20 years, Outward Bound has run wilderness expeditions specially designed for war veterans and service members. Outward Bound draws on the healing benefit of teamwork, challenge, friendship, and the natural world. These courses provide a unique opportunity for self-discovery that can help veterans with their transitions back into civilian life.
This seven-day coastal canoeing course will have participants expedition by kayak through the 200 mile stretch of islands off the coast of North Carolina known as the Outer Banks. From tales of the Lost Colony, the Wright Brothers and Blackbeard the Pirate, the Outer Banks are steeped in legends and history, setting the stage for an amazing experience. Participants will travel along the Cape Lookout National Seashore, learn to read tide charts, paddle past lighthouses and wild ponies, and camp on sandy beaches each evening.
In addition to learning new skills in canoe travel and backcountry living, participants will discover or rediscover their true potential, by building trust with their fellow veteran crew members, practicing leadership skills, initiative and compassion.
This course offers veterans the unique opportunity to take a break from their busy lives, challenge themselves in new ways, develop skills that will assist them in readjusting to life back home, candidly discuss obstacles faced by veterans and enjoy an inspiring adventure in the beautiful country for which they served, surrounded by fellow vets.
Veterans Expeditions
Veterans expeditions provide a structured time and place to build camaraderie, outdoors skills, and personal growth. As they improve communication skills, establish trust, and validate experiences among other veterans, participants experience increases in sense of self-worth, sense of purpose and sense of achievement, all in a non-military setting. Designed to facilitate a unique and exciting environment for veterans to reflect, share insights, and live in the present moment, the focus of these programs is around shared experiences and reconnecting with the sense of camaraderie and teamwork veterans and active duty service men and women experienced overseas. Although each expedition is unique, certain key components are a part of every Veterans expedition. The expedition begins with hands-on, progressive training in a variety of expedition and personal skills. The idea that participants are "crew, not passengers" is central to the Outward Bound learning approach.
As they learn to cook, sleep, stay warm, navigate and select routes together, participants create a positive, inclusive, supportive group dynamic. Throughout the expedition, participants build, practice, and reflect on skills, and tackle new challenges together - rock climbing, a peak ascent or a big whitewater day - that pushes them to rediscover the strength and peace of mind to navigate the often difficult transition to civilian life.
Sea Kayaking
Participants can expect to spend a good deal of time each day in kayaks. Both single and tandem kayaks will be used. Depending on the wind and weather, the level of difficulty will vary from day to day. Crews will practice marine expedition risk assessment and management, route planning, navigation, paddle stroke techniques, kayak-based rescues and equipment use and its care.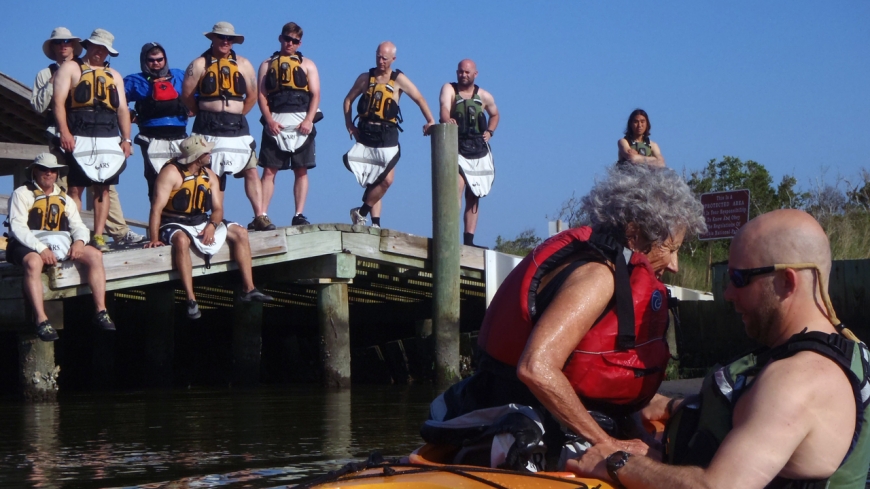 Course Area
Outer Banks, NC
Dotted with lighthouses, the Outer Banks are a 200-mile-long string of narrow barrier islands beginning at the southeastern corner of Virginia Beach and going down the North Carolina coastline. The Core and Pamlico Sounds, which are along the Cape Lookout National Seashore, are where most of North Carolina Outward Bound School's sea kayaking courses take place. This wilderness area remains minimally developed and offers the largest expanse of primal barrier island ecology available on the east coast. There are no residents on this 56-mile long section, which runs from Ocracoke Inlet in the northeast to Beaufort Inlet in the southeast.
The three undeveloped barrier islands that make up the seashore - North Core Banks, South Core Banks and Shackleford Banks - offer many natural and historical features. These low profile, sandy, thinly vegetated islands are an International Biosphere Reserve for research and conservation purposes. The unique ecosystem of the Outer Banks is made up of ocean waters, sandy beaches, vital wetlands, maritime forests, and a series of sounds, estuaries and salt marshes.
The diverse environment gives life to all kinds of creatures, from deer and wild horses, to sea turtles, ghost crabs and dolphins. Located on one of the great migratory flyways of America, birders come to the Outer Banks from all over the world to spot rare birds. The coastal winds of the Outer Banks still carry tales of The Lost Colony, Wilbur and Orville Wright and Blackbeard the Pirate. During the 19th century, the tricky shoals of the Outer Banks swallowed more than 650 ships, quickly earning the nickname "The Graveyard of the Atlantic." The result? An outcropping of lighthouses, which continue to serve as famous landmarks for the Outer Banks today.