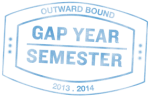 The Rockies to Ecuador Leadership Semester is an extraordinary expedition which combines beautiful, challenging environments and activities with an intensive leadership curriculum which emphasizes individual growth and community.
As with all Outward Bound courses, the focus is not just what you do, but why you do it and who you are when you do it.
As you travel through the pristine mountains, into the meandering canyons, and across continents into a new culture, you will certainly encounter considerable hardships and challenges. These experiences will not only push you physically, but also emotionally and socially. They will provide valuable opportunities for you to discover your strengths and potential, and also to learn tools that will help you better cope with difficult situations. An exploration of the importance of compassion, service, and social and environmental responsibility will provide real experiences to learn anew the value of giving to others as well as being an involved community member and steward to the environment.
Your decision to attend the Rockies to Ecuador Leadership Semester is an important commitment and should be made with complete awareness of the course's depth, challenges and complexity. You will live under Outward Bound values and guidelines in the field for 81 days and you will be a crucial part of making it a valuable experience for everyone in your patrol. The 8-20 people (depending on course size) you spend 81 days with -- day and night, through hardship and exuberance, sunshine and foul weather, harmony and conflict, working together to overcome wilderness challenges — become like a small family and community. Many previous students have become best and lifelong friends. However, like any family or community, there are times when everyone gets along and times when they don't.
However, the trust and camaraderie that develops among you is the key to your patrol's success, and an integral part of your Outward Bound course. Through shared adventures you learn to accept and respect one another's differences, minimizing each other's shortcomings, while maximizing each other's strengths. Each member of the patrol makes a valuable contribution to what becomes a smoothly functioning team, capable of feats that would be unthinkable for an individual member.
Successful completion of your course demands mastery of skills, trust, fitness, confidence, tenacity, leadership, initiative and compassion. The technical skills gained on this course will benefit you in your outdoor pursuits in the future, but the true value of your course experiences lies in the "soft" skills: the essential abilities and characteristics of great citizens and leaders. They are applicable to all facets of life — school, career, relationships, community and home, as well as the out of doors. The promotion of these qualities, and the discovery of what's in you, is the purpose of Outward Bound.
Course Highlights
Leadership, teamwork, goal-setting and expeditionary behavior skills
Camping, navigation, and route finding skills in winter, canyon, and glacial terrain.
Geology and ecology of four distinct environments, and cultural education
High altitude climbing and peak attempts
Risk management training, emergency response, and decision-making skills
Technical skills acquisition and practice: Alpine and glacier travel, crampon and ice axe use, technical rope systems and techniques, rock climbing skills, canyoneering, and much more.
Exploring colonial Quito, practicing Spanish, and visiting Quechan markets in the villages
NOTE: YOU MUST BE 18 YEARS OF AGE AT COURSE START AND YOU WILL NEED A VALID PASSPORT TO GO ON COURSE!
If you do not currently have a passport, you should start the application process NOW. It can take many weeks for your paperwork to be processed and a passport issued. For passport information go to: http://travel.state.gov/passport/.
To apply for this course click the apply button next to the course dates that work for you. The non-refundable application fee of $125 is due at the time of application. For full fee schedule and process, click here. Course tuitions listed do not include our application fee or transportation fee.