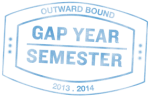 This 60-day expedition begins in the frozen Boundary Waters Canoe Area Wilderness near Ely, MN. You'll soon understand how this million acre wilderness has made Ely the dogsledding capital of the lower 48 states. The popular summer canoe routes, now frozen beneath feet of ice and snow, provide an idyllic setting for day, week or month long dogsledding expeditions. On an Outward Bound dogsledding expedition you won't just learn how to run dogs, you'll learn how to explore one of the most remote, beautiful and harsh environments on the planet. Together with your instructors, your expedition team and your dogs, you'll learn how to care for one another and work together to accomplish more than you ever thought possible.
From skis to sails…after your dogsledding expedition you'll head south to the turquoise waters of Florida where you will sail, navigate and live aboard an open boat. You will challenge your teamwork and leadership skills as you adapt to the rhythms of wind and wave, and maneuver your boat in shallow waters among thousands of uninhabited mangrove islands.
This course is designed for anyone 18 and older who's looking for the adventure of a lifetime. You'll run your own team of professional huskies, learn how to comfortably live in sub-zero temperatures, navigate the Florida coastline, build relationships with like-minded adventurers and earn the right to tell unparalleled adventure stories. No prior knowledge or experience is necessary.
COURSE DESCRIPTION
Your course starts at the Duluth International Airport where you'll meet your teammates as they arrive and then drive further north to the Outward Bound basecamp where your instructors will be waiting. The first night will be filled with introductions, both to your team and to your equipment. Your instructors will help you re-pack your gear into packs we provide. You'll try-on layers of clothing, mitts and boots all provided by Outward Bound. You'll even test your sleeping bags by sleeping out near a heated building on the first night. Don't worry; your instructors will teach you a few tricks for staying comfortable and warm throughout the night.
The next morning you will begin the first phase of your expedition, a 4-day training on skis. On this short expedition you'll learn how to ski while pulling a pulk-sled full of equipment. You'll also learn winter camping basics and start developing a greater comfort and confidence living outside in the winter. Before you know it, you'll be back at basecamp preparing for your main expedition. You'll work with your instructors to create a menu, pack food for your group and your dogs, learn about new equipment and pore over maps as you plan your trip route.
During this week, prior to your extended dogsledding expedition, you will build a dogsled from scratch. Your instructors will guide you in lashing a stanchion to the runners of a dogsled, weaving a basket for the gear to sit in, and putting "shoes" on the runners to protect the wood. You will name the dogsled and it will be used by future Outward Bound groups for years to come. With the sled you've built you will acquire another one and head to the dog yard with all of your gear packed into the sleds.
When your dog teams see you coming, they'll begin a chorus of howls and barking, escalating in volume until you give them the command to run…"Ready dogs, let's go!" The winter woods will become silent as you ski and mush down the trail.
During the days, half your team will ski, taking on the tasks of navigating, breaking trail for the dogsleds and checking for safe ice conditions. The other half of the team will pack the dogsleds, hook up the dog teams and work with the dogs to maneuver the dogsleds through various conditions. At night you'll work with your team to care for your dogs, set up camp, process firewood for the fire and cook dinner. When camp is finally set-up and you have enough firewood to keep you warm, you'll sit around your blazing fire telling stories and enjoying a well-earned hot meal. If you're lucky, you'll marvel at the northern lights dancing across the sky.
Towards the end of your dogsledding expedition you'll have your Solo experience. Solo is an opportunity to practice the skills you've learned and reflect on your expedition. You'll set-up your own shelter and cook your own dinner. Your instructors will check-in on you, but don't be surprised if you're doing just fine without any help. The self-reliance you practice during your solo can be one of the most profound and rewarding aspects of your expedition.
After Solo you'll begin the final phase of your dogsledding expedition. As you become more and more competent skiing, mushing and caring for yourself and your group, your instructors will give you more and more freedom to run the expedition on your own. Your instructors will be present for constant support, but during this phase of the expedition you'll begin to see just how capable you really are. The self-reliance you practiced on solo will become a normal part of every day.
Throughout the course, as you learn about yourself and the role you play within your expedition team, you'll also be pushed to discover a greater role you can play within the larger community. Your group will participate in service projects like helping homesteaders get ready for the changing seasons, doing trail maintenance for the Forest Service, working with the International Wolf Center, or caring for the Voyageur Outward Bound sled dogs by fixing their doghouses.
At the end of your dogsledding expedition you'll make your way back to basecamp. You'll bring the dogs back to their dog houses, making sure they're fed and comfortable before taking some time to relax and warm-up yourself. Start with steamy sauna and take the "polar plunge" in the nearby Kawishiwi River where we've cut a hole in the ice. Then take a traditional shower with piping hot water, perhaps the most memorable and enjoyable shower of your life, before joining your group for a meal to celebrate all that you've accomplished. Your group will spend one more night together in a heated cabin before an early breakfast and travel to Florida.
Your sailing expedition will begin on the southern tip of Florida where a 30-foot open sailboat slowly becomes your new home and classroom your crew will be pushed to refine and enhance your expedition skills as you travel into the Florida Keys. The boats are rigged to take full advantage of the power of the steady Florida breezes, and when the winds do not cooperate, the boats can be rowed by two or four people pulling on oars. At night you'll configure the boat as a sleeping platform and you and your watch mates will take turns doing anchor watch under brilliant night skies.
Underway, you will learn to execute sailing maneuvers like tacking and gybing, which turn the boat through the wind. As you practice rowing, you will discover that by coordinating all of the rower's movements so that the oars splash as one, you halve the strength it takes to travel on windless days. It takes an entire crew to sail or row the boat well; the whole crew must participate mentally and physically.
You will have many opportunities to explore the infinite facets of wilderness leadership. Towards the end of the sailing phase, your group will earn the ultimate opportunity to put these and your new technical skills to the test. Your instructors will remove themselves from all routine decision making and you and your crew will take on the responsibilities of the expedition for yourselves.
COURSE AREA
Minnesota
The BWCAW is a million-acre expanse of lakes and granite that has been protected as a true American wilderness—no roads, signs, or power lines. It has changed little since the glaciers receded 10,000 years ago. In winter it offers amazing expanses of frozen lakes, snow covered trees, and crystalline mornings. Wolves are one of the few active winter species in the area and it is not uncommon to hear their howls or see their tracks. Sparkling snowscapes, frosty pines and the hush of the snow will be etched in your mind as you look back on your adventures traveling through the border country.
Florida
The southern tip of Florida is an ecosystem of rivers, lakes, estuaries, and coral reefs. Within these waters exists an inextricable relationship between Florida's environment and the quality of life for the more than seven million humans that call south Florida home. Originally, close to 8.9 million acres of Florida's southern peninsula extending from the lakes and marshes of central Florida southward to the Florida Bay were interconnected wetlands -- four million of those acres were known as the Everglades. Beginning in 1882 and continuing throughout most of the 20th century, developers built an expanding array of canals, levees, and drainages in the Everglades in an attempt to turn pristine Everglades' wetlands into farmland to provide suitable land to feed a growing population. You will experience contrasting environments along the expedition route as you sail from the abundant wildlife of the coral reefs off the Keys to the pristine mangrove forests and rivers of the southwest coast to the high rise condominiums and crowded metropolitan areas of Florida's Gulf coast.
GET STARTED
To apply for this course click the apply button next to the course dates that work for you. The non-refundable application fee of $125 is due at the time of application. Full course tuition and in-course transportation fee are due within 60 days of course start date. Course tuitions listed do not include our application fee or transportation fee. You can also call one of our expert Admissions Advisors at 866-467-7651.