This is a three-week expedition including mountaineering in the La Sal Mountains, canyon backpacking and canyoneering in or around Canyonlands National Park and rafting on the Colorado or San Juan Rivers. This course is perfect for fit, motivated teens or adults looking for skills for lifelong success.
This course combines whitewater rafting, backpacking, and the mysteries of the canyons. During the initial phase of your course, either on the river or in the mountains, your Instructor introduces you to the most important elements of wilderness lifestyle: environmental stewardship, outdoor cooking, safety and first aid.
On the river, you and your companions work to become a team paddling a raft or sit-on-top kayaks, coordinating your positioning and spacing and even your strokes to help and protect each other as you go. In the mountains and the canyons, you climb over high passes, descend into lush, vegetated valleys and attempt several summits, learning to rely on and help each other.
CLASSIC COURSES
Outward Bound Classic expeditions traverse some of the wildest, most rugged, awe-inspiring landscapes in the world. Our students work for every technicolor sunset; every super-fresh morning; every breathtaking vista. And when they arrive at their destination, and pause to take it all in, they know, without a doubt, that they earned their place there. By the time they finally drift to sleep, our students have put in a full day of moving their bodies, learning, cooperating as a team, puzzling through problems, and digging deep to find what really lies within – always, inevitably, more than they know.
Although each expedition is unique, certain key components are a part of every Outward Bound Classic Expedition. The expedition begins with hands-on, progressive training in a variety of expedition and personal skills. As students learn to cook, sleep, stay warm, navigate and select routes together, crew members not only do their part; they also take turns leading and following. The idea that students are "crew, not passengers" is central to the Outward Bound learning approach. Wilderness living does not encourage students to contribute to the group; it requires it. After all, on an Outward Bound expedition, awareness of others is not optional; it is necessary for success.
Throughout the expedition, students build, practice, and reflect on skills, conduct service projects and also tackle at least one challenge element - rock climbing, a peak ascent or a big whitewater day - that pushes them to find undiscovered strength. During the expedition's final phase, students experience a rare gift and highlight of the course: time to think and reflect on the Solo. With sufficient food, equipment and skills, individuals spend three hours to three days alone at an assigned campsite – with Instructors periodically checking in on them. As the course nears the end, Instructors may gradually transfer leadership responsibilities to the students, culminating with a Final Expedition. During the Final Expedition, students work as a team and utilize the skills they have acquired to solve problems and make group decisions, while Instructors maintain overall risk-management for the group with check-ins and advanced scouting.
RAFTING
Your rafting section will travel through Cataract Canyon on the Colorado River, which is one of three main rivers that are unique to Utah. You will learn that the Colorado River becomes one of the swiftest rivers on the continent below its confluence with the Green River in the heart of Canyonlands. After navigating through 50 miles of flat-water, you encounter 30 exciting rapids that rate with those of the Grand Canyon in power and difficulty, including the famous Mile Long Series, Capsize and Big Drops I, II and III. In the nearby canyons, fantastic rock shapes carved by the whimsical forces of nature await hikers who venture off-river. Motors may be needed to travel from the end of the rapids to the take-out depending on the water level of Lake Powell.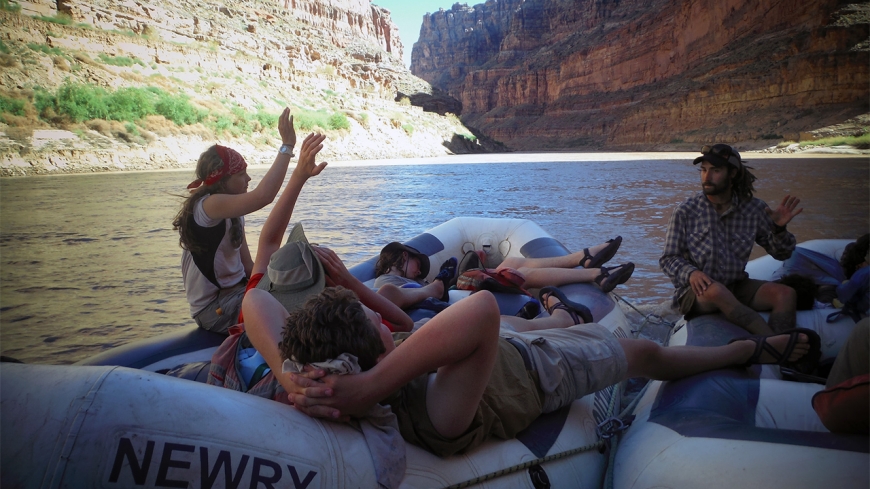 CANYONEERING
Canyoneering involves travel in canyons that are often narrow and steep with many obstacles to negotiate. Traveling through them requires a combination of scrambling up and down-climbing over boulders, rappelling, lowering packs and walking with your pack on.
This rugged, rocky terrain requires teamwork and effective decision-making. To meet the demands of technical terrain you encounter, Instructors will begin by teaching the foundational skills, such as basic movement over rock, necessary for efficient travel.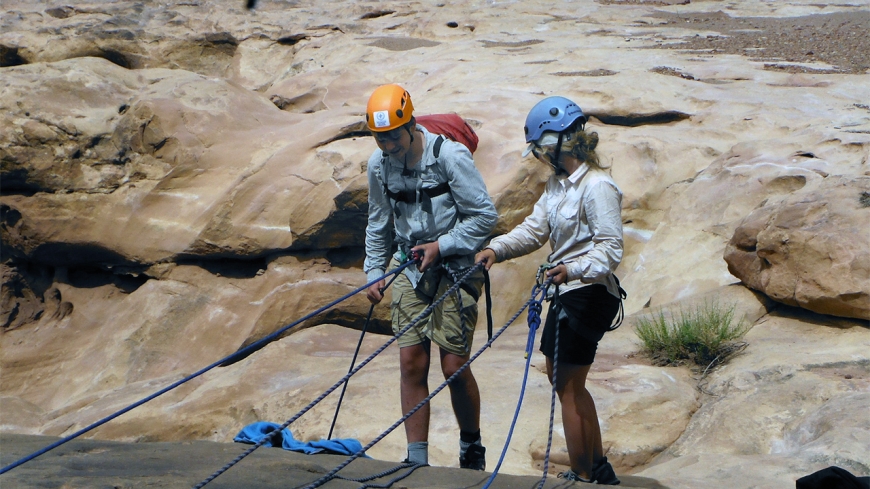 BACKPACKING
Your course will begin with lessons in basic travel and camping techniques. Along the way, you learn Leave No Trace¨ techniques; map and compass navigation; camp craft; and get a feel for the human and natural history of the area. The true value of the trek takes hold as you backpack in the canyons and out across the mesas, camp on vast expanses of desert slickrock, and stop along the way to explore amazing ruins and interesting geology.
Most importantly, you get to spend time in an incredible area of the desert, sleep under the stars, feel the spring or fall sunshine on your face, and maybe watch a few sunsets over this magical landscape.
ROCK CLIMBING
In the mountains, or on the river, you may spend a day experiencing the thrill and grace of rock climbing or the control and exhilaration of rappelling. This is a great opportunity to challenge your fears and push yourself to places you never thought possible. Rock climbing/rappelling instruction is for all levels and includes basic climbing techniques, helmet and harness use, climbing commands and belaying.
FINAL EXPEDITION
The course will end with your Final Expedition, where you and your team will head back into the field to put all your newly acquired skills into practice. Depending on your team's ability levels, your Instructors will step back during this section and allow you and your team to take over decision-making responsibilities for navigation, time schedules, communication, and general leadership.
COURSE AREA
La Sal Mountains, Utah
The La Sal Mountains are located in Southeastern Utah, right outside the sporting mecca of Moab. This range was originally named when the Spanish came through in the early 1500's and they mistook the snow for salt. The La Sals are known for their groves of aspen, scrub oak and incredible views into Canyonlands National Park and the Four Corners area. Hidden lakes dot the landscape. Peaks in the La Sals range from 10,000 to just under 13,000 feet and include Mt. Tukuhnikivatz, Mt. Mellinthin, Mt. Waas, Mt. Tomasaki and Haystack Mountain.
Canyon Country, Utah
The most spectacular aspects of the Utah desert are hidden within its vast canyon networks, formed by millennia of wind and water. In 1869, while exploring the Green and Colorado Rivers, John Wesley Powell first described what was then the largest uncharted area in the United States: the canyon lands. Now, as then, this area is desolate, mysterious and beautiful. It is made up of fascinating geological formations: sandstone and slickrock canyons which are sculpted into a labyrinth of alcoves, rock bridges, pinnacles, buttes, box canyons, ledges and arches.
San Juan River, Utah
The San Juan River in Southern Utah, a major tributary of the Colorado River, flows through the deeply incised sandstone slick rock country of the Colorado Plateau in many tight "goosenecks." The San Juan is well known for archeological sites of ancient Indians: Fremont and Anasazi. Along with challenging rapids, the San Juan offers the fun boating phenomenon of "sand waves." Weather and condition permitting, a mixed fleet of rafts and sit-on-top kayaks will be used on the San Juan.
Getting Started
If you are ready to enroll on a course click the enroll button next to the course you wish to select or you can enroll over the phone by speaking with one of our Admissions Advisors (toll-free) at 866-467-7651.
To secure your spot on a course you must submit an enrollment form and $500 deposit that is applied toward the total cost of the course and includes a $150 non-refundable enrollment processing fee. Click here to learn more about the complete enrollment process.