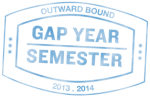 The Pathfinder Leadership Expedition allows students to reflect on their strengths while giving them skills and ideas that could help to shape their future. This 30-day course takes place in the wilderness of Utah's rivers and canyon country. Course includes a Wilderness First Aid certification and professional group leadership workshop sessions.
Course Description
The Pathfinder Leadership Expedition course is specifically designed for young adults searching for a direction in life. This course offers a more purposeful approach to using the time and activities in the wilderness to build leadership, character, and an ethic of service. The focus is on learning leadership skills (such as communication, collaboration, decision-making, and conflict resolution) and extracting self-awareness values, priorities, and goals – from the expedition activities.
The course begins in Utah's canyon country surrounding the world-famous town of Moab. Here you will learn about backcountry expedition technique, including leadership skills, teamwork, navigation and backcountry living skills. You and your new team will descend canyons, learn to rock climb and begin to learn about each other, as well as yourselves.
After the first section in the wilderness, you will spend 3-5 days along the river outside of Moab, on a service expedition that explores the relationship between self and community. There will be ample opportunity to work on extended service projects and to learn about the people and the area. Past Service projects have included trail building, working at a community garden, and helping out the elderly. After the service component, you will take a Wilderness First Aid certification class.
After your Wilderness First Aid certification you and your team will set off into your boats and head downriver through either Cataract Canyon or the San Juan River, depending on weather and current river levels.
The course will end with your Final Expedition, back on land amongst deep and scenic canyons, where you and your team will put all your newly acquired skills into place. Depending on your team's ability levels, your instructors will step back during this section and allow you and your team to take over responsibility for decision making for navigation, time schedules, communication and general leadership.
Course Area
Canyon Country, Utah – The most spectacular aspects of the Utah landscape are the hidden treasures found within its vast canyon networks, formed by millennia of wind and water erosion. The canyonlands of Southern Utah are still as stunning, mysterious, and wild as they were for the first Western explorers. Imagine yourself and a team scrambling, climbing, and rappelling within a geological playground of pinnacles, narrow slot canyons, immense cliffs, and arches when you turn a corner and are met face to face by Native American ruins and rock art from 800-2000 years ago.
AND
Option 1: Cataract Canyon of the Colorado River – You hear "ALL FORWARD!" shouted above the roar of the rapids by the captain of your raft (that could be you). Next thing you know, you're digging your paddle blade in deep to meet some of the biggest and best whitewater of the West.
One of the most rugged and beautiful canyons in the West, Cataract Canyon takes you through the heart of Canyonlands National Park. You will learn how to guide a whitewater raft as you float past natural wonders and ancient ruins to the confluence of the Colorado and Green Rivers while preparing for what awaits downstream. The Colorado River roars through 29 exciting rapids that rate with those of the Grand Canyon in power and difficulty, including the famous Mile Long Rapids and "the Big Drops." In the nearby canyons, fantastic rock shapes carved by the whimsical forces of nature await you as your group ventures off-river to jaw-dropping views.
OR
Option 2: San Juan River, Utah – The San Juan River in southern Utah, a major tributary of the Colorado River, flows 83 miles through the deeply incised sandstone slick rock country of the Colorado Plateau in many tight bends. The San Juan is world renowned for archaeological sites of ancient Indians featuring both petroglyphs and spacious cliff dwellings accessible on side hikes from the river. The San Juan River is also well known for its exquisite natural scenery, as you'll soon find out once you are deep within the towering canyon walls.
---
To apply for this course click the apply button next to the course dates that work for you. The non-refundable application fee of $125 is due at the time of application. For full fee schedule and process, click here. Course tuitions listed do not include our application fee or transportation fee.