You don't need previous rafting experience to fully embrace this extraordinary expedition which combines beautiful environments and exciting activities with an emphasis on developing leadership, community, and personal strength (not just physical). On the river, you will learn both the basics and the fine points of managing a paddle raft through some of the best whitewater in the West, as well as camping underneath the pristine night skies of Southern Utah. You will paddle a raft, taking in the exquisite natural beauty, and often stop to explore many awe-inspiring viewpoints.
CLASSIC COURSES
Outward Bound Classic expeditions traverse some of the wildest, most rugged, awe-inspiring landscapes in the world. Our students work for every technicolor sunset; every super-fresh morning; every breathtaking vista. And when they arrive at their destination, and pause to take it all in, they know, without a doubt, that they earned their place there. By the time they finally drift to sleep, our students have put in a full day of moving their bodies, learning, cooperating as a team, puzzling through problems, and digging deep to find what really lies within – always, inevitably, more than they know.
Although each expedition is unique, certain key components are a part of every Outward Bound Classic Expedition. The expedition begins with hands-on, progressive training in a variety of expedition and personal skills. As students learn to cook, sleep, stay warm, navigate and select routes together, crew members not only do their part; they also take turns leading and following. The idea that students are "crew, not passengers" is central to the Outward Bound learning approach. Wilderness living does not encourage students to contribute to the group; it requires it. After all, on an Outward Bound expedition, awareness of others is not optional; it is necessary for success.
Throughout the expedition, students build, practice, and reflect on skills, conduct service projects and also tackle at least one challenge element - rock climbing, a peak ascent or a big whitewater day - that pushes them to find undiscovered strength. During the expedition's final phase, students experience a rare gift and highlight of the course: time to think and reflect on the Solo. With sufficient food, equipment and skills, individuals spend three hours to three days alone at an assigned campsite – with Instructors periodically checking in on them. As the course nears the end, Instructors may gradually transfer leadership responsibilities to the students, culminating with a Final Expedition. During the Final Expedition, students work as a team and utilize the skills they have acquired to solve problems and make group decisions, while Instructors maintain overall risk-management for the group with check-ins and advanced scouting.
RAFTING
Your rafting section will travel through Cataract Canyon on the Colorado River, which is one of three main rivers that are unique to Utah. You will learn that the Colorado River becomes one of the swiftest rivers on the continent below its confluence with the Green River in the heart of Canyonlands. After navigating through 50 miles of flat-water, you encounter 30 exciting rapids that rate with those of the Grand Canyon in power and difficulty, including the famous Mile Long Series, Capsize and Big Drops I, II and III. In the nearby canyons, fantastic rock shapes carved by the whimsical forces of nature await hikers who venture off-river. Motors may be needed to travel from the end of the rapids to the take-out depending on the water level of Lake Powell.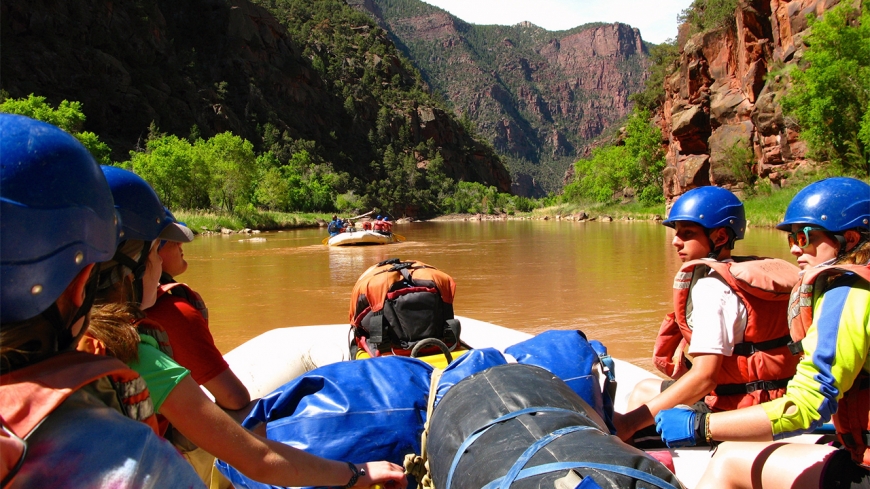 COURSE AREA
Depending on permits and river conditions, your course will take place in one of the following regions:
Cataract Canyon- Colorado River, Utah
One of the most rugged and beautiful canyons in the West, Cataract Canyon takes you through the heart of Canyonlands National Park. You will learn how to guide a whitewater raft as you float past natural wonders and ancient ruins to the confluence of the Colorado and Green Rivers while preparing for what awaits downstream. The Colorado River roars through 29 exciting rapids that rate with those of the Grand Canyon in power and difficulty, including the famous Mile Long Rapids and "the Big Drops." In the nearby canyons, fantastic rock shapes carved by the whimsical forces of nature await you as your group ventures off-river to jaw-dropping views.
Gates of Lodore -Green River, Colorado and Utah
Whitewater on the Green River begins at our course start where the river enters the imposing Gates of Lodore Canyon. Red sandstone escarpments rise up 2,000′ above the river as it carves a 45-mile course of placid flat-water and raging rapids through three dramatic canyons—Lodore, Whirlpool and Split Mountain. This section of river is enclosed within Dinosaur National Monument, and you will be privileged to witness the towering cliffs as well as rock art from the Fremont Indians, who called these canyons home over 1,000 years ago.
Yampa River – Colorado and Utah
There are few instances in the United States or the world, where a river runs free and wild without dams, highways, railroads, or other manmade creations for its entire length. The Yampa is a symbol of wild rivers around the world, and it is the only major tributary of the Colorado River system without a dam controlling its flow. You can paddle through deep sandstone gorges and class II-IV rapids with your expedition mates. The Yampa is one of the most sought after rivers on any river-runner's life-list due to the exhilarating whitewater, rich Native American history from over one thousand years ago, storied recent political history, and riverside wildlife.
Getting Started
If you are ready to enroll on a course click the enroll button next to the course you wish to select or you can enroll over the phone by speaking with one of our Admissions Advisors (toll-free) at 866-467-7651.
To secure your spot on a course you must submit an enrollment form and $500 deposit that is applied toward the total cost of the course and includes a $150 non-refundable enrollment processing fee. Click here to learn more about the complete enrollment process.