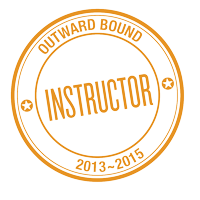 Southwest River Skills Development Course is the perfect way to develop your outdoor instructor skills in a real wilderness setting while at the same time having a true and challenging adventure for yourself. This experience is designed to develop your character, leadership, and judgment, and to learn the technical skills required to obtain an entry level position in the outdoor education or guiding industry.
This expedition takes you through some of the most beautiful, wild, and remote whitewater river corridors in the Southwest. With river sections on the Green and Colorado Rivers, through the spectacular desert canyons of Utah including Dinosaur National Monument and Canyonlands National Park, this course is the envy of any novice or experienced river runner. You will travel in paddle rafts, oar boats, and sit-on-top kayaks for over 200 river miles, through swirling flat water and turbulent whitewater with rapids up to Class IV. Additionally, you will have the opportunity to day hike and explore the rugged and secluded canyons along the river corridor. This is the epic adventure awaiting you.
Meanwhile, you will be introduced to the essential general outdoor and hiking skills, and of course, you will learn the entire scope of river instructing skills. Your instructors will also provide workshops on effective teaching, lesson planning, communication skills, and group facilitation skills for working with students. You will be given the opportunities to practice these skills and receive feedback for improvement from these seasoned outdoor professionals. Add in a Wilderness First Aid course and your river instructing resume will be appealing to any entry level outdoor company!
Course Highlights
Leadership, teamwork, goal-setting and expeditionary behavior skills
Rafting technical skills acquisition: paddle strokes, ferries, high-siding, and paddle raft guiding and commands.
Kayaking technical skills acquisition: peeling out, eddy-turns, bracing, and surfing.
Geology, ecology, and human culture of the Southwest
Risk management training, emergency response, and decision-making skills: safety briefings, rapid swims, boat flip drills, rope throws, self-rescue.
Swiftwater Rescue Training and Certification
16 hour Wilderness First Aid Training and Certification
Interpersonal skills and teaching skills development
Itinerary Overview
The following is the planned itinerary. However, this may be changed at short notice due to weather or river conditions or student skills and abilities.
Section 1 – Whitewater Rafting 1 Your adventure begins at the put-in for the Green River through Desolation and Grey Canyons. You will spend 8-9 days rafting and exploring through these canyons which are known for their outstanding rock formations, impressive ancient rock art, abandoned 19th century outlaw cabins, and 60+ rapids.
Section 2 – Whitewater Rafting 2 With the basic rafting skills you have acquired thus far, it will be time to transfer to a more notorious river section – Cataract Canyon through Canyonlands National Park. The river roars through this remote and beautiful canyon, creating 29+ rapids that compete with those in the Grand Canyon in power and difficulty. Your rafting, teamwork, and communication skills will be put to the test as you and your teammates switch off captaining the raft through these challenging rapids.
Section 3 – Wilderness First Aid This 16-hour class over three days will take place in the backcountry, on the beaches of the river. Provided by a nationally-recognized wilderness medicine provider, you will learn how to prevent, identify, and treat common backcountry injuries and illnesses with only the tools you have available in the wilderness. A practical and written test will be required at the end of the class, and if you pass these, you will walk away with a WFA certification.
Section 4 - Swiftwater Rescue Training and Certification At this point, you will transfer to a smaller river, the San Juan in Southeastern Utah. Here you will spend 2 ½ days receiving training in Swiftwater Rescue 1 Skills. This training will prepare you to respond to capsizes, persons overboard, and pinned or flipped rafts.
Section 5 – Whitewater Sit-on-Top Kayaking Continuing down the San Juan River, you will switch to Sit-on-Top Kayaks to fine-tuning your whitewater skills. Kayaks are more maneuverable and responsive to your paddling, but also more susceptible to the forces of the water. You will spend 5-8 days in these crafts and also day hiking to see the remarkable cliff dwellings and rock art that are accessible from the river corridor.
Section 6 – Whitewater Rafting Finals Expedition For the last 7-8 days of the course, you will head back to Northeast Utah to raft the Green River again, but this time through the imposing Lodore Canyon section in Dinosaur National Monument. For this section, it will be up to you and your patrol mates to plan and execute the descent of the river. Your instructors will be there to advise if needed, however, it will be your time to demonstrate to yourself and others the massive extent of river experience and skills you have absorbed over the course. You may be surprised by how far you have come in 40 days, and by how far you can go!
---
To apply for this course click the apply button next to the course dates that work for you. The non-refundable application fee of $125 is due at the time of application. For full fee schedule and process, click here. Course tuitions listed do not include our application fee or transportation fee.