Heroic Journey - A Program for Grieving Teens
"All of the beautiful ceremonies that we did on Heroic Journey have really stuck with me, I really loved those. Sometimes I wish that everyday life could be like that. Heroic journey was really positive for me, getting lost in the woods and in turn finding a piece to fill some of the holes left behind from the loss of my loved one." 
~Heroic Journey Participant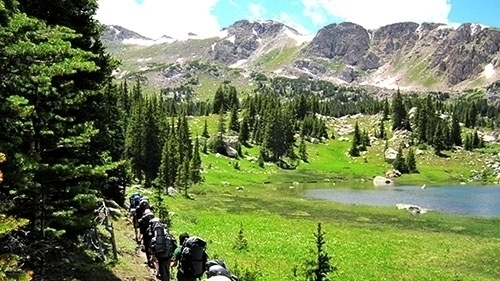 An Outward Bound adventure for grieving teens with reduced tuition for all participants made possible through the generosity of the New York Life Foundation. By combining personal growth methodologies of Outward Bound, with a simple support model that honors the griever, we deliver an intensely profound healing experience relevant to the lives of people who are coping with the death of a loved one.
"The challenges and successes that come with climbing, rappelling, and hiking up mountains, are metaphors for life and the teens get it. By adding some grief related rituals, and ceremonies that appeal to the teens, they are moved to express themselves in ways that they typically can't, or won't, when they are back at home in their everyday surroundings."
—Jason Stout, Outward Bound Outreach Manager
Has your child or student experienced the death of a loved one?
Whether it's climbing majestic mountains, rappelling down granite cliffs, or navigating across lakes and through forests, your teen will discover the strength they have within to face the challenges ahead.
Heroic Journey is a unique Outward Bound program specifically designed for teens coping with the death of a loved one. During this transformational seven-day wilderness adventure, participants experience powerful grief work activities woven into the context of the traditional Outward Bound curriculum. This adventure includes hiking, backpacking, or canoeing and a personal challenge day like rock climbing or high ropes, and much more.
It is not intended to be counseling or therapy. It is teens connecting and building supportive relationships with peers going through similar challenges in life. At its essence, it is an intentional wilderness adventure joined with grief processing and support activities for learning coping skills and building an ongoing supportive peer network.
What are people saying about Heroic Journey?
"After climbing the mountain I knew I could do anything in life"
—Corin, age 17
"I was able to trust more and it opened me up to more people "
—Simms, age 15
"When he came back he opened up and discovered that life is worth living"
—Jake's mom
"The kids trust each other more, they share more, they smile more"
—Melyssa, Grief Counselor
In The News
The Denver Post, August 18, 2010
2013 Courses
Search our 2013 Heroic Journey Courses here.
Thanks to the generous financial support of the New York Life Foundation, we are able to offer a scholarship to every Heroic Journey student this summer. All will receive an award of at least $840 towards the cost of tuition. Additional financial aid is available based on need, up to the full tuition cost of $1,375. Other fees include an application fee of $125 and an in-course transportation fee of $125.
Partner: New York Life Foundation

Our primary focus continues to be on providing support for organizations that help young people through educational enhancement and childhood bereavement.
By helping young people cope with losing a parent, caregiver or sibling we are responding to the emotional needs of children affected by the loss of a loved one. At New York Life we are pleased to be able to provide resources for kids who might otherwise feel alone and lost as they navigate through their grief and for parents and other adults who interact with children who are grieving.
Learn more about the New York Life Foundation and the work they do on behalf of grieving children and teens www.aChildinGrief.com.
Call now to talk to an Admission Advisor 866-467-7651 about our Heroic Journey offerings.