INNER JOURNEY
Hidden deep in the Blue Ridge Mountains of North Carolina, an imposing rock face known as Table Rock stands guard over the Linville Gorge Wilderness. In addition to recognizing the sheer beauty of the mountain, many consider Table Rock the preeminent rock climbing destination in the Southeast.  
Since 1967, the North Carolina Outward Bound School has operated its Table Rock Base Camp in the shadow of this most impressive mountain, teaching much more than how to climb "TR's" vertical face. Upon completing their course, students embrace and value teamwork, discover innate leadership abilities and feel a deep sense of accomplishment.
Today, the North Carolina Outward Bound School has branched out from its Table Rock beginnings to offer incredible course options at a variety of geographies. Course areas range from camps in the Appalachian Mountains and North Carolina's 200-mile Outer Banks barrier islands, to the "rivers of grass" in the Florida Everglades and Patagonia on the southern tip of South America. Each area is unique, and collectively they offer some of the most dramatic landscapes on Earth.
With courses and locations to suit a variety of age groups and interests, the North Carolina Outward Bound School will help you discover your true character, develop leadership and teamwork skills, find inner strength you didn't know existed and gain the confidence you need to succeed.
Featured Courses
Locations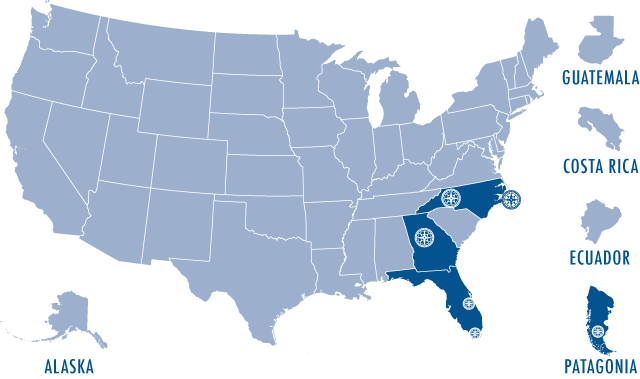 Activities
Canoeing, Backpacking, Sea Kayaking, Rock Climbing, Mountaineering, Whitewater Canoeing.
Programs
Classic for High School, College and Adult, Gap Year/Semester, Instructor, Struggling Teens & Young Adults, Veterans and Custom Programs