Have you ever hiked all day to a seemingly pristine campsite, only to set up your shelter and see used toilet paper sticking out of the ground right next to where you were planning to rest your head that evening? Unfortunately, this phenomenon is increasingly common as more and more humans venture into wild places.
The good news is at Outward Bound, we do all we can to educate our students to leave places better than they found them. On our courses we dismantle illegal fire pits, rebuild trails and, most importantly, teach and abide by the seven Leave No Trace (LNT) principles. These principles include things like 'Plan Ahead and Prepare,' Dispose of Waste Properly,' and 'Leave What You Find.' These guidelines are critical for students on our courses, but we must also ask ourselves: how do we take these principles and apply them to our lives back home?
Dispose of Waste Properly
We're all going to produce waste, especially when it comes to food. This is one of the LNT principles that that is actually much easier to implement once you're back home. Read: no more digging catholes to go to the bathroom or stuffing leftover food in plastic bags.
Consider composting. At home, it can be as simple as setting aside food scraps in a separate bin or as complex as starting your own worm compost at home or work. More than 150 cities, including Seattle, San Francisco, and Austin will even pick up your organics at the curb. If this doesn't happen where you live, you can still contact your local community garden, which almost always has a compost pile on site that is hungry for extra food scraps.
Minimize Fire Impacts
In 2018, wildfires have burned nearly 6 million acres of land across the US. There are currently 10 large active fires in Colorado and 110 nationwide. And guess what? According to a recent study, more than 80% of wildfires are caused by humans. So what can you do to minimize your impact?
First off, be aware of the fire danger in your area by paying attention to Forest Service signs or checking out this easy to use website. Secondly, follow all fire restrictions in your region which may be specific to your county, state or local park. Typical restrictions include: open fire bans (including both BBQs and campfires), smoking restrictions to enclosed areas, fireworks bans and off-road vehicle restrictions in areas with dry grass and other brush. Finally, educate yourself—especially if you live in a fire prone area, learn more about wildfire risks and what you can do to prevent forest fires where you live.
Respect Wildlife
Once we go back home after being in the wilderness—whether we live in an urban or rural area—it can be hard to remember that we still share these spaces with wild creatures. Though our most common companions may be animals like pigeons, racoons, starlings and squirrels – these creatures too are part of an ecosystem of our own creation. Furthermore, it is more and more evident that wilder creatures also share our spaces. For example, there were a pair of coyotes that raised their pups in a parking lot in the heart of downtown Chicago, a mountain lion family that settled in the suburbs of Los Angeles, and of course, black bears that raid trash cans in communities across the country.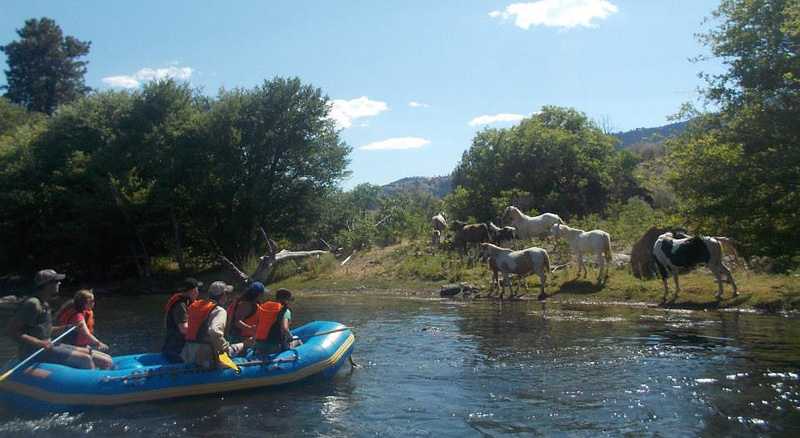 The key here is to remember that human settlement has encroached on many areas that were once wild. So, how do we respect wildlife when we get back home? An easy step is to secure your trash, keeping it safe from rodents or bears, as this is a great first step that helps keep animals wild. One study by the Colorado Division of Parks and Wildlife found that conflict with black bears was cut in half when bear proof trash storage was used.

Bonus: Think Before You Buy
A few weeks ago I logged onto Amazon to buy a Chemistry book I needed for school. A half hour later I found my cart full with a pair of Carhartt shorts, an auxiliary audio cord and some peppermint essential oil—everything except the thing I actually needed.
I share this because it illustrates one of the most important mistakes many of us make in 'Disposing of Waste Properly': forgetting to ask ourselves if we really need an item at all. It is easier than ever to fill an online cart full of stuff, pay for it, and have it show up at your door with a simple click of a button. But, do you really need the latest puffy jacket or new climbing shoes, or could you get something comparable at your nearest used gear store?   
Of course, sometimes we do need to buy stuff for our lives. Perhaps it's a cup of coffee on the way to work, groceries for the week or new clothes for the school year. How can we reduce the waste involved with buying that item? For example, can you bring a reusable mug for that coffee or canvas bags for your groceries? Or, can your household consolidate your online shopping orders to reduce the amount of packaging involved with the orders? Be thoughtful with your purchases and the impact they'll make on your life and the world around you.
The LNT challenge
As an Instructor, one of the most challenging parts of an Outward Bound course for me is the 'Duffle Shuffle.' This is the part of a course where I have to tell my students they should leave behind their favorite hairbrush, extra shirt, romance novel or other optional item they packed. I tell these students that they will be happier if they leave these items behind because their packs will be lighter and they will find that our community thrives on authentic engagement with one another and not what we carry on our backs.
The same idea applies to life back home. I find the simpler I make my life, the happier I am. Less plugged-in, less stuff and more time to make deeper connections to people and places are some of the most important things I've taken home from Outward Bound. Conveniently, LNT principles help us achieve those objectives.
I challenge you to implement just one of these everyday LNT practices into your life. Of course, there are so many other ways to implement LNT back home—we only covered 3 of 7 principles after all. More than anything, pay attention to your environmental impact, think how you can make that a bit smaller, and notice how your relationship changes with the people, creatures and place you call home.
In the comments section below please share your tips, tricks, and suggestions on how we can all incorporate a little more Leave No Trace into our daily lives!
About the Author
Dan Susman is an Instructor at the Colorado Outward Bound School who loves running long distances, climbing rocks and playing with other people's dogs. While not instructing, Dan teaches science and runs the outdoor program at the Midland School outside of Santa Barbara, CA. His favorite thing to eat on an Outward Bound course is homemade pizza with wild foraged mushrooms. Dan received his bachelor's degree from Dartmouth College and has a Master of Education from Harvard University.