No matter how you choose to recreate, these outdoor apps, classes and resources will give you the skills, confidence and knowledge to go boldly and responsibly outdoors.
I don't know about you, but while we've collectively held our breaths this past year, I've been daydreaming and planning my next big, outdoor adventure.
Outdoorists everywhere are crawling out of their winter quarantine dens, ready to seize the outdoors with an especially strong eagerness. And the excitement is palpable.
Whether you identify as an outdoor lover, expert, dabbler or complete novice, it might be time to refresh your knowledge and resources so you can be the most prepared for your upcoming trip.
My goal is to get you acquainted with new, reliable and alternative resources to enhance your experience and increase your access to the outdoors. In an industry that oftentimes puts a spotlight on the rugged outdoorsman doing extreme sports, I'm here to remind you that being outdoorsy means whatever you want it to mean. The outdoors should continue to become a space for everyone to enjoy in their own way. That being said, with your safety, your bank account and the environment in mind, here are some of the best outdoor resources you should utilize when you hit the trails this year.
Educational Resources
I find that the more I know about the places I explore, the more enriching my adventures become. By learning about the flora, fauna, human and natural history of the place you're exploring you can interact with the land in an informed and conscious manner. The first resource I'd strongly suggest using is Native Land, a website and app, that locates you on a world map layered with Indigenous territories linked to their corresponding tribe websites. By identifying and reading up on Indigenous territories in your area, you can educate yourself on the past and current native communities and how you might support them while recreating on their land.
Another very important resource to get acquainted with is The 7 Principles of Leave No Trace. Leave No Trace is an educational initiative that teaches outdoor ethics to outdoorists so they can be informed stewards of the land they recreate on. Keep these principles close, print them out—memorize them if you choose to. The goal is to leave the land in better shape than we found it.
"The goal is to leave the land in better shape than we found it."
Do you get excited about identifying plants and animals? Me too, but I've personally never been one to carry field guides with me when I'm out on the trail. So when I discovered iNaturalist I was stoked. Pull up iNaturalist on your smartphone and nerd out with an online community that shares their place-based observations through photos and discussion boards while out on your outdoor jaunt.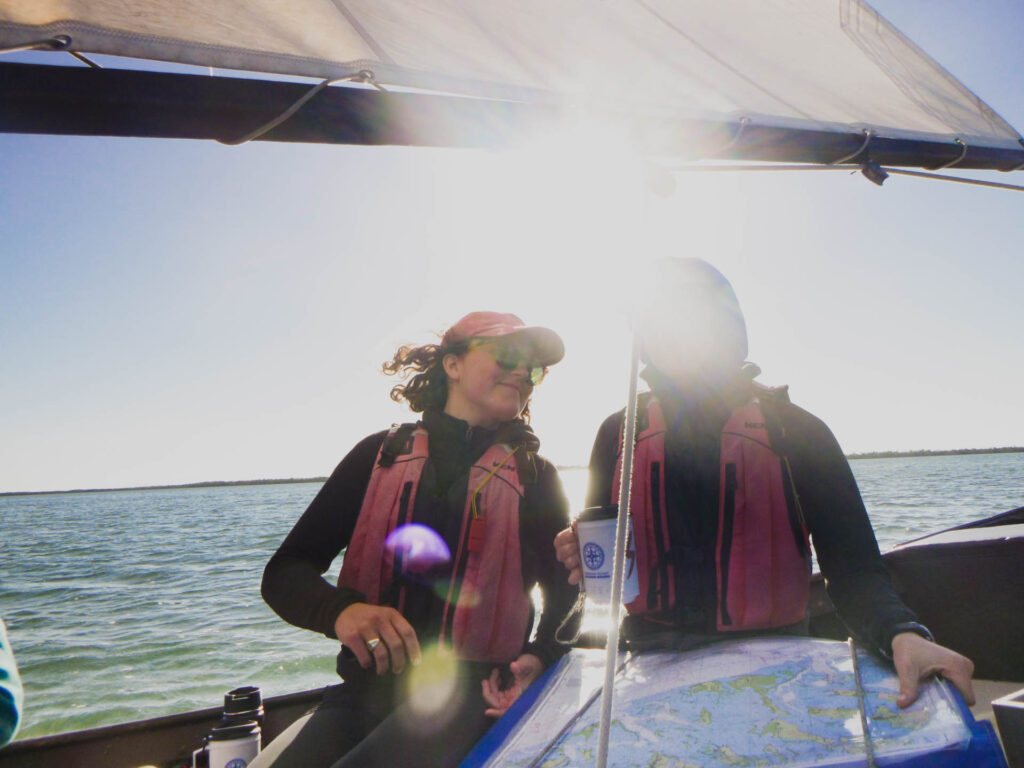 Maps and Navigation
Some of the most popular mapping and navigation resources are no longer a good ol' map and compass—although learning how to use them is important, and is taught and practiced on all Outward Bound expeditions. Now there are tools that look like community input-based trail apps. The most common I've seen used is AllTrails, which is both an app and website that allows you to search routes in your area. You have the ability to save maps to use offline if your service cuts out, choose trails based on difficulty rating and stay updated on current conditions. There are, however, a large number of similar apps that many people in my life also swear by. For instance, FATMAP, Hiking Project, GAIA GPS and ramblr are great for hiking. Slopes, Komoot and Mountain Project are great for skiing, biking and climbing respectively. 
Gear
From wool socks to fly fishing rods, affording equipment can be a huge barrier for folks to participate in outdoor recreation. However, with a bit of research and persistence, it's possible to find what you need at a reasonable price. The interwebs are at your service yet again. There are a handful of online gear stores that sell greatly discounted gear and/or lightly used equipment.
To purchase anything new, check out The Clymb, REI Outlet and Steep & Cheap for high-quality brands priced at 25-75% off with bargains of the week, current steals and even adventure travel bundle deals. If you're looking to save even more, I'm a huge fan of Patagonia Worn Wear. Patagonia's initiative to increase the lifespan of their apparel by offering credit for used gear, mending anything damaged and then reselling it at pretty reasonable prices. Geartrade is also a great used gear marketplace that offers equipment from helmets and snowboards to kayaks, in addition to apparel.
"You don't have to own it!"
One last note about gear: you don't have to own it! Consider renting what you need from local shops, REI or Arrive Outdoors. Or try checking out your local college or university's outdoor education department. 
Emergency Preparedness 
Whether you're headed out on an afternoon hike or a 2-week expedition, it's important to have some forethought of the potential risks you'll face and your plan for emergencies. Taking a wilderness medicine class is never a bad idea, and they are available through many organizations at various tiers of certifications – from basic CPR to Wilderness EMT. Check out The American Red Cross, NOLS Wilderness Medicine, Wilderness Medical Associates or SOLO to see class offerings in your area. And if you're inspired to become a wilderness instructor one day, Outward Bound offers Outdoor Educator courses that include a Wilderness First Responder or Wilderness First Aid training and certification. 
Part of emergency preparedness is gaining the proper know-how when it comes to the specific activities you love to do. For instance, a winter trip in the backcountry would call for familiarity with avalanche safety, as opposed to a late-summer hike in the Rocky Mountains which would call for proper planning for mid-day thunderstorms. Going on an Outward Bound course is a great way to gain familiarity with the activities you love, competence in outdoor skills and practice making risk-informed decisions. Additionally, REI offers classes of all types – from climbing to biking to outdoor skills – that would increase your understanding and confidence while out there.
Keeping your family and friends in the know about your trip details is important to minimizing your risk and staying connected. For shorter trips, Cairn is a helpful peace-of-mind app that downloads maps for when you're out of service. In addition, it locates crowdsourced cell reception spots, calculates your ETA based on mileage and elevation, and notifies your family and friends if you are overdue for a check-in. 
Finding Community in the Woods
Oftentimes a barrier to participation in outdoor recreation is not having a community to go with. Wherever you fall on the experience spectrum, it's not always easy or fun to go solo adventuring. Luckily there are some great networking resources online for finding new adventure buddies and affinity groups that make romping around in the woods more accessible. These days, many local meet-ups can be found via a search on Facebook and Instagram—or by using sites like Meet Up. For established trips, check out The Sierra Club's affinity group trips in your area, or other quickly growing coalitions that host meet-ups around the country, such as Black People Who Hike, Unlikely Hikers, LatinXHikers, Indigenous Women Hike, Outdoor Asian and The Venture Out Project.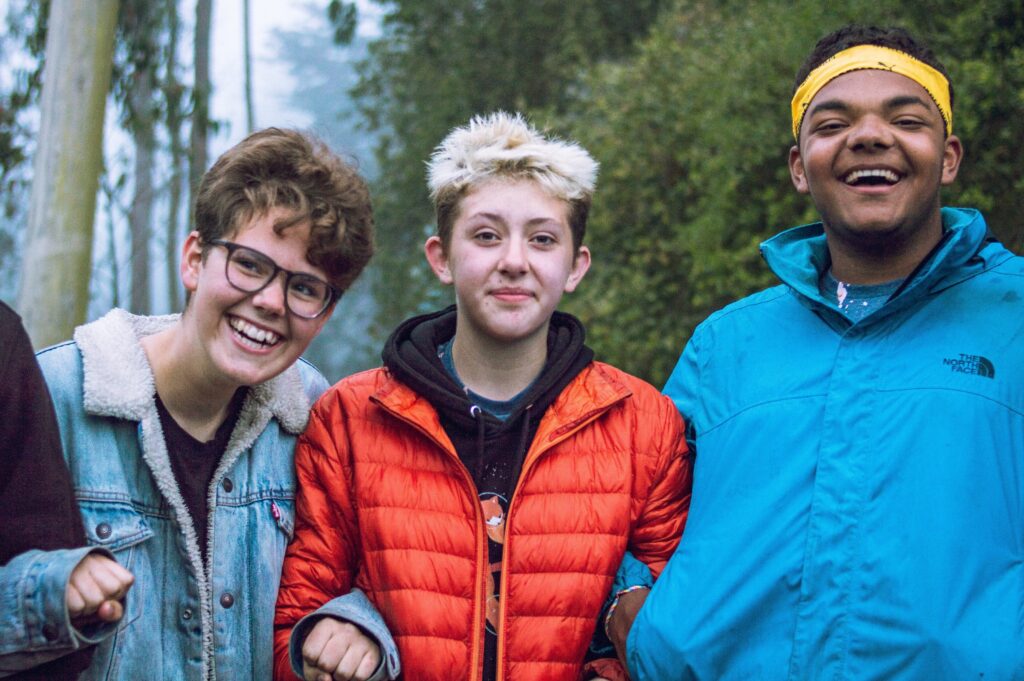 There you have it, a boatload of new resources to check out in preparations for your upcoming adventures. Whatever you're planning, know that there are new methods to learn about the land you're visiting, save cash on gear, prepare for emergencies and find people to share the outdoor experience with. Have fun out there and recreate responsibly!
---
About the Author
Eva (she/they) currently lives in the foggy landscape of the Bay Area. Originally from Colorado, Eva practically grew up with hiking boots on her feet and climbing chalk on her hands. After graduating with a degree in environmental studies, Eva went on to work for Outward Bound in both Colorado and California as a field intern, trip logistics coordinator and blog writer. This year she's planning to thru-hike the Pacific Crest Trail to raise scholarship money for Outward Bound California's LGBTQ+ course. Visit her fundraiser page to follow her journey and support the cause!*