Before you know it, summer will be right around the corner. We can only guess, your top priority is probably to get the kids outside and out of the house. There are a lot of summer programs for middle school students, but as you know, many are running under limited capacity. If you are stuck and looking for a different option—we have you covered. With 30+ middle school expeditions running across the country, all following COVID-19 health and safety practices, there is a summer expedition perfect for your child.
Below are four reasons why you should send your child Outward Bound this summer.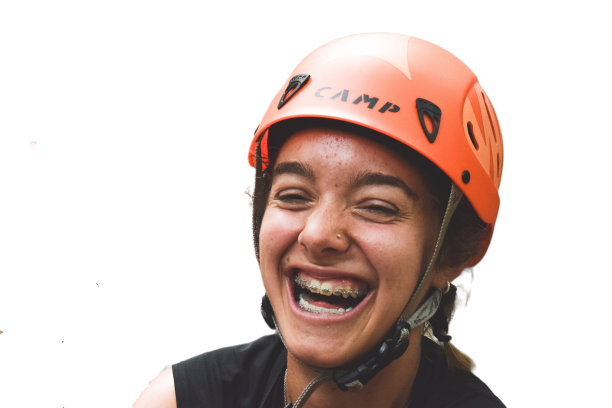 1. Self-Confidence
Through Outward Bound, middle school students uncover something within themselves that helps them every single day—self-confidence! Together, students find their voices by learning new skills while being immersed in a supportive environment where asking questions is encouraged. Through group activities, fun and adventure students break down walls of fear and insecurity, which are common in new groups.
No matter if they are rock climbing, canoeing or backpacking, students are encouraged to work as a team and utilize the strengths and personalities of each of their crewmates to accomplish goals and meet daily challenges. Shared experiences of adventure build lifelong friendships with peers on course who have learned how to respect their truest selves. Coming home, they not only know what it feels like to live with confidence but the enthusiasm to never settle for less than who they are and what they are capable of accomplishing.
2. Challenge and Curiosity
We know the dose of new activities and sparks of curiosity were lacking this past year (there is only so much you can do inside) but this summer you can change that. Summer is meant to be experienced outdoors and on Outward Bound expeditions, it always happens outside. Whether it's feeling proud of setting up their campsite or feeling in awe of the thousands of stars blanketed in an open night sky, middle school students embrace challenge and ignite their curiosity daily while on a course. As they actively participate in their own learning, they uncover new strengths and interests within themselves to take back home. This translates to life after an expedition—like trying new activities at school or volunteering for projects at home.
3. Responsibility
After a year of isolation and limited community, students not only get to experience the weight of caring for a crew but the joy that comes from sharing responsibilities with others through service and compassion. An expedition requires participation from everyone in the crew in order to meet the group's goals. By dividing up daily tasks such as cleaning, camp-setup and leading, students lean on each other to share the weight of work. When students rise up to this challenge and meet their role with enthusiasm, they see firsthand the positive impact of their responsibility and the freedom that comes from it.
4. World-Class Instructors
Outward Bound Instructors are united by a sincere interest for the growth and development of their students. They embody and teach compassion, weaving in life lessons of teamwork, responsibility, confidence and communication into fun and adventurous outdoor activities. Middle school students learn to be successful on their course and in their everyday lives by the example set by their Instructors. Not only are our Instructors certified in outdoor medicine and experts in technical skills, but they also have the character and facilitation skills required to successfully lead and help students guide themselves to realize their full potential.
Learn More About Middle School Expeditions
Sending your child on an Outward Bound course will build their self-confidence as they take on responsibility in the outdoors. They will return home with lifelong skills, friendships and memories that will set them up to succeed for years to come. Sending your child Outward Bound could just be the perfect option this summer. Ready to learn more? Check out the video below or discover all of our upcoming expeditions here.