Core, quadriceps, glutes, calves and hamstrings—these muscle groups all play a vital role in outdoor performance. Target them with these four exercises.
Are you ready to dive into backcountry travel this year? From long-distance backpacking to mountaineering, from dog sledding to climbing, these outdoor activities all have something in common: they're physically demanding backcountry exercises. When you embark on an outdoor adventure, it requires skill, resilience, gear and strength.
Year-round Exercises to Keep You Moving
The backcountry doesn't have an off-season. In fact, there are tons of opportunities in every season to get outside and adventure. That's why keeping your body strong and ready is important. For many backcountry adventures, you're going to need to build up your core, quadriceps, glutes, calves and hamstrings through targeting exercises. Why?
Core: The core helps you move well and protects your lower back from injury. A strong core helps prevent falls and supports the entire body.
Quadriceps: The quads support your whole knee joint and therefore create knee stability to help you as you both gain elevation and lose elevation in your mountain adventures.
Glutes: Strong glutes support proper alignment of the body as well as support the back during lifting motions.
Calves: The calves propel you forward and absorb the impact of each step—whether that be on snow, rock, ice or dirt. Strong calves can help in minimizing your chances of ankle injuries and chronic pain while on the go.
Hamstrings: They help stabilize the knee joint as well as maintain healthy hip and torso positioning. They work with the glutes to get you either moving fast or slowing down.
There are several at-home exercises you can do to strengthen and prepare for your time outdoors. Here are four exercises we recommend to get you started.
1. Lunges 
Lunges target the larger muscle groups of your lower body, especially your quads, which help you get to the tops of those crazy mountains you're after! Because lunges are unilateral exercises, you get the benefit of activating your stabilizing muscles that lead to building balance and stability. This stabilization is very much needed when you're hiking on uneven trails, rocky surfaces and even going downhill.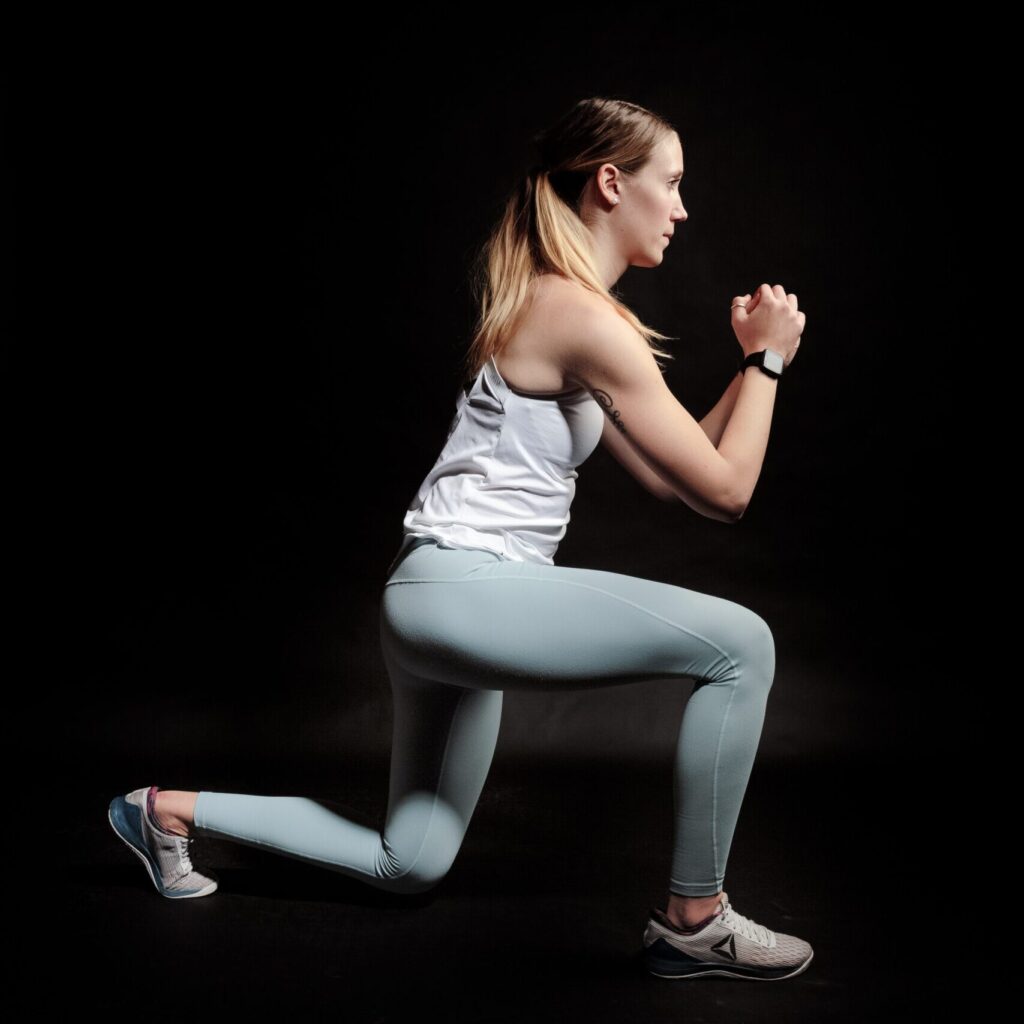 Stand with your feet hip-width apart. Step forward with one leg until both of your legs are bent at 90 degrees. Ensure that your front knee is directly over your ankle to avoid any strain in your knees. Then, push through the front heel while engaging your glutes to step back to standing. Repeat with the other leg. Try three sets of 10 repetitions per leg to start and build from there.
2. Planks
A strong core isn't just about having "abs." When you strengthen your abdominal muscles, your body will become less reliant on your back muscles, saving you from low back pain. Planks work all four muscle groups in your stomach, leading to improved posture, a stronger front body and improved balance.
Stand on your hands and knees. Press both hands into the ground directly under your shoulders and about shoulder-distance apart. Practice by stepping one leg back at a time and each time you do, lengthen from the heel, pull your hips slightly forward to take any arching out of your back. When you feel comfortable, lengthen both legs back. Try this exercise for 10 seconds and build up time every day. There are so many plank variations, have fun with them and remember to start where you are in your fitness level and build up from there to avoid injury or overuse.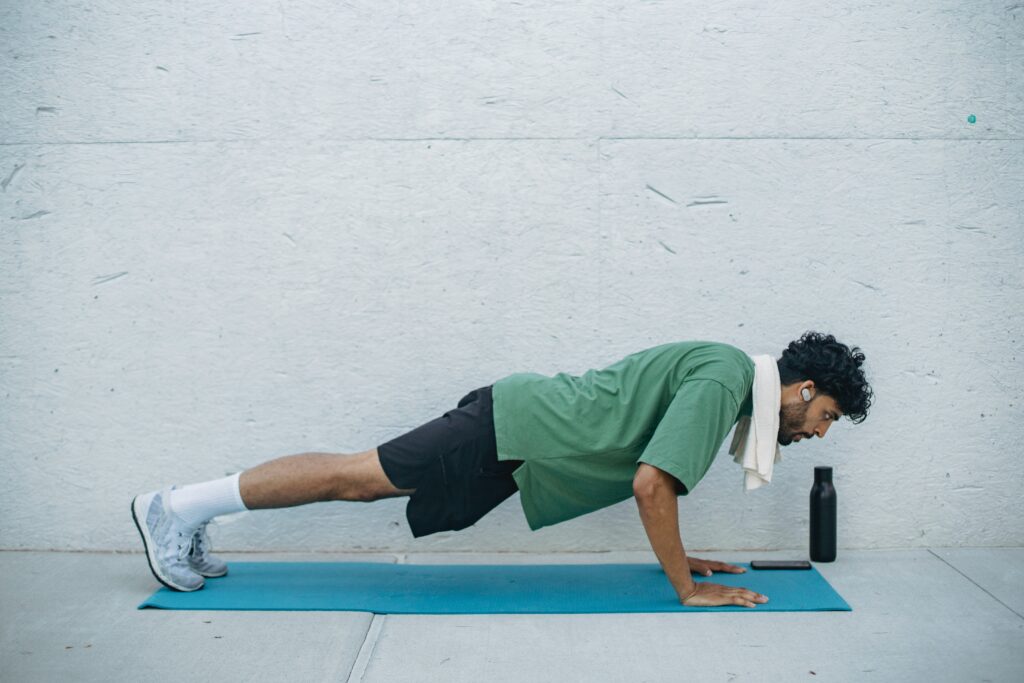 3. Elevated bridges
You've probably done glute bridges at some point in your life. They're targeted to build up and strengthen your glutes and hamstrings. This exercise brings your heels up to add a little spice to the movement! You'll need a couch, low bed or even some books for this.
Bring your back down on the floor and prop your feet up on a sturdy surface (ideally, at least 1-2 ft high). Relax your shoulders and arms near your body. Flex your heels and press them onto your sturdy surface while lifting your seat to hip height. Try not to arch your lower back and think about pulling your tailbone towards your ribs as you lift. Lower your seat gently back down. Repeat 10-15 times! Add more sets or reps as you get stronger. 
4. Squats
Squats not only help you with improving muscle and balance, they also help your posture and support your core. Plus, you can do squats anywhere. If you're new to the exercise, grab a chair for support. 
Bring your feet under your hips with your toes very slightly turned out. Keep your arms in front of you and keep this movement slow—no need to rush it. Begin to send your seat back as you bend your knees, stopping when your seat is at knee-height (or higher if you're working on that strength!). Make sure you're not extending your knees past your toes and think about pressing those knees out. At the bottom of the squat, squeeze your glutes! When coming out of the squat, drive through your heels and engage your glutes to stand up. Try a set of 10 and increase every day!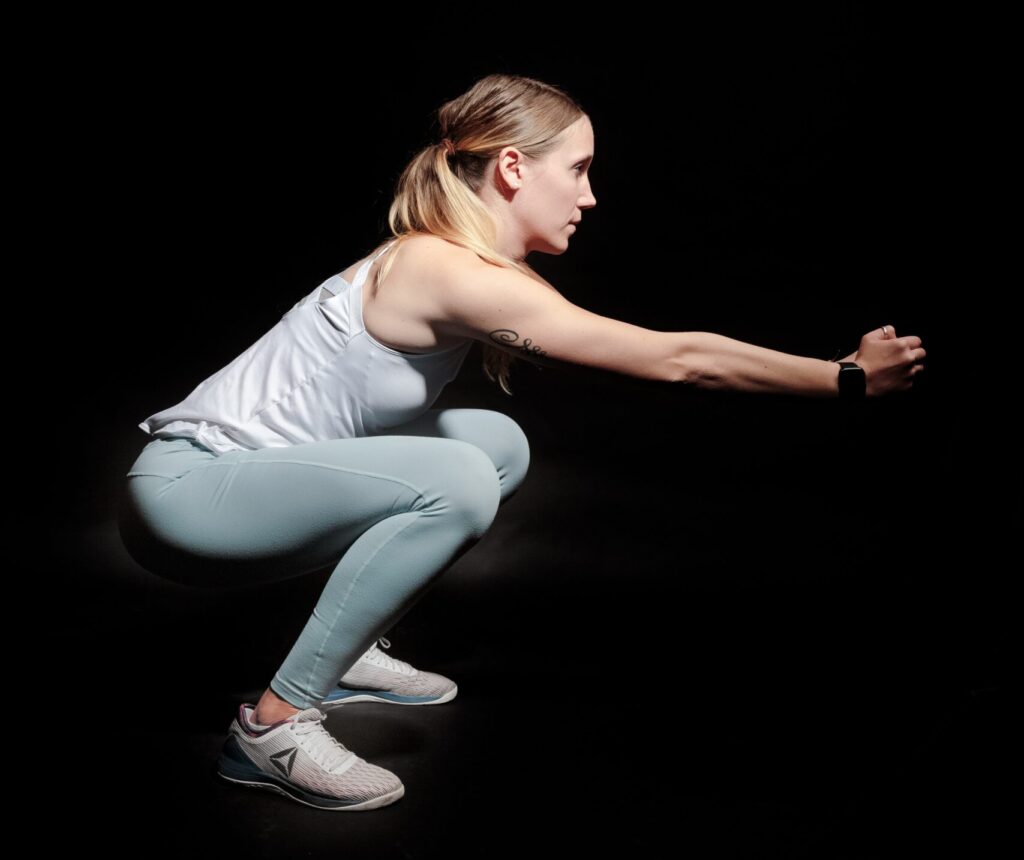 Tips for Injury Prevention:
The last thing you want to do is stop in the middle of your adventure. Your body needs time to build up your endurance. Start walking every other day. Start incorporating the above exercises into your morning routine. Vary the distances of your walks so that your body gets used to moving a lot.
The best injury prevention is strengthening your body ahead of time and building up your body's endurance. Plan and prepare at least a month in advance for multi-day adventures. Don't wait a day before to get a few pushups or crunches in. 
Wear the same boots you hike in regularly on your backcountry adventures. Make sure you're not introducing new boots during your trek, as it could lead to blisters or even ankle strains.
Grab a light-weighted daypack and wear it on your daily walks or hikes. You can gradually add more weight to the bag and get your body used to moving with more.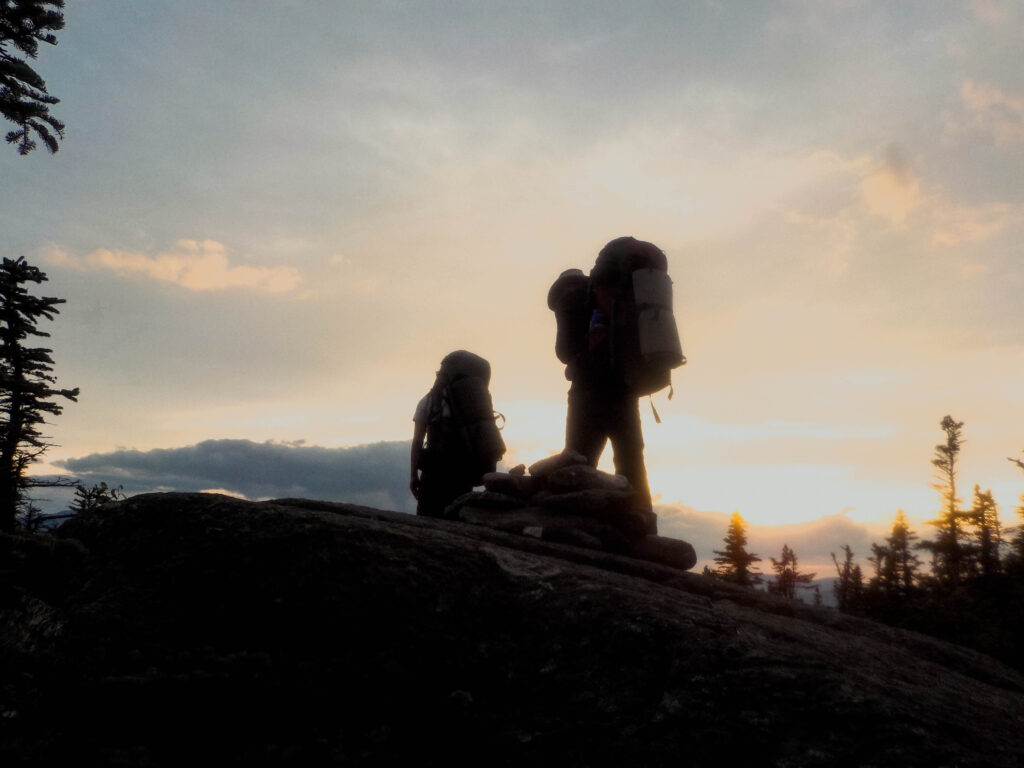 There is no shortage of training programs and exercises out there that will help you build up your strength. Just remember, what makes it work is consistency. Give yourself permission to start at level one just as much as level ten—it is more than okay to be at the beginning.
About the Author
Hanna McCarthy is a former Outward Bound Instructor and now lives and works in Philly with her husband, Nick, and two dogs, Jelly and Waffle. She finds time each year to surf in new places and enjoys spending time with friends and family. Hanna now splits her career between a corporate job and teaching yoga, finding balance in her life.