Through our educational and community partnerships across the U.S., students in public schools growing in new and creative ways.
Wilderness and adventure have always been at the deepest root of Outward Bound's story…but did you know our outdoor programs serve even more people through community programs and public schools? In fact, 90% of Outward Bound students are served through local and regional partnerships. This part of our story is less well known and we're excited to share it. We invite you to explore four of our community partnerships from across the U.S. that have come alongside us to inspire more people, everywhere, to pursue lives of purpose and compassion. 
Connections Program with Boston's Island Classroom
Bridging connections between the classroom and real-life lessons is at the heart of an incredible partnership located on Thompson Island, one of the most ecologically diverse islands in the Boston Harbor Islands National and State Park.Thompson Island Outward Bound Education Center is helping close the opportunity and achievement gaps in Boston Public Schools by bringing science to life for Middle School students. The program bridges classroom lessons to hands-on experiences on the island that help students grow as confident individuals, scientific thinkers and stewards of the environment.
During the summer, students have the opportunity to participate in a 3-week overnight Learning Expedition. This immersive learning experience harnesses Outward Bound's approach to social emotional learning, leadership, compassion and service. From studying a marsh's ecosystem in the palm of their hand to kayaking along the shore, the Connections program provides students with a transformational education. 
Learn more about the Connections Program and Thompson Island Outward Bound Education Center here.
Youth Leadership Corps
What do you get when you take a group of high school students on a 10-day outdoor expedition in the High Sierras and eight months of leadership-intensive community service? A cohort of future leaders ready to impact their world for good.
The Youth Leadership Corps (YLC), run out of Outward Bound in California, is a one year, merit-based scholarship program for rising sophomores, juniors and seniors in the Bay Area. Focused on both leadership development and service, students gain real life skills in SMART goal-setting, collaboration, service and problem-solving as they work together to serve each other on their outdoor expedition and their community through monthly student-picked and student-led service projects.
"For once in my life, I wasn't judged by what I couldn't control – my clothes, my knowledge, etc, but by my character." -Emma G., YLC '15
Learn more about the Youth Leadership Corps partnership here. 
Reynolds Public Schools Partnership
Not every Outward Bound experience begins outdoors. The Northwest Outward Bound School (NWOBS) has partnered with local public schools in Oregon and Washington to bring experiential learning from the wilderness into the classroom.
Reynolds Middle School is one of NWOBS' longest partners. For years, Reynolds has incorporated Outward Bound's semester-long programming, focused on team-building and trust-building exercises, into their students' curriculum. While most of the activities take place at school, students also get the opportunity to put their new skills to the test with ropes courses, rock climbing, mountain biking and service projects. 
"The [Outward Bound] program builds opportunities for kids to reach beyond what they see as they're future and … into possibilities that they might never have realized. Students come out of their comfort zones and work with others across linguistic and cultural differences to achieve a goal and help the group overcome the challenge in ways that the individual might not. And that is a life skill that they can then draw upon throughout their high school experiences and beyond." -Frank Caropelo, Assistant Superintendent Reynolds High School District.
Learn more about this growing partnership and how you can get involved here. 
Boys and Girls Club of Martin County
From after school to out at sea, Hurricane Island Outward Bound's partnership with the Boys & Girls Clubs in Maine takes students outside of their all-too familiar environment and places them quite literally at the helm of leadership and growth. This 5-day fully-funded sailing trip made possible by people like you serves students who otherwise might not have the opportunity to have this kind of life-changing experience.
As part of the Boys & Girls Clubs mission to help young people "reach their full potential" the sailing expedition acts as a physical reminder for students of their capability to navigate challenges with confidence and teamwork. From living on a 30-foot pulling boat to sharing in the daily tasks of sea life, students begin to recognize the importance of teamwork and that their voice matters.
"I can't think of a better experience than Outward Bound to open our kids' eyes to new opportunities and their own leadership capacity." -Sarah Torres, Chief Outcomes & Club Experience Officer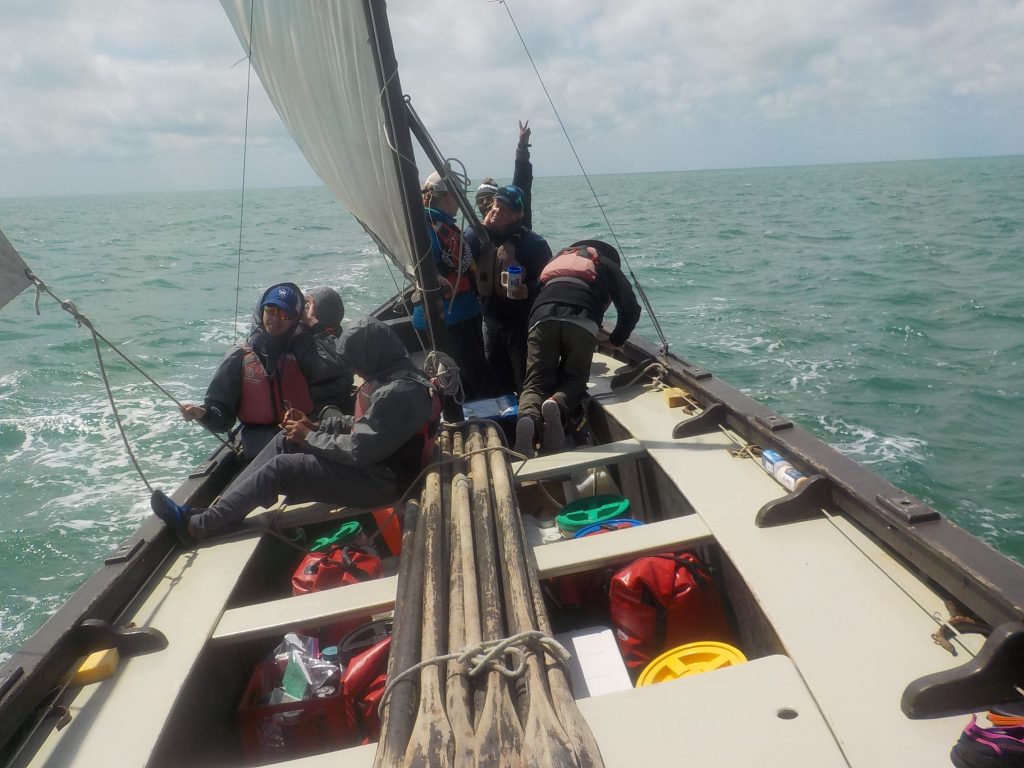 Together, We Can Multiply Our Impact
At Outward Bound we lead, teach and act on the principle that "there is far more in us than we know." By partnering with organizations across the nation that act on that same principle, we are able to multiply our impact and reach more students everywhere. To get involved and learn more about the ways we are partnering with education and youth-serving organizations across the country, visit our Community Partners page or donate today. Join us in our pursuit to inspire bold futures.