No fuel, no problem! Discover five creative ways to enjoy delicious food on the trail without using a camp stove.
You're all set to go on a summer adventure. You've measured out your meals and mapped out your routes. But what happens when you run out of fuel? When you lose your lighter and all your matches get wet? When you're camping in a no-fire zone? Here are five creative ways to enjoy delicious food on the trail without using a camp stove!
Before we jump in, many of these recipe ideas involve water. Using a camp stove to boil water is a great means of purification. However, when cooking with water that has not been boiled, remember that it is vital to purify by another means of filtration before drinking. Learn more here. 
Breakfast
Raw oats can become a delicious muesli by soaking in water overnight. Consider adding nuts, seeds, dried fruit, sugar and/ or dehydrated milk. Carrying along a sealable Tupperware container as your camp bowl makes soaking raw ingredients easy. After covering with water, be sure to seal what you're soaking tightly and use the appropriate precautions to keep it out of the hands of critters.
Rather than brewing coffee in the morning, a cold brew makes another great overnight soak. Soak the grounds in filtered water overnight and strain the brew while you groggily wake up.
For tea-lovers, sun tea can be made by soaking tea bags in filtered water inside a pot or water bottle—especially in a warm and sunny spot.
Snack
Sprouts! With some forward planning, sprouts can be a fresh-tasting, nutrient-rich, home-grown way of enjoying legumes on the trail. Using a water bottle, soak about a cup of legumes in filtered water overnight. Lentils sprout quickly and might be a legume you're already carrying. Mung beans also make hearty sprouts. After soaking, use a clean mosquito head net (or other mesh material) to strain the legumes. They should be larger and swollen, but not yet sprouted.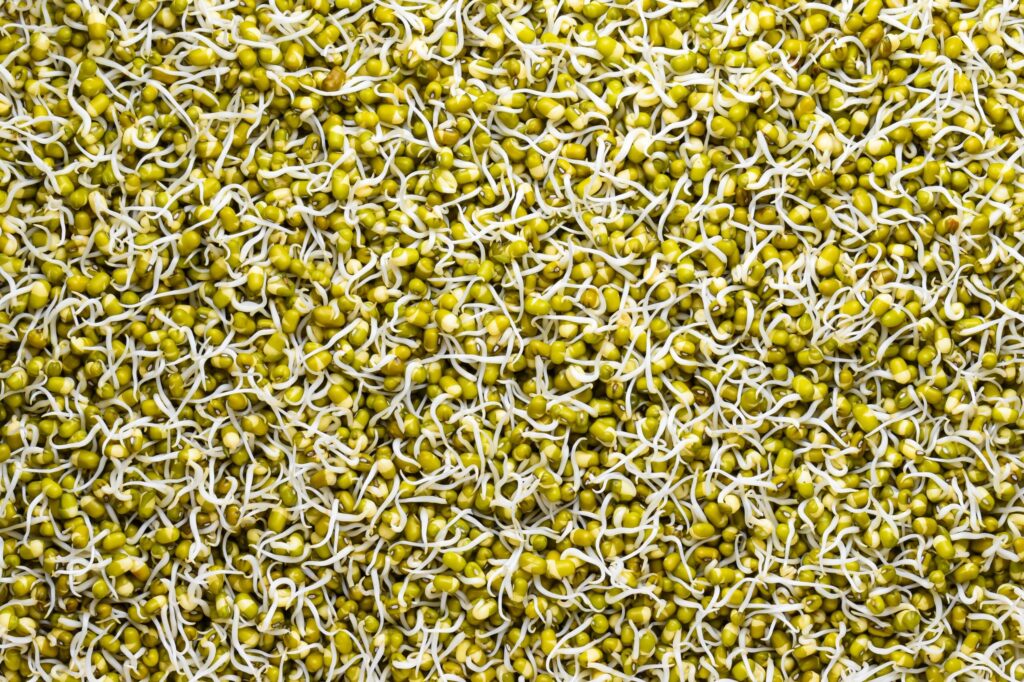 If you can part with your mosquito head net for a day or two, you can use it as a catch for the sprouts. Soak them in filtered water regularly (at least once a day), then let them sit, drain and expose them to the sun. This method works especially well on paddling trips. After a day or two, depending on your legumes and conditions, you should have delicious, crunchy sprouts. They can be eaten as a snack, or you can add seeds, oils, spices or other veggies for a salad!  
Lunch
Luckily, plenty of lunch options on the trail don't require a stove. To make a meal plan that allows for versatility in the face of unexpected circumstances, a great way to think about lunch planning is to pack for 'vehicles' and 'riders.' Okay, I'll explain what I mean.
The Vehicle: Often a carbohydrate or veggie such as a tortilla, wrap, bagel or crackers. Red or green cabbage leaves are also a great and Gluten-Free option—you can carry the cabbage whole and it keeps well as you peel off leaf by leave.
The Rider: Oftentimes the riders are proteins that can be spread or stacked on top of the vehicle. This might be cheese (Pro Tip: keep it in one block so it doesn't spoil as quickly), hummus, beans or nut butter like peanut butter or sunflower seed butter.
Planning a lunch menu in terms of a certain number of 'vehicles' according to the days you'll be out and an equal number of 'riders' allows you to mix and match and reallocate ingredients if the need arises.
Dinner
Plenty of trail dinner options are dehydrated dishes that, if necessary, can be prepared without a camp stove with more advanced planning. Dehydrated hummus, black beans or pinto beans all make great options for a bean spread when they might have been intended for a stew. Begin preparing for dinner early in the day by generously rehydrating with purified water inside a closed container that you can carry with you if need be. This is where your spice kit also gets a chance to shine—making a simple dish into a delicious creation.
On longer trips, it's always a great idea to have an emergency food pack with light, dehydrated, high-calorie options. That could include dehydrated legumes, pudding mix, drink mix or a protein bar (homemade or from the store). 
Dessert
Rehydrated pudding can be shockingly satisfying when you're hungry for sweet calories after a long day out. A more creative option is to make a fruit crumble by rehydrating dried fruits you may be carrying–for example, apples and raisins from a trail mix. As I keep saying, leave plenty of time to rehydrate. Add crunchy granola on top for a 'crisp'!
The Takeaways
Perhaps you've been traveling off-trail or went far off-course and must make your meals stretch an extra two days. Or maybe both you and your hiking partner thought the other one packed the stove, and now you're in a pinch. Or absolutely nothing went wrong and you're simply an outdoorsy lover of raw foods! Who's to say. In any case, it's possible to make delicious meals without a camp stove by having some versatility in your menu, backup options and a lot of patience for food rehydrating!
Explore more outdoor recipes here. 
---
About the Author
Nora Spicer has instructed backpacking and canoeing courses at the Hurricane Island Outward Bound School since 2014. She has an MA in Environmental History from Harvard University and teaches Place-based US History (honoraspicer.com).