Maybe you're fresh out of high school or are taking time off to figure out your next move, and something is drawing you to experience something new, different and a little scary. For those who seek an unknown landscape, a challenge, and an opportunity to grow, consider Outward Bound's Gap Year programs—Semester, Pathfinder and Outdoor Educator courses that range from 30 to 85 days in length.
I recently sat down with Caitlin, a fellow Outward Bound staff member, who told me about her semester course during her college years. She sought out a semester program during a time when she was stuck in grief and depression after experiencing the loss of an immediate family member. Caitlin's experience was so impactful that she remembers coming back from her trip, thinking: "This is what I want to do for work. I want to be able to recreate this experience for other people, where they feel the sense of being at home in a wilderness environment." From then on, she was set on her path to becoming an Outward Bound Instructor.
Talking with Caitlin got me thinking about the "toolbox" metaphor, which is the idea that the skills you develop throughout life are like tools in your toolbox—always ready to be taken out and applied to any situation that comes your way. So Caitlin and I came up with the top five tools in your toolbox that you can develop on a gap year.
The Gap Year Toolbox
Resilience. This is one of my favorites. I like to think of resilience as the ability to bounce back after something tough. It conjures an image of a group of students trudging up a mountain pass and getting to camp only to be met with a rainstorm. They're tired and fatigued, yet they continue to set up tarps, cook dinner and have an evening meeting. With bellies full of warm food and the feeling of accomplishment, these students spend the rest of their evening laughing and telling stories, feeling rejuvenated again for another challenging day to come.
Giving and Receiving Feedback. Getting the experience of accepting both positive and constructive feedback is a huge thing that we can take away from a semester. Caitlin says, "It makes it easier later when going into that job, or school program where you're already a little bit practiced at receiving feedback. And the same goes for giving it—we don't always have the opportunity to give feedback to other people. So it's a skill, a muscle we build, and a language we develop."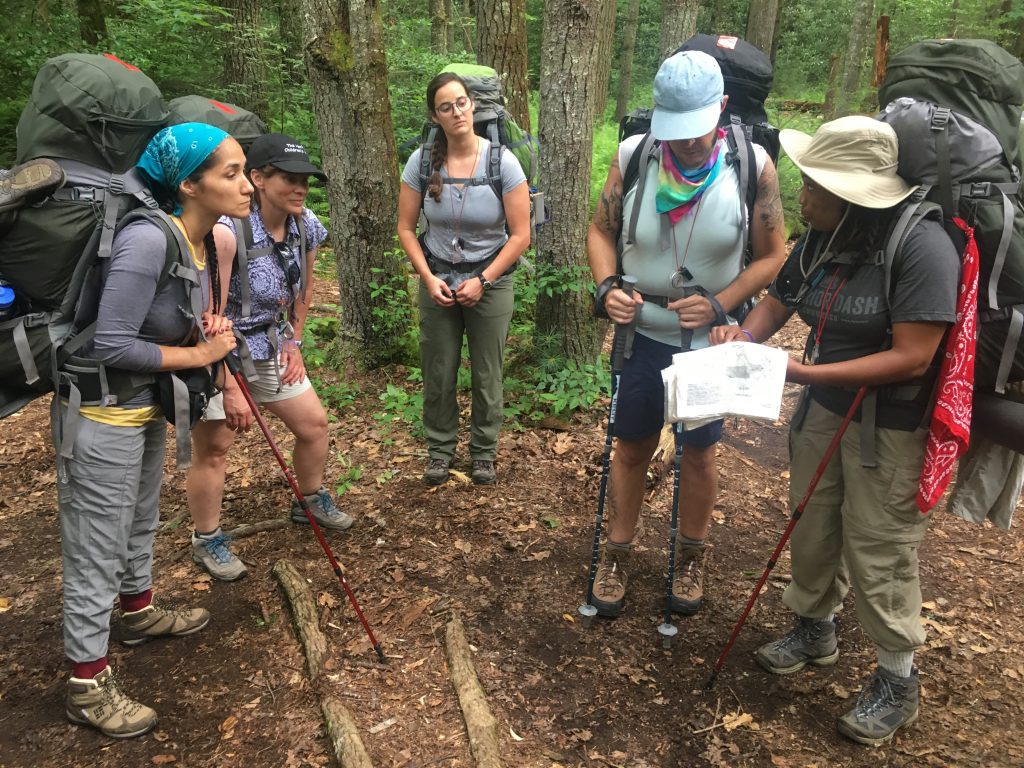 Self-Actualization. Getting the chance to escape from your normal routine opens up opportunities for self reflection and clarity. To me, self-actualization is realizing who you are and what potential you have. Understanding yourself doesn't mean you need to have all of the answers, but it does mean you are confident in who you are. Caitlin walked away from her wilderness experience with, as she puts it, "a much more clear sense of the direction I wanted to take. A lot of clarity, insight, and this deep feeling of empowerment, of feeling at home."
Grit. Outward Bound courses are not easy on purpose. They challenge you from all angles: the social, the physical, the emotional and the mental. I like to think of grit as a quality that you can develop from facing these challenges and saying yes. It's the pursuit to become a better team member and a thoughtful leader. On a semester expedition, your role in the group is vital to the success of the expedition, meaning that the actions you take directly impact your experience. Grit is the power to meet challenges where you're at, and push forward with an unwavering direction towards excellence.
Connection and Compassion. Spending over 30 days in the wilderness with a group of 10 other participants can be a terrifying undertaking. The fact is, every tight community experiences growing pains and social challenges, and these can be especially amplified in a demanding wilderness setting. But that's what brings your group closer. Caitlin added that most participants develop deep social ties that they didn't expect. "I've heard a lot of students say they feel more closely bonded to the other students on their course than the friends they had for 10 or 15 years at home. The challenge is what bonds you."
And there you have it. Five tools to take with you after your gap year. And these just scratch the surface of the types of insight you'll glean from such an intense and significant experience.
So will you take the plunge? I asked Caitlin what she would say to those who are about to jump into their gap year, and she replied: "I've noticed personally that any time I'm feeling nervous about a decision, it's usually because I'm hitting something that's really important. Know that if you're feeling anxious it's because it's something that could be a really big, dramatic shift for you." And as all good Instructors would advise, Caitlin ended by saying, "and break in your hiking boots."
About the Author
Eva Johnson has worked at the Colorado Outward Bound School as a Field Intern and Logistics Coordinator. She's a Colorado native and if she's not in Leadville working for Outward Bound, she's probably adventuring in South America, surfing on the rugged Oregon coast or teaching kids to climb rocks.