Parenting is hard. Sometimes, it can be really hard.
Suffering in parent/teenager relationships can stem from the disconnect between the experience of the teen and the experience of the adult. Teens have a hard time understanding why their parents are laying out so many rules; parents might not get why their child can't just abide by some simple rules.
We've compiled a list of resources for the struggling family. Whether you're considering an Intercept course or yours has just ended, relationships need constant work. Here are a few books that our Intercept Instructors use to inform their relationships with struggling teens on a daily basis.
Choice Theory by William Glasser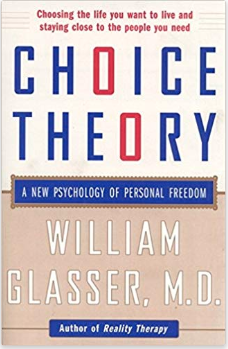 Best for: Understanding basic human motivation and how it affects our relationships, both positively and negatively.
Choice Theory is both the name of a psychotherapeutic concept and a book written by Dr. William Glasser. As a therapist, his ideas are aimed at understanding why people act the way they do, what all humans need and how we can better understand each other.
In the book, Glasser provides empowerment to anyone struggling by emphasizing that all problems in one's life are current and can therefore be acted upon now. Unlike some psychotherapies that emphasize a person's past, Glasser thrusts us into the present and provides tools that help us "in the now."
Also useful is the idea of the Five Basic Needs. A basic framework for human motivation, Glasser suggests that all human behavior is motivated by five human needs: Survival, Freedom, Fun, Power and Love/Belonging. Humans will find a way to satisfy these needs, either positively or negatively. If your teenager is sneaking out of the house at night, it can be helpful to understand they may need help finding a positive way to experience more freedom and fun.
Reviving Ophelia: Saving the Selves of Adolescent Girls by Mary Pipher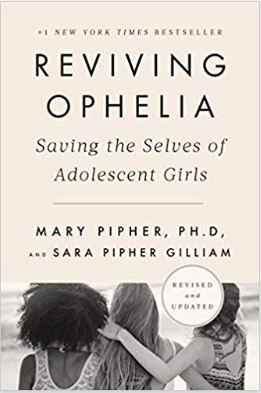 Best for: Parents of adolescent girls.
Young women face an abundance of tribulations while navigating adolescence. Issues of identity and self-worth, misogyny, sexism and risk of physical danger can disrupt the development of girls. In fact, Mary Pipher argues that our current cultural climate makes these issues harder to face than ever before. Teenagers have fewer flesh-and-blood friends, and texting and social media has replaced face-to-face emotional support, which may leave young girls feeling more isolated than ever. And while girls are less likely to get in trouble for drinking or violent behavior than boys, they're more likely to be depressed, anxious or suicidal.
Mary Pipher (a mother herself) provides insight into the cultural, social and intellectual development of adolescent girls. For anyone questioning effective ways to raise teenage girls, this can be a very illuminating read.
Real Boys by William Pollack
Real Boys' Voices by William Pollack and Todd Shuster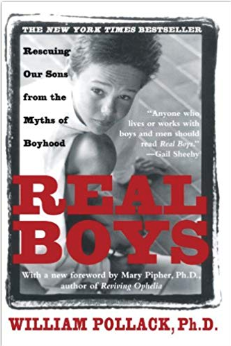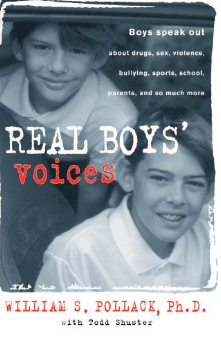 Best for: Parents of adolescent boys and/or boys who need to know they're not alone.
When boys are raised to be tough and not to cry, they're raised on a myth of "what it means to be a man" that drives their emotions underground. These extremely unhealthy repressions can manifest itself later in unsafe risk-taking, low self-esteem and more extreme behaviors like violence.
In Real Boys, Dr. William Pollack lays out these myths and their effect on men and as a result, society at large. After decades of research at Harvard Medical School, Pollack aims to help us hear and respond to the needs of growing boys.
In Real Boy's Voices, teenage boys share their intimately personal experiences of loneliness, depression, anger and confusion. While it can be difficult to hear these stories, it can be a powerful aid in removing the mask of toxic masculinity for a boy in your own life. Boys are less likely to reach out for help; this book may inspire them to find their own voice.
Purchase Real Boy's Voices here.
Culture of Adolescent Risk-Taking by Cynthia Lightfoot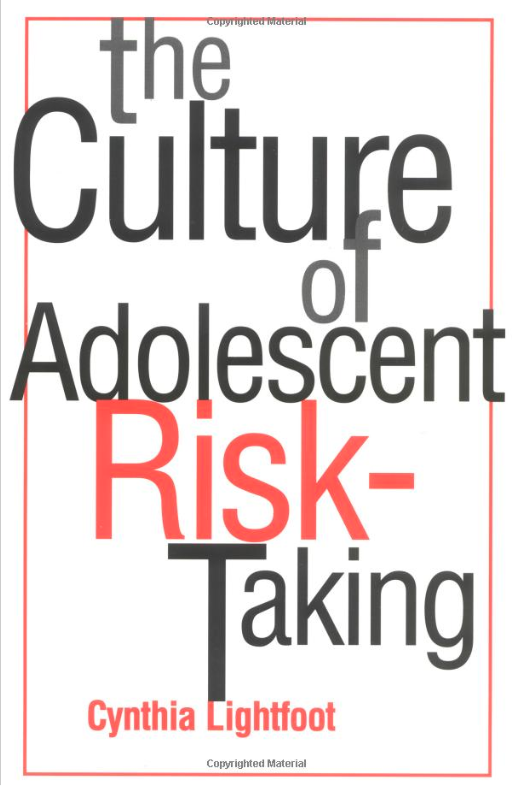 Best for: Anyone wishing to understand why adolescents take risks.
Risk-taking is a natural part of human life, becoming most prominent during a person's teenage years. Whether these risks are well-thought-out or not, is the real challenge.
Cynthia Lightfoot provides the cultural and psychological processes through which teenagers find meaning through risk. Adolescent social life is naturally full of risk and drama; this book helps parents put it into perspective.
Positive Discipline by Jane Nelsen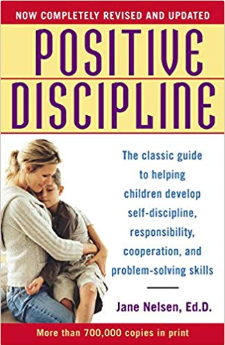 Best for: Anyone looking for practical ways to discipline children.
Have you ever disciplined a child and thought later, Wow, that didn't work?
This book provides practical advice on how to discipline children, from toddlers to teenagers. Central to the book's message is the idea that cooperation is more effective than compliance when it comes to child-rearing. This book is packed full of examples for how effective discipline can actually lead to superior self-esteem, self-awareness and life preparedness.
Reclaiming Youth at Risk by Larry K. Brendtro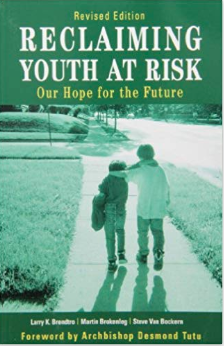 Best for: Understanding youth and child-rearing from a unique perspective.
One of my personal favorites on the list, I read this book before my very first Intercept course. It proved to be a treasure trove of great ideas that made me think differently about teenagers.
Functioning from a Native American perspective of child-rearing, Brendtro sheds light on the central child-rearing tenants espoused by some American Indian tribes. In the book, traditional practices and ceremonies are shared to give anyone working with at-risk teens a fresh perspective on what teenagers need. What happens when belonging, mastery, independence and generosity is lacking in a teen's life? How can the circle be repaired and a well-adjusted teenager actualize? This book is a great resource for answering those questions.

Parents are tasked with the heavier workload when it comes to improving relationships with children. We hope that one of these books will be useful and help you in the steps toward a happy and healthier future.
About the Author
Christian Vogelgesang has been instructing for the North Carolina Outward Bound School for over two years. His favorite part about the job is watching a crew rise to meet a challenge. When he isn't instructing, he can be found playing music or playing pranks.