Explore the learning environment and progression used on Outward Bound courses to build confidence and success into the lives of teenagers.
When you hear the name Outward Bound, you probably envision vast expanses of forests, week-long backpacking trips and remote locations where cell service is a distant memory. While it's true that many Outward Bound expeditions take place in picturesque locations like Yosemite or Mount Rainier, many of our programs take place in cities such as San Francisco, Baltimore, Philadelphia and Boston. Often, only 15-20 minutes from a student's everyday community.
When it comes to students having a life-changing experience with Outward Bound it has less to do with where they go and more to do with their experience of stepping outside of their comfort zone, learning something new and gaining confidence along the way. These experiences, along with acting in compassion and stepping into teamwork, are all key elements of an Outward Bound program—whether that be for a community day or a Semester expedition. Each Outward Bound program is intentionally crafted with a learning environment that offers a structured space for students to explore and learn these skills.
A Structure for Learning and Success
No matter if the program is a 15-day kayaking course or three hours on a ropes course, all Outward Bound expeditions and programs follow a progression of responsibility known as Training, Main, Final (TMF). A learning progression that focuses on gradual learnings and new experiences and sets students up to explore their personal potential and grow into their strengths and passions.
Every lesson, tool and structure within this progression is intentionally designed to give students a blueprint for leadership, teamwork, compassion and conflict-resolution that they can use in their day-to-day routines to become more purpose-driven and community-oriented individuals. 
A Look at Training, Main, Final
Training
So what does TMF actually look like? Starting with a hands-on, facilitated approach called the "Training" phase, Instructors walk through new activities and skills with close supervision, teaching or demonstration. This allows for an environment of trust to build between Instructors and students as students begin to feel and see that their needs are being met. This trust is crucial for students as they adjust to their new environment, and it allows them to feel more comfortable with taking on responsibilities. 
Main
As they learn new skills, the Instructor may choose to "check off" certain ones as the group demonstrates proficiency. For example, setting up a tent or tarp is a skill that students can pick up quickly, allowing an Instructor to step back and let the students fully do it on their own after a couple of days. The "Main" phase occurs when students are proficient at some skills but still working to be fully autonomous. Skills that require additional supervision, such as lighting a stove or setting up a climbing anchor will still be facilitated in this phase, and sometimes even into the last phase, "Final." It all depends on the group's level of proficiency and their capacity to take on responsibilities. No matter the phase, Instructors are always vigilant to manage risks and ensure the overall wellbeing of the group. 
Final
When the group is fully (or nearly) autonomous, they enter into the "Final" phase. Here Instructors step back and watch closely from behind allowing students to work together to make decisions, complete tasks and set expectations for themselves. to make sure In "Final," the students often only need Instructor facilitation in times of transition or stress, such as reading a map at a tricky intersection, or resolving a conflict between students, and in those moments, Instructors are there to step in and help.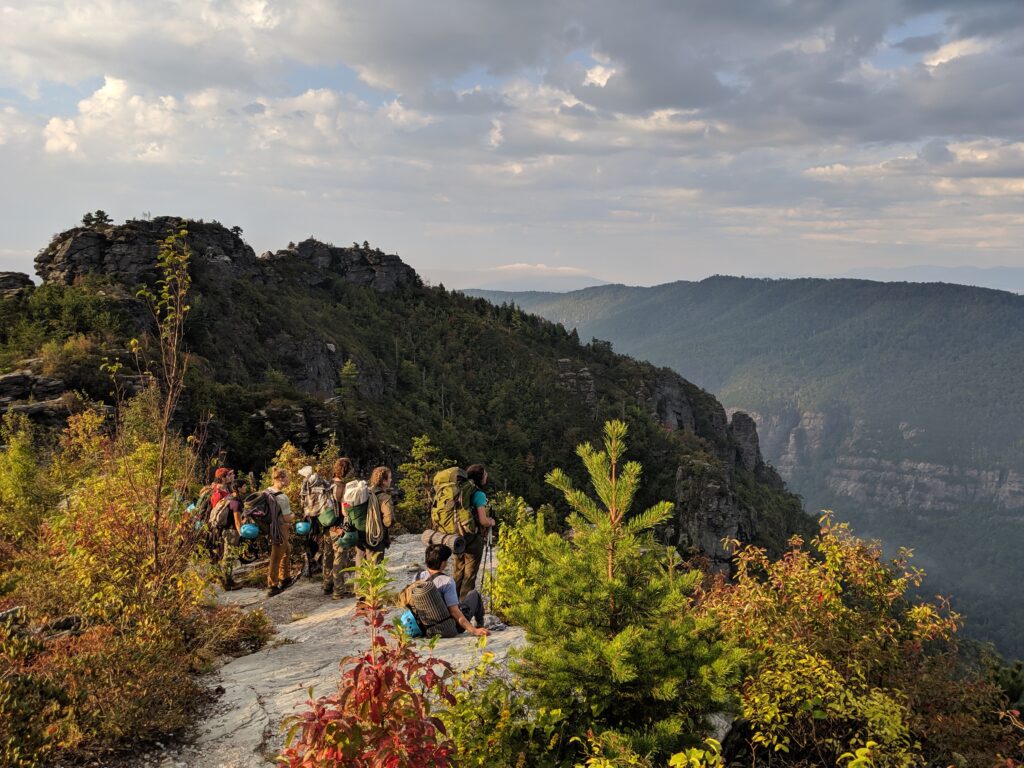 On short courses, such as a ropes course day in San Francisco, the TMF learning progression often fits to a specific activity or program. For example, on a rock climbing day, Instructors can structure the activities to require more support at the beginning, such as starting with teaching students to belay and tie knots, with close supervision. Then after the group has the chance to establish trust, and practice communicating effectively, the Instructor can step back. By the end of the day, the group should be smoothly operating within their own process. The Instructor will stay close by for support if needed, but students can fully support each other with a team of belayer and backup belay, while learning the skills of trust and compassion amongst their peers. 
Transformation in the Lives of Teens
This progression is particularly successful when working with our teenage students. As many of them are going through transformational periods in their lives and coming to the stage when they have big decisions to make, having a learning progression where they can experience success along the way is helpful. As gradual leadership shifts to them on course, they become confident in their ability to step up to the plate and reach their goals. Youth are extremely capable, and an Outward Bound course offers space for youth who might not always get the chance to practice autonomy, a chance to take on responsibilities. I find that there are always a handful of students who are eager to learn, and all they need is a little nudge in the right direction and an environment where they feel like they can be themselves and met where they are.

Meeting Students Where They're At
When students come on course, they don't just leave all of their worries behind. They carry those things with them, and it is unrealistic to expect all students to arrive as a blank slate. As an Instructor, I've found it creates a better learning environment to acknowledge this with students and let them know that it is okay if any feelings or concerns they need to work through come up for them during the course. All of life is intertwined, and if we set the stage for students to process feelings, they will be more likely to retain the learnings from the course and bring them back into their daily lives. 
In students' daily lives, they'll be faced with challenges where they'll have to practice the skills they learned on Outward Bound courses. By having the experience of taking on challenges in a relatively low-risk and insulated environment like Outward Bound, they're enabled with the confidence to face challenges in higher-risk environments. Students can look back on their course and know that they have the tools to take on the challenges they are faced with because they have done it before!
Creating an Environment for Growth Back Home
Of course, Outward Bound offers an incredibly unique learning environment specifically curated to be a catalyst for growth. When we get home, perhaps we can take a little bit of the magic with us. To recreate a similar environment that caters to growth we need to begin with being vulnerable and open to learning every day. If we want our youth to learn compassion, they need to witness adults being intentional with self-care and community care. 
In what ways can you model compassion for the young people in your community? We should all be critically examining whether the environments we inhabit are suited to encourage growth. Is there a way you can incorporate the Training, Main, Final model with people to who you are a mentor? Enabling people to find their purpose is an act of community love. Maybe this is our collective purpose, to build and tend an environment where we can all be our truest selves and live by our passions and callings. 
---
Inspiring Bold Futures
Learn more about how students are finding success in school, work and life by discovering their personal potential through Outward Bound's local and regional outdoor education programs.
---
About the Author
Tilly Schoonhoven is a San Francisco Bay Area based educator, naturalist and poet, who goes by they/them pronouns. Tilly has worked in the outdoor industry for the past eight years, most recently at Outward Bound California as a Field Instructor, Equity Process Facilitator, Communications Contractor and Social Media Writer. They are passionate about bringing equity and justice to all corners of the outdoor industry, and they are known in their communities for engaging others in thoughtful and challenging dialogues to push the Outdoor industry forward. In their free time, Tilly enjoys taking care of their plants, and laying on the beach on a rare sunny day in San Francisco.