Imagine 50 days spent on an Outward Bound course in the Pacific Northwest. No doubt you see yourself summiting rain-drenched peaks and kayaking across the glassy water of a bay in an inland sea. Perhaps you even imagine yourself sharing stories around a growling white-gas stove as hot drinks of cocoa and sleepy-time tea are prepared beneath a vast blanket of stars.
All of those are undoubtedly ingredients to the 50-day Washington Instructor Development Course. I had the rare privilege to interview not one but three alumni, all of whom took the course at the same time and are now — as our training season winds down— on the cusp of beginning their first season as employees of Outward Bound.
Allow me to introduce Francesca Fenzi (age 26 of Arizona), Emily Nelson (age 27 of California), and Eric Dorata (age 23 of New York). Emily and Eric are now members of Northwest Outward Bound School's first season of interns in Mazama, WA; Francesca is working as a logistician. The three of them have been in training at Outward Bound for the better part of May, and they had recently returned from a five-day kayak training. We sat down together in the garden to talk about their shared experience as students the fall before.
First and foremost, I was interested in why they chose to attend Outward Bound, and how they decided on the Instructor Development Course in particular. Their answers shared a common theme, all three were looking for a change in lifestyle and a change in profession, and through past experience were drawn to outdoor education. Previously, Eric had been working in a field where the highest concern was profit, while Emily came to realize that an office environment was not a good fit for her. Francesca summed it up for all of them by saying,
The Washington course area seemed like the right place, and the timing was perfect.
They had decided independently to look for opportunities to dedicate themselves to positive and meaningful work. They were looking for challenge and an arena in which they could test the unknown limits of their physical, mental and emotional strengths.
Students embarking on the Washington Instructor Development Course begin their voyage with a 12-day sea kayak expedition. After that, they spent 10 days taking a Wilderness First Responder course, which is followed by 20 days of backpacking and mountaineering in the Cascade mountains. From there, they move onto their final expedition, five days in which the proctors of the Instructor Development Course relinquish their lead, and allow the students nearly complete autonomy in their travel decisions. Finally, the students become the teachers in a three-day practicum, where they practice their outdoor education skills on a rock-face with local youth.
Towards the end of the course, the students also perform service in the local community, test themselves against a 'Personal Challenge Event' and clean and repair all of the gear that had become integral to their lives in the field.
If that sounds like a lot crammed into 50 days, it is.
Rather than be worn down by attrition (which seems plausible), these three alumni felt empowered by the ever-changing and densely-packed coursework.
"Each section always felt like there was a new duty or role," Eric said. "Leader, cook, navigator or participant — you really gain a sense of accomplishment with yourself and the group aspect of prepping, checking in, maintaining self-care and benefiting from the progress of the group," he said. "There was a real sense of buy-in as a community and as a patrol."
And so, out of all of that information and activity, I wanted to know what their favorite moments on course happened to be. I found that I was somewhat surprised by their answers; the peak summits were good, they said, as were the paddles, the sunsets and the views, but their favorite parts were based not on technical skills or outdoor extremes, but on people, group dynamics and reflective learning.
Our group culture became very close.
Emily said, reflecting on the daily and very intentional building of group dynamics. "Spending nearly every hour of 50 days together, getting to know people in a way that's pretty unique … You see people's strengths and weaknesses on a daily level and that lets you help people to grow and shine in both overt and covert ways."
The practicum at the end of their course was extremely rewarding to the trio too. "I felt so energized by having a group of students right at the end, having a new group and crafting an Outward Bound experience for them," Francesca said.
At Outward Bound, we are big fans of the circle. We stand in them when we plan travel routes or workplace objectives; we eat in circles in the field. How beautiful then, to see the figurative circle of a student becoming an Instructor and putting all that they gained from their course into their new students.
But of course where there are highs, there must always be lows.
"What was your least favorite part of the course?" I asked. "What was the most challenging aspect of those 50 days?"
They laughed, and summoned up anecdotes of extremely long travel days and truly hateful weather. But they told me then, that the most challenging moments of their combined experience had nothing to do with details like that.
For Eric, the most difficult aspects of the course came both before and after the course itself. "The hardest part for me was telling my family and friends about the change in lifestyle that I was about to undertake," he said. He had to put aside the doubt of the people that were important in his life and in returning home after the course's completion he said, "It was difficult to express the impact of the course, and that I wanted to go back. That I felt like myself when I was out there."
Emily thought that experiencing the culture shock upon leaving their closely-knit community was the most difficult. "It was hard to share points of reference. People share stories about mountains and orca whales … it's harder to communicate the creation of relationships and values of a group."
"Okay," I said, "but for this interview, give me something else, too. Something brutal."
Emily tapped her fingers on the picnic table where the four of us sat. "I got it," she said. "Day two of finals, [we backpacked] 13-plus miles through the rain."
"Rough," I said.
"It started to sleet," she continued, "and temperatures dropped to freezing … It was so cold that night that everything froze."
Francesca agreed that that night was one of the hardest. She told me that her shirt froze into a single sheet, and that even the most resolute members of her and Eric's patrol were beginning to have doubts. It was the only night, in their collective recollection, that people were saying things like, "Why am I doing this?"
That was when we learned how to push ourselves through challenges without any sort of prior experience.
I would like to note that the intent of this writing is not to scare anyone, but only to emphasize the important fact that Instructor Development Courses are designed to be difficult and they are designed to push people beyond their comfort zones. That principle of challenge and discovery is integral to the Outward Bound mission. Even in the second day of course during the sea kayaking portion, students are made to practice a 'wet exit' — escaping from the cold, dark confinement of a capsized kayak. It is an exercise designed to instigate panic in order to have people practice thinking and remaining calm in moments of unexpected challenge or sudden, heightened risk.
And, in following with the design principles of the Instructor Development Course, people who are interested in working and living in the backcountry need to know the limits of their bodies, hearts and minds — and become comfortable, collected and cognizant in times when those limits are stretched and pressed against.
Continuing on I asked the three, "What were your fears going into this course?"
Central fears were based on life and decisions about the future. "I did discover that I have a deep fear of the lack of control on open ocean water," Francesca shared, "one never before felt until I experienced it. I also worried that choosing to spend so much time on an Outward Bound course was just a place-holder for my future. Something fun, maybe, but ultimately not valuable."
Another common fear was that of being surrounded by older, more experienced adventurers or conversely, being the oldest and most experienced member of the group (let it be noted that the age spread on that course was 18 to 57). In consensus, Eric, Francesca and Emily were pleasantly surprised to find that nearly everyone was coming to the course with very similar experiences and attitudes toward wilderness and outdoor education. There were several international students and people from all sorts of professional backgrounds, cultures, lifestyles and upbringings.
"I learned never to underestimate the teenagers," said Francesca. "I think we all learned quite a bit from the 18-year-olds. Age definitely stopped being a factor."
There were no differences between any of us. We all shared the same experiences, laughed at the same things. It was great to learn how to be accepting of just how other people are.
-Eric
I asked what they would tell others, or tell themselves, if they could communicate with someone who was about to start an Instructor Development Course of their own.
Commit to the unknown.
-Emily 
You will have the chance to see your peers and the people you work with come alive in completely surprising ways. -Eric
At every transition in course you will be surprised and rewarded by a new, deeper human challenge. -Francesca 
It never seems like work when you're speaking with or writing about people who are so passionate and involved with what they are telling you. I have no doubt that Emily, Eric and Francesca could have gone on for hours retelling the highs and lows of their wild, once-in-a-lifetime shared experience, but the truth of it was that the dinner bell on the Mazama base camp was about to ring and this blog post could only be so long.
Up here, we use a term called "laser-beaming" to have people cut to the chase and deliver information in as precise a form as is possible. It is a valuable technique when there is a lot going on, and I asked them to practice on me: "Laser-beam me, what did you gain from your experience as a student without Outward Bound?"
Emily said, "This is super cheesy, but as Kurt Hahn said (the founder of Outward Bound), 'There is more in us than we know. If we could be made to see it; perhaps, for the rest of our lives we will be unwilling to settle for less.' I gained a new perspective of both myself and our world."
Francesca said, "I gained a greater comfort and understanding of my flaws and that if something isn't pleasant, that does not necessarily make it unpleasant." She said she developed the habit of consciously reflecting on her gratitudes.
Eric said that he could not leave the Outward Bound's value of excellence behind, even in the small aspects of daily life that no one else sees and likely wouldn't care about, anyway. I asked him for an example; "You should see my bed now, it's on point. Tight corners and nice folds. Kurt Hahn taught me how to make a bed." All three of them laughed and suggested that that line would make a good title.
What is remarkable about these three individuals is that the season after their course as students on an Instructor Development Course, they are all now staff with Outward Bound, continuing along that path. When they were students, they stayed in the staff housing as the autumn temperatures began to plummet; they helped alongside staff with chores and meal preparation; and they got a taste of what it would be like to become a part of the community and spend a spring, a summer and a fall living and working at our isolated base camp.
I posed a final question to them with the stipulation that, in continuing with the honing of their laser beams, their answers could only be a few words long: "So, how do you all feel to be here at Outward Bound now?" I asked.
Grateful.
Said Francesca.
On the right path.
Said Emily.
Eric grinned and said,
Finally.
---
For more information on Instructor Development Courses, or to learn about our rich selection of gap year and semester expeditions, go HERE or call 866.467.7651 to reserve your spot today.
Sign-up for our newsletter to keep up on course options, resources, and special offers.
About the Author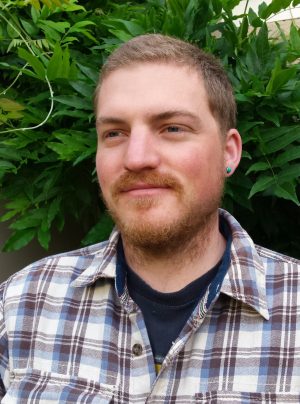 William Long is the Head Logistics Coordinator for the Northwest Outward Bound School in northern Washington state. A native of the western United States, he is a graduate of the University of California, Davis. In addition to his work with Outward Bound, he is a practicing fiction writer and an aficionado of good swimming holes.