Since I've been involved in outdoor pursuits like rock climbing, mountain biking, skiing and mountaineering—my adventure buddies have, for the most part, been kind, intelligent folks that I really enjoy spending time in the outdoors with. 
And they've also been—about 90% of the time—male. 
If you'd asked me several years ago what I thought about all-female expeditions, I might have responded with minimal enthusiasm. Yes, I'd mostly climbed with males, but I didn't feel like I was missing out on anything by not having more time in the mountains with females. The experiences I've had recently, though, both professionally and personally, have changed my mind about all-women's outdoor expeditions. I now understand the important and unique atmosphere that's created within an all-women's group in the outdoors. 
For the past two seasons, I've been an Instructor on a 7-day all-women's mountaineering course in the Pacific Northwest. During these expeditions, we venture into the North Cascades and attempt to summit the 8,970 ft Black Peak mountain. These expeditions are so inspiring to be part of; I've found our students to be vulnerable, express their opinions more confidently and take on leadership roles they might not naturally fill. Two summers ago, we had a professional filmmaker participate, and she created amazing videos that documented our experience. You can see those here (thanks again, Mari Cleven!)
The alumni stories we've heard time and time again speak to the beautiful environment that all women's courses create. A participant from 2018 said it best:
This was a truly life-changing experience for me, one that ignited an excitement and passion for something I had never done and had no idea I would love so much. The fact that it was an all-women's expedition was very instrumental in my decision to attend. I learned about it via an all-women's Facebook group, and as a novice, the idea of the students and Instructors all being female was reassuring when I considered doing something so far out of my comfort zone. In addition, even as an adult, it was incredibly empowering and inspiring to witness our female Instructors be such great role models. We watched them do amazing things and heard them tell us that we too were capable of those same things. As a woman who hasn't had a prominent strong, female role model in my life to encourage me to challenge myself, this experience created a paradigm shift in my mind about what I am capable of and what I want to do with my newly appreciated abilities. I am forever grateful to the Northwest Outward Bound School, the Instructors and my fellow students on my course for the experience. The lessons I learned will not soon be forgotten, and other women and girls deserve the opportunity to learn the same lessons about themselves!
Calling All Women Outside
Female participation in the outdoors has continued to grow over the past two decades, with nearly a 50/50 split between men and women when it comes to participation in outdoor activities. This report, published in 2017 by The Outdoor Foundation, breaks down outdoor participation according to many other factors like age, ethnicity and income.
The number of women in more specialized outdoor pursuits, though, like mountain guiding, high alpine climbing and backcountry skiing still lags behind men. The American Mountain Guide Association (AMGA) says the number of female mountain guides is around eight percent. Recently, a greater push has been made to encourage women to continue developing their outdoor skills past the beginner and intermediate levels. The AMGA offered the first ever Women's Rock Guide Course recently, where the participant and Instructor makeup was entirely female. This year's climbing season on Mt. Everest also had a record number of female climbers, who made up almost 20 percent of permitted climbers this year. In another milestone, Libby Sauter became the first woman inducted into the American Alpine Club's Hall of Mountaineering Excellence in 2016.
Seeing women excel in the outdoors is one of the things that inspires me to continue pushing myself. The times I've felt most empowered in my life have always been moments in the outdoors—teaching ice axe skills to Outward Bound students, pushing myself to ski something steeper than I've ever skied before or climbing a multi-pitch alpine route. I still enjoy adventuring with all sorts of people, but I've realized the true importance of making time for women and outdoor adventures. 
On a recent expedition on a glacier in Alaska, for example, our all-female group created a super inclusive environment where everyone's opinion was valued. No one was trying to impress others with their expertise or hardcore ski skills; we were simply a group of peers making decisions and solving problems together. This was especially apparent when we were partway up a couloir and decided to back off of it because of sketchy snow conditions. It's always hard to retreat off an awesome looking ski objective, but the fact that our group was all on the same page and ranked everyone's mental and emotional safety as highly as our physical safety made it that much easier to do so.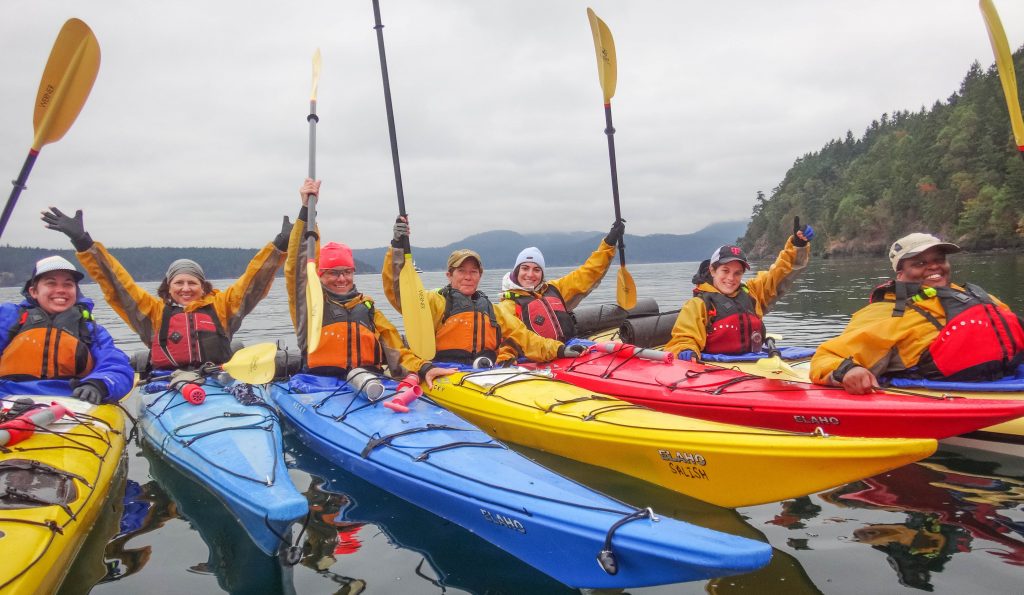 To read more about women crushing and influencing in the outdoors world, check out these articles: 
No Man's Land, the Rise of Women in Climbing -Climbing Magazine
Women Are a Huge Economic Force in the Outdoor Industry -Outside Online
15 Female Leaders You Need to Meet at Outdoor Retailer -Gear Junkie
And if you're looking for more time with fellow females in the outdoors, explore our all-women's expeditions here.
About the Author
Cristina Woodworth is an Outward Bound logistics coordinator and assistant Instructor at the Northwest Outward Bound School in Mazama, Washington. During the off-season, you'll most likely find her on a mountain bike, a pair of skis, or lounging around with a good book. She has a degree in journalism and enjoys writing, photography and videography as well.