I'm going to camp out in northern Minnesota for a week this January. 
When most people hear those words they think that it sounds a little nuts. Even fewer expect that they would ever utter them. The truth is, winter dog sledding and cross country skiing expeditions in the Boundary Waters can be life changing. Watching the stars and northern lights through a crystal clear sky fills you with a sense of wonder unlike anything in a city. At the same time, the cold and snow test your resolve. So what does a winter expedition with Outward Bound entail? Here's what a typical day might look like.
Rise and Shine
It's the sun that wakes you up first, and then the cool, fresh air. There's no time to waste as you hop out of your sleeping bag and get your layers on; to stay in the confines of your sleeping bag will only delay the inevitable. You've learned the tips when putting on layers, and know that when you add a sweater on top of your thermal underwear, you'll be toasty warm when the temperature dips below zero. Next you take care of all the exposed extremities; a warm knit hat, neck gaiter, and mittens do the trick. Then it's time to get moving. As you eat breakfast around an open fire, pack up bags and get ready to leave camp, you're surprised at how much the movement keeps you warm and energized.
Preparing The Dogs
You go to pick up a harness and turn to face the dogs. The sound of pure excitement hits you in a tidal wave of barks and howls. They are ready to run! As you get the dogs snugly into their harnesses and start hooking them up to the sled, their enthusiastic vocals reach a level you didn't know was possible.
And You're Off!
You get on the sled, release the safety line, and "woosh," you're gone, the cacophony of the dogs quickly fading behind you as you glide out in the white world of snow and trees. The overwhelming energy that you just left behind is replaced by the sounds of paws hitting soft snow, dogs taking frosty breaths that hang in the air, and the sled sliding through the woods.
Most of the day on trail is taken up by travel time. Your team splits up and skiers and dogsleds move across the frozen lakes and snowy portages. During the day you see the snow-covered lakes and forest change colors as the sun swings across the sky. You watch transfixed as wind-driven snow makes impossibly complex patterns that shift and move as they blow across the ice.
Setting Up Camp
Once you get to camp it's time to stake out the dogs, set up shelters, and gather a large amount of firewood. It takes time, but your reward is sitting around a blazing fire with the entire group eating a hot meal. It is amazing to look up from your warm seat by the fire into the clear starry skies and think, "wow, it's below zero right now and I don't even notice." Clear winter nights provide some of the best stargazing to be had, and you might even catch a glimpse of the northern lights as they dance across the sky.
Getting Outward Bound
On a dog sledding expedition in the Boundary Waters, all signs of other people disappear. We often go out for two weeks at a time and see no other people, or even their tracks in the snow. It is an amazingly humbling experience to realize that you are out there on your own. At the same time, you learn that those around you are the ones you are truly counting on. When one person is too tired to keep sawing the firewood, another takes over. You look out for one another, encourage each other to keep going, and remind each other that no matter how hard the days are, you'll always end up laughing together around the fire at night with a hot meal in your belly.
Are you are ready for the challenge of an 8, 15 or 22-day dog sledding expedition? Visit our website for more details and get Outward Bound this winter or spring.
---
For more information about Outward Bound or to learn more about winter and spring break courses, go HERE. To speak with an admissions advisor, call 866.467.7651 and reserve your spot on an expedition today.
Sign-up for our newsletter to keep up on course options, resources, and special offers.
About the Author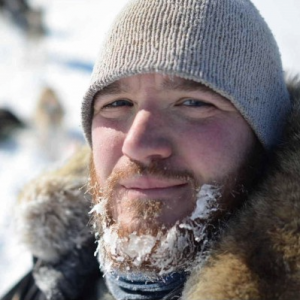 Calvin Croll grew up in Connecticut and first came to Outward Bound in 2005 as a student on a 22-day dogsledding course. After finishing his degree at Cornell University he returned the following summer to join the Voyageur Outward Bound School staff. He is now in his ninth year on staff and his eighth year instructing and directing the Intercept program. During his tenure with Outward Bound Calvin has worked at eleven different bases. This includes stints whitewater canoeing and sea kayaking in Canada, backpacking the deserts in west Texas, canoeing in the Everglades, running urban programs in downtown Philadelphia and sailing down the coast of Maine. Working in such varying environments and with students of all ages has allowed him to grow as an educator every year.