Travel east to west with Outward Bound and discover some of the places you can explore on an outdoor expedition.
America boasts amazing and varied opportunities for outdoor adventure. Even in multiple lifetimes, you couldn't experience it all. If you're feeling stagnated or stuck in the wake of the pandemic, your feelings are valid and it may be time to shake things up.
With courses running out of eight bases across the United States, an Outward Bound outdoor expedition is a great way to get out of your regular routine and see some of what the country has to offer. Read on to learn more about some of the natural spaces and parks Outward Bound students have the opportunity to explore and learn from.
Maine
The east coast is no joke. Maine offers impressive outdoor diversity in just one small state. Gnarly and rocky mountains juxtaposed with the cool, vast ocean make Maine a prime destination for adventurers. Baxter State Park offers access to a plethora of hiking around Mt. Katahdin, or if you're looking for an ocean adventure, Bar Harbor is an adorable town with access to Acadia National Park. If your past year included a little too much screen time, then maybe it's time for some wind in your hair and ocean spray on your face. Experience the real, wild Maine on an Outward Bound Sailing expedition.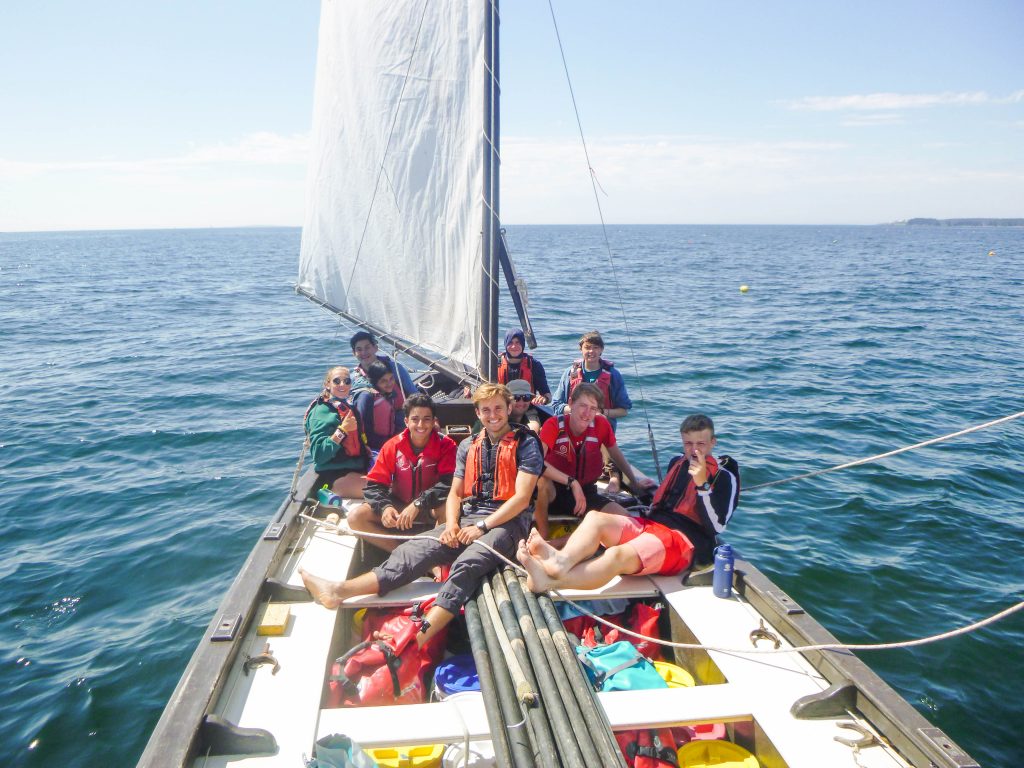 Mid-Atlantic
The Appalachian Trail is an impressive 2,100-mile distance hiking trail that runs from Maine to Georgia. In eastern Pennsylvania, the trail winds itself through expansive forests, offering those who spend time there true immersion in the Appalachians. Learn more about some of the oldest mountains on earth through an Outward Bound backpacking course in Pennsylvania. If exploration by boat is more your speed, then the Delaware Water Gap might have the answer to your summer search for adventure. A canoe trip in this area can bring you in touch not only with the surrounding ecology but also the rich natural and cultural history of the area. Come alive on the river on an outdoor expedition.
North Carolina's Blue Ridge Mountains
There are many ways to experience the southern stretch of some of the oldest mountains in the world. The Blue Ridge Parkway is a popular scenic byway destination. Driving the parkway offers breathtaking views of these mountains, with lots of car camping sites available along the road. Beyond the pavement, the Appalachians boast amazing whitewater rivers for paddling as well as epic slabs of rock for climbing. For full immersion in the rivers, rocks and rhododendrons, check out these backpacking courses happening this year in North Carolina.
Minnesota Boundary Waters
Minnesota might be one of the most underrated states for outdoor recreation. The Boundary Waters area is home to world-class canoeing, as well as, the opportunity to see lots of wildlife without lots of other humans. Picture a sunrise over a still lake, with the calls of loons echoing around. If you've never heard the call of a loon or seen a bald eagle soar, maybe it's time to look into a canoeing expedition.
Colorado Rockies
It's no secret that Colorado is home to legendary, world-renowned mountains. The Rockies are a popular winter destination for skiing, but their summer offerings are numerous as well. For example, the Colorado Trail is a 486-mile hiking and biking trail from Denver to Durango—a backpacker's dream. Day hikes of any of the 14'ers, 14,000+ foot mountains, are breathtaking, burly ways to experience the Colorado backcountry. While highly rewarding, venturing into the alpine zone can require additional technical training. To learn skills for a lifetime and find your limits, look no further than an alpine backpacking expedition in Colorado's backcountry.
Pacific Northwest
Trade the couch for a sea kayak and experience the majesty of the west coast. The San Juan Islands off the coast of Washington are famous for breathtaking views and interactions with wildlife. This magical area is a great place to see orcas breaching, seals lounging and epic views of the Cascade mountain range. The Cascades themselves offer a world of adventure, including a very high concentration of glaciers even through the summer months. An outdoor expedition in the Pacific Northwest can propel you into an adventure in both of these otherworldly areas.
California
While California is most commonly known for its sandy beaches and lively cities, a look inland reveals some of the country's most impressive wilderness areas. Joshua Tree National Park, in the southern part of the state, transports you to what feels like another planet. Sharp, expressive plants and obscure formations of rock dominate the desert landscape. For someone looking to expand their comfort zone, exploring Joshua Tree would be a welcome adventure. Drive just a few hours north, and it feels like you've swapped planets. The Sierra Nevada mountains offer world-class backpacking and rock climbing, with plenty of real estate in the alpine zone. Exploring California through an Outward Bound course, either by mountains or desert, is a fantastic way to push yourself and appreciate the ecological majesty of California.
Ready to experience one of these areas firsthand? Explore all of our upcoming outdoor expeditions. Or signup for our newsletter to be the first to know about new expeditions taking place!
---
About the Author
Addie Hurwitz is a field Instructor for the North Carolina Outward Bound School, primarily out of Table Rock base camp. Addie has a degree in Recreation, Park, and Tourism Management from Penn State University. She loves working in experiential education and takes similar joy from studying its academic side. When not on a course, Addie is likely skiing or traveling.