The post-hike pick-me-up you need—five desserts to keep you going this winter camping season.
We know that hunger is the best sauce and covering miles in the backcountry can make a beans-and-rice dinner into a decadent feast. Whether you're looking to impress, boost morale or just get the best out of life, use these backcountry versions of your favorite desserts as a jumping-off point. The sky's the limit when it comes to your creativity with these camping desserts. A campfire certainly gives you more options for backcountry baking, but you'll see options here for stove users as well. Backcountry recipes involve using a bit more of your judgment as there are so many variables from wind, bakeware, fire temperature and outside temperature.
1. Brownies
I prefer brownies from a box that call only for oil to be added. A sturdy plastic bag works best as a mixing bowl, and once your oil and dry ingredients are mixed, you can cut the corner off and squeeze out the contents into your greased baking dish. To get every last bit of goodness from your mixing bag, turn the bag inside out and put it over your arm. You can then lick off the bag – a treat, that on the trail, we like to call Cake Arm.
Bake on low coals, rotating and checking frequently. I follow a 70/30 rule for heat – 70% of the heat needs to come from the top, via a twiggy fire built on the lid, and 30% from the bottom, from sitting in, on, or above coals. I find it easiest to bake the bottom first and then tackle the top.
Heavy-duty fire gloves and pliers are useful for rotating and checking your dessert. I sometimes use a large spoon to heap coals on the lid. Make sure to blow all of the ash off the lid before lifting to check. Twigs work great as a backcountry toothpick to check the middle!
If you want to try baking on a camp stove, consider using other cooking implements to prop your baking dish up above the heat significantly, otherwise, it will be burnt over the stove and not fully cooked around the edges. You could also use another dish as a diffuser – an upside-down baking dish over a two-burner stove can help spread the concentrated heat from the flame to the rest of the filled baking dish. A tiny twiggy fire, if allowed, can finish off the top.
2. Carrot Cake With Cream Cheese Frosting
2.5 cups flour
¾ cup sugar
2 teaspoons cinnamon
1 ½ teaspoons baking powder
1 teaspoon salt
2 carrots
½ cup margarine
¼ cup oil
½ cup water
Frosting
1 package cream cheese
2 cups powdered sugar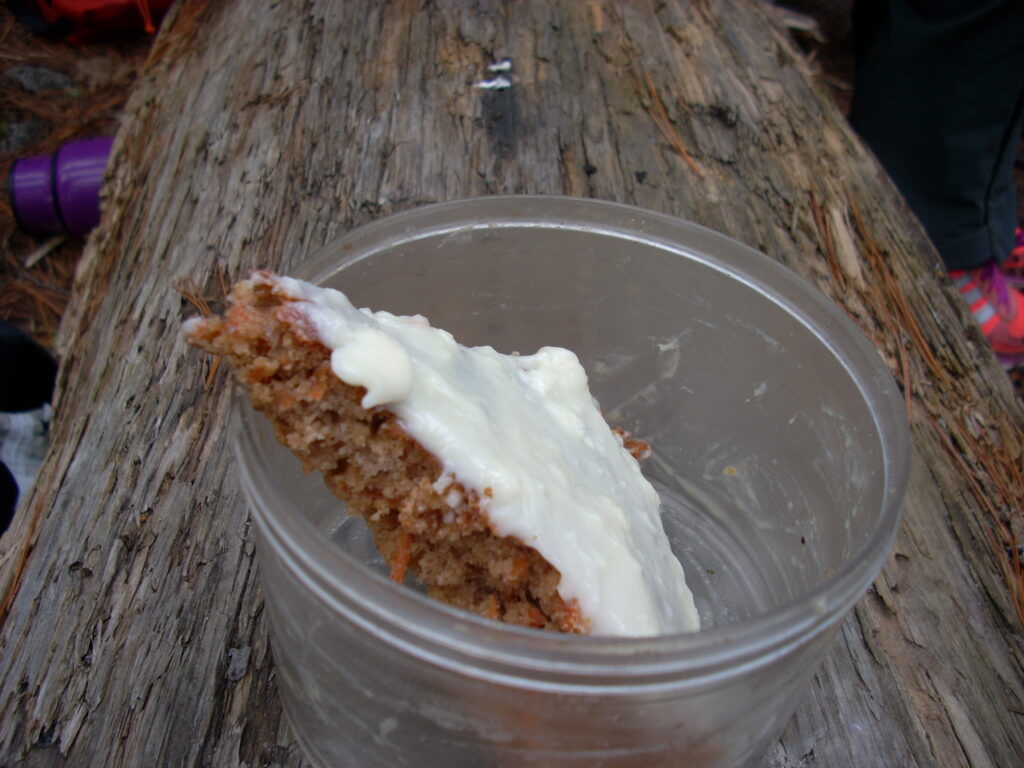 A step up from box cakes – impress yourself and your travel companions with this from-scratch carrot cake. Here's a tip: you can mix the dry ingredients into one bag ahead of time during your food packing. Carrots travel best wrapped in brown butcher paper if it's hot out. If it's refrigerator temperatures outside, you can try grating your carrots ahead of time to save on prep in the woods. Bring a mini grater with you or use your knife to get the carrots as small as possible.
Keep in mind, margarine will keep well even in summer temperatures, but cream cheese probably needs to be eaten in the first week.
Instructions
Add your liquids and margarine to the dry ingredient bag and mush them all together. Add grated carrots. Grease your baking dish with margarine. This recipe is sized for a roughly 10-inch diameter baking dish, 2 inches deep. Feel free to grease the underside of the lid if you're worried your cake will rise the full height of your dish. Bake on low coals, following the 70/30 rule mentioned previously.
Add the cream cheese to the plastic bag you packed the powdered sugar in. Mix well. Cut the corner off the bag to squeeze the frosting out. After the cake has cooled, frost it and serve.
3. Popcorn
Backcountry popcorn can be made over a fire or a stove and is a great lightweight option. Add enough oil to cover the bottom of your pot and a layer of kernels. Put the lid on and heat over medium heat. If your heat source is on the hotter side, make sure to start shaking it as it starts to pop to prevent burning. Thick fire gloves are very useful for holding your popcorn pot securely! Dress with oil, nutritional yeast, salt, herbs, spices or other favorites!
4. Instant Cheesecake
For those looking for a no-bake option, check out the no-bake cheesecake mixes in your grocery store. Find one that calls for add-ins that you are comfortable bringing or substituting on trail. Cream cheese, butter and eggs can be brought on shorter trips or cooler-weather trips, margarine can be substituted for butter and powdered milk or water for milk. Bring a few Oreos for topping, or pick fresh berries if you're hiking during berry season.
5. No Bake Cookies
Perfect for a camp stove or a fire, but works best if outside temperatures are cool enough for these cookies to set up!
Instructions
Add ¼ cup butter or margarine to your cook pot, plus 1 ½ cup sugar, ½ cup water, 2.5 tablespoons powdered milk and ¼ cup cocoa powder. Heat over medium heat, stirring constantly until the butter melts. Stir occasionally until it comes to a boil. Remove from heat and immediately stir in 2/3 cup peanut butter and a pinch of salt until incorporated and 3 cups of old-fashioned or quick oats. Let the mixture sit for a few minutes, and then scoop in small balls onto a flat surface to cool. Allow to cool and set up for a half-hour or more time if needed.
Let us know which of these camping desserts is your favorite!
---
About the Author
Renee Igo was an Outward Bound student at age 15 and has been instructing wilderness expeditions for the Voyageur Outward Bound School for the past eight years. When not instructing, she holds a variety of other teaching positions and raises sheep in Maine.