From all angles, Scotty Hernandez is an unlikely author. That may be because he is only 19 years old, or because he is a product of the Bronx, a notoriously dangerous but culturally rich borough of New York City.
"Statistically I'm not supposed to succeed in the Bronx, and I don't think most people who don't live here understand that," Scotty said. "19 years old—that's an accomplishment, and if you keep getting older, you can keep getting happier because no matter what you've been through, you're still alive."
His authorship status may be as atypical as finding a teen from the Bronx backpacking in Colorado; Scotty completed a 21-day expedition with Outward Bound in Colorado in 2015.
In the wilderness, Scotty said he learned to appreciate more.
"I feel like I didn't appreciate a lot of things before that trip, like getting off my cell phone and appreciating nature itself," he said. "But after that trip I could do more without my phone for however long it takes, it doesn't even matter to me anymore. I appreciate so much like the beauty of nature, the trees, the animals. I appreciate getting up and getting to the grind early and I'm just grateful that I had a chance to do it in a different atmosphere with different people."
A world away in the Bronx, Scotty remained deeply invested in rising above the drugs, family issues, and community violence he faced growing up in the South Bronx. His first published work, released this October and titled Dreams Turned Into Reality, is a compilation of five short stories reflecting on these challenges.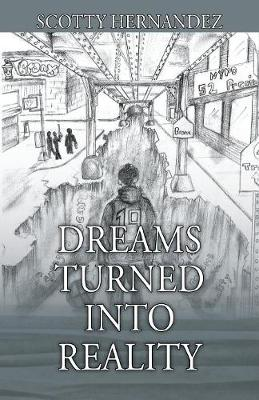 "Obviously it's fiction, but these are my emotions that are going through these characters, and these are hidden messages that I'm leaving in the book," Scotty said. "This is stuff people go through in their everyday life that not many people get a chance to go through and read and be in our position. Just letting people try to connect themselves with [the work] makes me feel good."
He said this year has been tough, referring to a number of violent incidents that have taken place nationwide and in his community. Watching coverage of school shootings was troubling, he said. And then in June, a Bronx teen was stabbed after being dragged from a convenience store by New York-based gang members. They misidentified their 15 year-old victim as a fellow gang member, according to law enforcement officials. Scotty says he felt the hospital could have done more, and that a number of people recorded the act on video but neglected to assist the boy.  
"I feel like I've been tempted to explode in ways, and by explode I mean share outloud my emotions and my opinions," said Scotty; and that after this incident, something stirred inside him.
"That's when I felt like it hit me more to protest this gun violence that was happening. I had to explode, and the way I do it is through my writing."
He calls the moment when he first laid hands on his own book "unreal."
"I was at a loss for words. I was emotional. And I couldn't believe it was actually happening. And then the thought of my age—that's why I have 19 on the back of my shirt [on the book's cover]. I'm still a teenager and I'm doing this," Scotty said. "There was so much emotion running through me and everything I've been through and how I've seen how my writing has impacted people."
A college sophomore studying criminal justice at Monroe College in the Bronx, Scotty is not only a writer, but a community advocate. When he's not in class he's working as a group leader at an after-school program.
At 19, Scotty isn't slowing down. He never seems to forget that there are already kids looking up to him. He keeps motivational stories and quotes in the Notes app on his phone. He's given two talks at his high school this year, one to students and another at the school's first annual fundraising gala. In his speech to gala attendees, he said: "There are certain people who wake up each day filled with hatred towards the community and they don't take a day off from trying to mess it up. My question for everyone in this room is: Why should we rest when we are trying to spread love and goodness in our communities?"
He said he has a reputation among former teachers and students as someone the community can look to for guidance, and those people often wonder of him, "What's next?"
For Scotty, that question holds a lot of weight.  
"It's a tough position to be in because I'm still learning and have a lot of knowledge to gain. But it just shows that not everybody is the same in the Bronx, and obviously nobody's perfect and I'm not perfect, but I'm just trying my best to make something out of myself and then also give back to the youth. That's my main concern," Scotty said. "To me it's not about the money [made from the book] and it's not about if I do this thing or that, it's trying to create something that the youth can take on. And hopefully it can impact them more than it can impact anybody else, because after me they're up next."
Scotty said through his writing, he's trying to create change and make the world a more positive place. In his effort to create a shift in how the world views the Bronx, and how kids who live in the Bronx view the Bronx—and themselves—maybe young people will take notice. Maybe more kids in the Bronx will seek their passions, rather than violence or drugs.
According to a 2018 study by the Social Science Research Council, New York State maintains the highest gap between rates of "disconnected" youth; young people aged 16-24 who attend neither school nor work. In Scotty's neighboring congressional district, District 15 in the South Bronx, the rate of disconnected youth is 20.4%, the third highest in the country behind districts in Kentucky and Louisiana. New York's District 4 on Long Island holds the lowest rate of disconnected youth in the state at 5.9%.
Scotty was first introduced to Outward Bound through non-profit partner organization Summer Search, whose mission it is to guide students in underserved communities in school, work and life. The organization has offices in New York, Philadelphia, the Bay Area, Boston and Seattle.
College Success Associate Richard Robinson was Scotty's counselor at Summer Search New York. He's not at Summer Search anymore, but said of the roughly 21 New York public schools Summer Search serves, 11 of them are concentrated in the Bronx. He said the demographics of Summer Search students are representative of public schools in New York. "Over 80 percent of the students were Black or Latino."
"This may be easy to gather," Richard said, "but Scotty had never been to Colorado before, hadn't ventured out from New York too much, too often."
Richard said he believes Scotty took "a tremendous amount" from his Outward Bound expedition.
"He established a great bond with that group, with the other Summer Search students, the non-Summer Search students and the Instructors. He got to meet the mayor of a small town and had a great bond there. He just connects well with others," Richard said. "Scotty's experience is pretty emblematic of the kind of experience we hope students have on an Outward Bound expedition."
Scotty's mentor said Scotty returned with a new perspective for what he wanted for himself and a deeper appreciation for what he saw at home and the environment he returned to, and that translated into his writing career.
"He came back more emboldened as a writer, wanting to capture more stories and tell more stories," Richard said.
As for Dreams Turned Into Reality, Richard said the fact of Scotty's achievement doesn't surprise him, just that it happened so early.
About the Author
Olivia Schneider is a alumnae of the Voyageur Outward Bound School, has volunteered for the Philadelphia Outward Bound School, and is the Marketing Intern for the Colorado Outward Bound School Southwest Program. She loves dance parties, tennis, unplanned nourishing conversations, and being on a boat.