Maggie stood at the top of Mount Champion in Colorado, nearly halfway through a 30-day Pathfinder course. Looking at the land below, resting at 12,893 feet, she felt that for the first time in awhile, this was her chance at a "blank slate." So she took it.
Before the summit, and before Outward Bound, Maggie was on track to be a senior biology major at Virginia Tech. But in recent months, her father, a recovering cocaine addict, had relapsed; her family's home was robbed; Maggie's grandfather, a significant influence on her life, died two days before her 21st birthday, and her then-boyfriend threatened his life when she tried to break up with him.
She started skipping classes and avoided hanging out with friends. "I didn't talk about much of this. I was in my head," Maggie said. "I wasn't taking any substances or anything but I felt like I was; it was very weird. I was choosing all these bad decisions over the good ones and over people who loved me, and my parents saw that." She took the fall semester off and with her parents' encouragement, she enrolled in a Pathfinder course set for Colorado and Utah.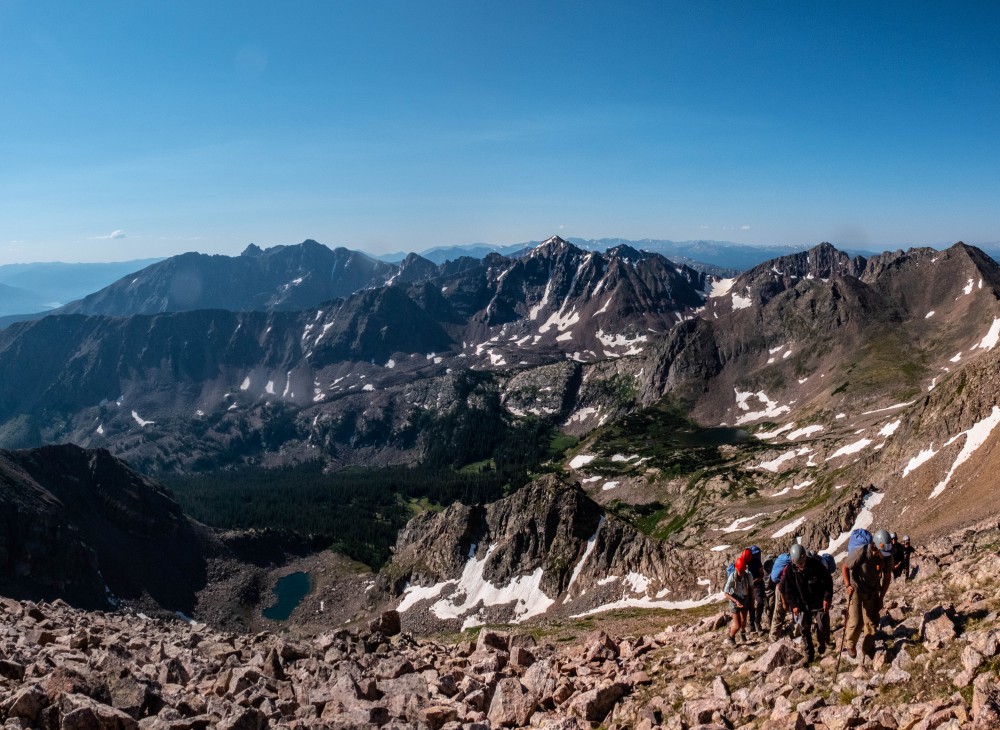 At the summit of Mount Champion, the sun had started to rise.
"I remember getting to the top and looking out at how beautiful and simple it looked and I remember thinking that it was a completely blank slate and that this is where I could start over," Maggie recalled.
"From there I just started opening up and opening up and opening up," she said, and she told her crew about her father, her grandfather, her boyfriend and her security being violated with the intrusion of her home. Talking to others who could relate put her problems into perspective.
"People say you experience these life-changing things and that you feel lighter when you deal with things, and I felt completely lighter and a brand new person. I like to think about it like the part of the train that changes where the railroad goes. It put me on a different track and helped me get on the right path."
Now 24, Maggie says she returned from her expedition "completely focused" on school and graduated with a degree in biology. "It's been a flip-around because I never thought I would graduate."
Once at home, however, transitioning from a life in the wilderness proved to be more difficult than expected. When her parents posed questions about her course, she found it difficult to provide answers, fearing that a mere collection of words could never do the experience justice.
"It made me sad coming home and people not getting it. After I got past not caring about what people thought and not needing them to understand, I finally got to experience the new me and everyone could see how much happier I was."
Nick Kannegieter, a course director and lead Instructor at Outward Bound in Colorado, has previously led three Pathfinder courses and will lead the Pathfinder course out of the Southwest Program this fall. He wasn't surprised to hear that Maggie struggled to describe her course and its impact to her family. He believes this happens for a couple of reasons.
"The number of people who are willing to take on the experience of a Pathfinder course are few and far between," Nick said. "Spending 30 days in the wilderness with people you don't know, being put into situations that are designed to push you out of your comfort zone—this takes a lot of vulnerability and grit, [and] if people aren't open to the idea they likely won't understand what it actually takes to accomplish such a goal."
And then there's the actual act of trying to retell an inexpressible event. "How do you describe the feeling of getting to camp after hiking for twelve hours when the map says you only had to go three miles?" Nick said. "You just can't put it into words. The best storyteller in the world couldn't convey these feelings. People just won't understand."
Nick said while on course, students learn to live in routines, like waking up at a designated time, packing their bags, then travelling by foot or boat. Opportunities to try and succeed, or try and fail, present themselves everyday. "There are no outside distractions and you have clear consequences to your successes and failures," he says, like if you set up a tarp poorly, you'll get wet, or when you're efficient in a mundane task, other positive opportunities are certain to arise. "Everyday life isn't so cut and dry."
Because of this, according to Nick, some students find the transition back to their home lives challenging, and it's common for students to retreat into their old ways, at least for a period. "Those that find success after course are the ones that realize you can have the same things at home, you just need to put intention into the way you live," he said, adding that this takes time and effort.  
Two years after her course, Maggie is working at an orthopedic practice as a medical scribe, accumulating hours for her application to a Physician Assistant program. As a medical scribe, Maggie meticulously records dialogue between doctors and patients. It's a fast-paced job and once after a stressful week, Maggie wondered if she was cut out for the role. "I started having an anxiety attack about how I could be better and how someone else [would be] better than me," she says. But after communicating with her mom and therapist about these fears, she wrote down a couple things she could do to prevent another attack.
"[I] dealt with it then and there instead of letting it fester and not telling anybody, because it's not embarrassing," she said. This is something Maggie says she's taken away from course. Nothing that happens to you is embarrassing. No one is going to look at you and be like, 'Wow you had an anxiety attack at work? You're such a loser.' People are going be like 'I understand [and] I relate to you,' and they will help you."
As a result, she says she is more confident at work without needing validation from others. "That confidence makes me better at my job and then I get positive feedback which makes me more confident, which is a great cycle of doing better because I know that I am better, and that I'm great at what I do because I've worked hard," Maggie says.
And recalling when she often used to skip class in college, that's not her anymore. "Before [my course], it was easy for me to make excuses and leave people stranded when I had made promises to them, and now I wouldn't even think about missing a day of work unless I was really ill," she says. "I wake up and do my job and don't even think to complain about it."
Towards the end of our interview, Maggie says that she could spend hours trying to convey her experience to me in vain. But, to emphasize the effect it had on her, she says, "everyday I recognize something where I'm like 'I would've reacted differently if I hadn't gone on my Outward Bound trip."
On top of having great success finishing school and at work, Maggie says her relationships are better than ever. "My parents and I get along better, my sister and I get along better. Soon after I left my trip I met a guy who I'm now dating and it's the healthiest relationship I've ever been in. Everything like that, I relate to what I learned on the trip," she said. "I honestly can genuinely say it was the best decision of my life and completely changed my life."
About the Author
Olivia Schneider is a alumnae of the Voyageur Outward Bound School, has volunteered for the Philadelphia Outward Bound School, and is the Marketing Intern for the Colorado Outward Bound School Southwest Program. She loves dance parties, tennis, unplanned nourishing conversations, and being on a boat.