Distance
"The distance was good for us. I wish more families could experience distance like this. It is different than him being at school, or gone for a weekend. It is different because he is not a phone call away, or constantly stimulated, he is gone on an adventure—one that kids these days may not understand at first, but one that is necessary. It was a necessity that my child experience this." —Parent of an Intercept alum
The Outward Bound Intercept curriculum is tailored to serve our students and their families with what they need the most—strengthening their interpersonal skills. Families learn productive ways to help them with assertive communication, anger and stress management, goal-setting and coping skills.

Students embark on an outdoor adventure while their family goes through their own experience at home, without them. This can mean for the first time that some families are truly away from one another. While this can be disconcerting, the distance can make all the difference. Students are away from their parents or guardians for weeks at a time, but that time is essential for both sides of the family to reflect on themselves, their relationship with one another, to gain a fresh perspective on their impact, and to understand clearer where others may be coming from.  
"It's unique in so many ways. From a practical standpoint, it separates kids from the reactive dependency on technology and social media, which I think is extremely difficult. That alone provides a special opportunity for introspection that wouldn't otherwise occur." —Parent of an Intercept alum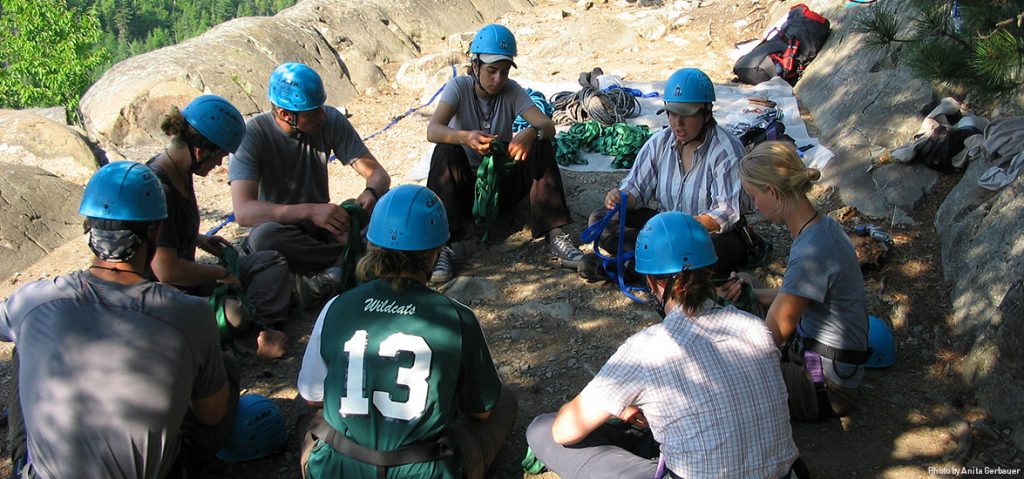 The space from their dependency on their family and technology allows students to focus on the goals they have set for themselves. They can reflect on what they are struggling with at home and think intentionally about who they are and who they want to be. The time away allows them to have a wholesome experience without everyday distractions among a group of strangers that eventually become a family of peers. The distance is only temporary though. On the last few days of a course, families are reunited. Experiences and learnings are shared, laughter erupts and families feel re-connected. Distance prompts vulnerability. Families see one another in a new light. Their time apart is cherished and celebrated.
I often reflect on the most recent Intercept course I instructed, a canoe expedition in the Jurassic-like terrain of the Florida wilderness. The crew of young men (ages 14-17) were natural jokesters, cared for one another unconditionally, and expressed all the time: "I love you guys, but I need some distance." That may be why the course sticks out to me among others I've instructed. With distance as the common denominator, the student's ability to reflect and learn multiplied. Away from their families, the comforts of home, and even from each other at different points on our course, the distance contributed to the strength in community they formed, the closeness they felt. Students on course live so presently with one another and before they know it their experience comes to an end. An experience that can't last forever, and shouldn't, because the learnings come later, they come with time, after reconnecting with their world at home.
Connection
Intercept courses are unique for a variety of reasons. One outstanding reason is the Parent Weekend Seminar that happens at the end of a course. When the crew returns home from their wilderness experience, Instructors start preparing a seminar of lessons and activities for the parents and guardians of the students. It is easily my favorite part of the course experience. Instructors learn so much about each individual student while living in the wilderness, and when we meet each student's family, we can teach them the specific techniques that worked for their child. The Parent Weekend Seminar allows parents and guardians to come together and share their triumphs and struggles, to brainstorm strategies together presented by Instructors, and take advantage of a forum that helps families share their hopes for each other moving forward. Months after a seminar, a parent reflecting back on his experience said, "The similarities among the kids and the parents, in terms of the difficulties each was facing was a big learning. We all came from different places, and are different, and yet the concerns and frustrations were so similar. This was reassuring, in a way, and made all of the discussions more relevant to our situation."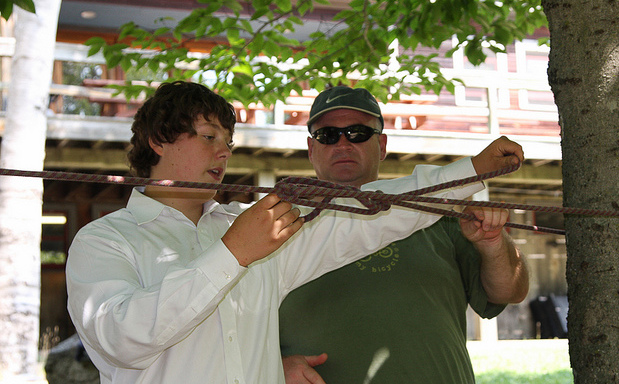 It's a special weekend—full of questions and inspiring ideas, tears from reuniting after a long month apart. It's a special weekend because for the first time in a long time, families can feel close again.
"We are much more communicative and responsive. We now put in an increasingly high amount of effort to understand where each other is coming from. It's hard, it's really hard sometimes, but it is worth it. I know how tough that course was for her and how much she took from it, and how much more it can mean to both of us if we continue working on things," said another parent reflecting on her and her child's relationship since their Intercept experience. And that's just it. The wilderness phase is the preparation for the seminar weekend, and the seminar weekend is the preparation for a hopeful future at home.
The reunion of families at the Parent Seminar Weekend is a gentle reminder of how often we can go unappreciative of what matters most.
"I just appreciate them so much more: my parents. I can't believe I didn't figure that out until now," one Intercept student said, months after his Intercept course.
Reflection
The young men from the Florida canoeing course were unafraid of their fate. They took pride in their accomplishments and learned how connected they could become when they risked being vulnerable—maybe for the first time in their lives. The notion of being part of something bigger than yourself settled in us all. Sentimental and challenging moments on our course contributed to the heavy, euphoric feeling of connection they felt when they reunited with their families at the end. Those boys and their families were changed. One parent said, "This program put my son's entire being through the experience. It wasn't just cognitive." They may not have known it then, and they may not know it now, and that is what is special about it. It takes time, it takes distance, and it takes reflection to comprehend the experience in all its facets.  
"Let go and trust the process. Don't try to understand it all," said a parent, describing her wish for other Intercept families. "You will be nervous, and you will have doubts. That's the important part. Just stick it out and you will be glad you did," her son said, giving advice to future students.
Remember What Is Important
Although an Intercept course seems like a long time to go without being able to communicate with one another, the time away is crucial to the profound change that can occur. Let nature run its course, time away is time to reflect; remember what is important and why family matters above all else. Saying yes to an Intercept course is committing to yourself. It is recognizing that distance from comfort presents challenge, and challenge produces growth. Instructing Intercept courses has shown me how transformative these experiences can be, not just the student embarking, but for the whole family. I asked one family to identify the biggest difference in their dynamics from before the course to months after it and a simple and thoughtful answer ensued, "We talk more! What a concept, really. Put the phones down. Tell me how you're really feeling. How could I have missed this before? How easy it is to forget and how easy it is to do." Intercept courses have the potential to strengthen a family. Embark with heart and take advantage of what distance and time can do. The experience won't last forever, but the learnings will never fade away.  
"I feel myself looking back on that weekend, more to remember how different my son seemed as a result of his experience. When we got home he returned to some of his usual ways, but there are important differences. To a significant extent, he may still be processing the experience, I wonder whether it relates to what the Instructors said during the Parent Weekend: that the experience is so much more for them, that re-entry can be difficult. I know he has a lot of positive and empowering memories and experiences to draw upon, and I trust he is doing so, and will do so increasingly over time." —Parent of an Intercept alum
About the Author
Blaine Weiss is an outdoor Instructor who works primarily with the FINS and Intercept programs of the North Carolina Outward Bound School. With a background in film and writing, she seizes opportunity to fuse her interests in the creative arts with her love of the outdoors.