Whether it's opening the windows to the first days of spring or preparing for a wilderness expedition, this is a magical time of year to get outside. But it shouldn't feel like a drag! Do you need help getting your child to put away the video games and iPad?
Kids get excited to spend time outside when they are needed, when they are comfortable and when they feel a sense of wonder. Here are 14 ideas to get them in the right mindset.
Feeling Needed
Until recent history, kids spent a lot of time outside not because they were 'outdoorsy,' but because within their family and household life, they were needed. 'There are three ways of trying to win the young,' claimed Kurt Hahn, founder of Outward Bound. 'There is persuasion, there is compulsion and there is attraction. You can preach at them, that is a hook without a worm, you can say 'you must'…and you can tell them, you are needed—that appeal hardly ever fails.' When kids are needed, they often rise to the occasion.
Start a job rotation. All Outward Bound courses involve sharing responsibility among the crew. Often this is in the form of a job rotation, where the crew decides what jobs need doing and designates a system for sharing them. By including outdoor activities in your family's job rotation, it makes going outside part of daily life—like taking out the trash, using a composting system, watering outdoor plants or filling a bird feeder.
Give kids ownership of a project. In addition to helping with daily chores, kids feel needed when rising to responsibility appropriate to them. Give kids ownership over caretaking that happens outside. This could include looking after a pet who needs outdoor time, working on a construction project outside, gardening at home or at a community garden or doing outdoor crafts.
Walk or bike for transportation. Human-powered commuting is a sure way to get outside when you need to get somewhere!
Let kids navigate. By letting kids navigate, whether it's by car, public transport, bike or foot, kids take ownership of their travel and become more aware of surroundings. Provide resources like paper maps, or ask together for directions, and talk through a plan of how to get there (without using a GPS!). Truly follow their lead, even when that includes the joys of getting lost. Chances are they will learn from this experience and remember it more than arriving at your destination with the help of online maps.
Find community outside. Kids feel needed when engaging with a group of other people who are expecting them, from a family hike to an outdoor sports team.
Feeling Comfortable
We feel more able to try something new when our basic needs are met. Every Outward Bound course begins with gathering the gear and food that we need to be comfortable in the outdoor environment we're entering. After all, it's not about surviving, it's about thriving!
Have the right gear. Visit local or online yard sales, share gear with local families or look out for seasonal sales at outdoor gear stores. It makes a big difference to have a snowsuit for building that snow cave, rainboots and a raincoat for splashing in the spring mud or a broad sun hat for a sunny paddling day.
Learn to swim. Kids always have room to become more confident in the water. Being a strong swimmer in the pool helps build confidence, and it opens up a world of outdoor activities.
Make an outdoor kit. Gather what you need for a spontaneous outing—a water bottle, snacks, rain gear, sunblock and a compass. You'll be prepared for any outdoor adventure!
Go on mini-adventures. Practice getting dirty. Jump in the leaves. Set up a tent inside or outside and practice sleeping in it. Take a new route to school and see what you notice. Inspiring curiosity can do wonders for the imagination.
Feeling Awe
When sharing nature with kids, Rachel Carson says, 'it is not half so important to know as it is to feel.' Kids will want to return outside if it's fun, surprising and awe-inspiring. Introducing kids to the outdoors doesn't take a vast encyclopedia of naturalist knowledge, it only takes modeling and encouraging a sense of curiosity, openness and excitement.
Play outside. The very best way for kids to discover the outdoors is to have the space to follow their own curiosity in a local park or backyard. The classic book on outdoor play is Joseph Cornell's, Sharing Nature with Children.
Turn off the screens. Spend time outside without the distraction of notifications and without the self-consciousness of cameras. This allows everyone to be more present and catch magic you wouldn't otherwise see.
Talk to a local naturalist. Find out about programs at your local conservation area. Having a basic sense of the plants and animals, weather patterns and stars which surround them makes kids more attuned to noticing what they might otherwise pass by.
Try local food. Join a local Community Supported Agriculture or choose locally grown food, which brings kids awareness to the changing seasons and how food grows outside. In the winter, try making a lemony-tasting tea with spruce and sugar. Through the spring and summer, find honeysuckle, dandelion greens, red clover flowers or berry bushes.
Observe from a sit spot. Kids notice the ways in which outdoor environments are stimulating and enthralling when they keep track of observations. That could include tracking the time of sunrise and sunset, looking out for birds migrating north, noticing tracks in the snow or scat of local critters, looking at the stars or watching the phases of the moon. A sit spot is a place a kid can go to for five or ten minutes to observe their surroundings. When they return to the spot, kids build a relationship with the outdoor place.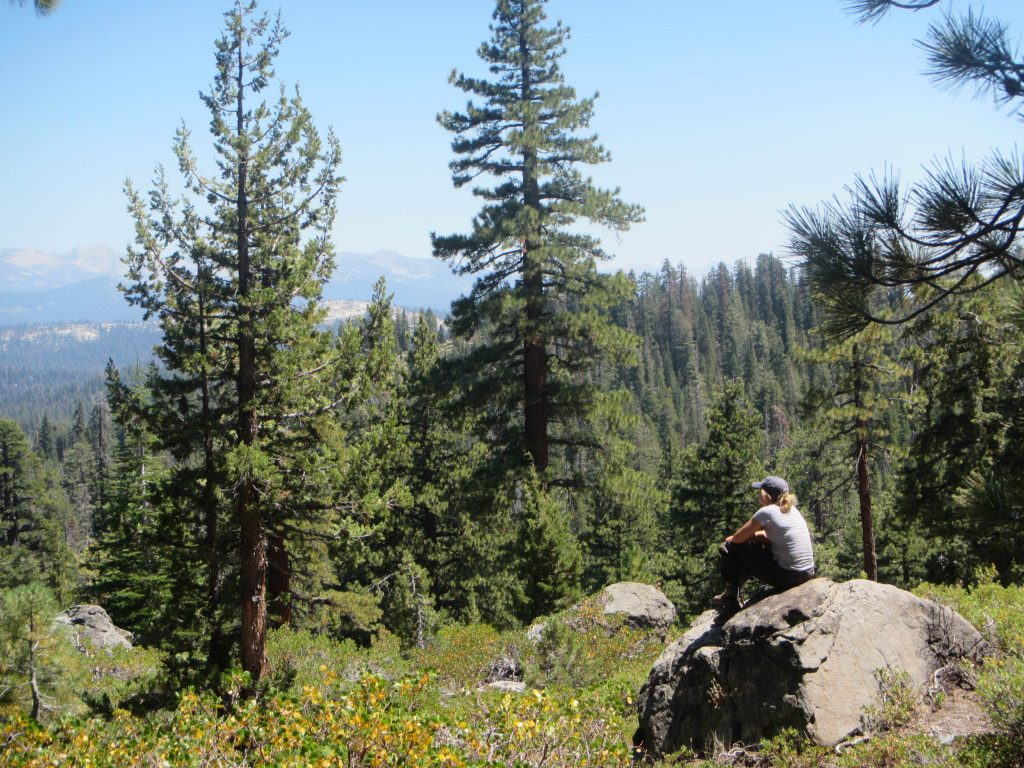 The start of the season is a perfect time to set outdoor goals and to question what's stopping you from fulfilling them. Will you bike to school on Tuesdays? Will you go to the park on weekends for pick-up soccer? Will you hike to the highest peak in your state? Will you learn a new birdsong? Pick an idea and go for it. We'll see you outside!
About the Author
Nora Spicer has instructed backpacking and canoeing courses at Hurricane Island Outward Bound School for five years. She has an MA in Environmental History from Harvard University and aims to bridge wilderness living and academic study through outdoor education. She is currently developing curriculum for an expedition-based semester program traversing US-Mexico borders by human-powered travel, and is traveling for research on Borderlands education.