The recipe you need for when the pizza cravings creep in.
There's no better way to stave off rainy day blues, homesickness or any other dip in morale than hot comfort food when you're camping. Endlessly variable and popular, pizza can hit the right note whether you're on Day 10 of a sea kayaking trip or escaping to your favorite state park for a couple of days.
Read on for my favorite ways to convert your frontcountry favorite to a backcountry staple!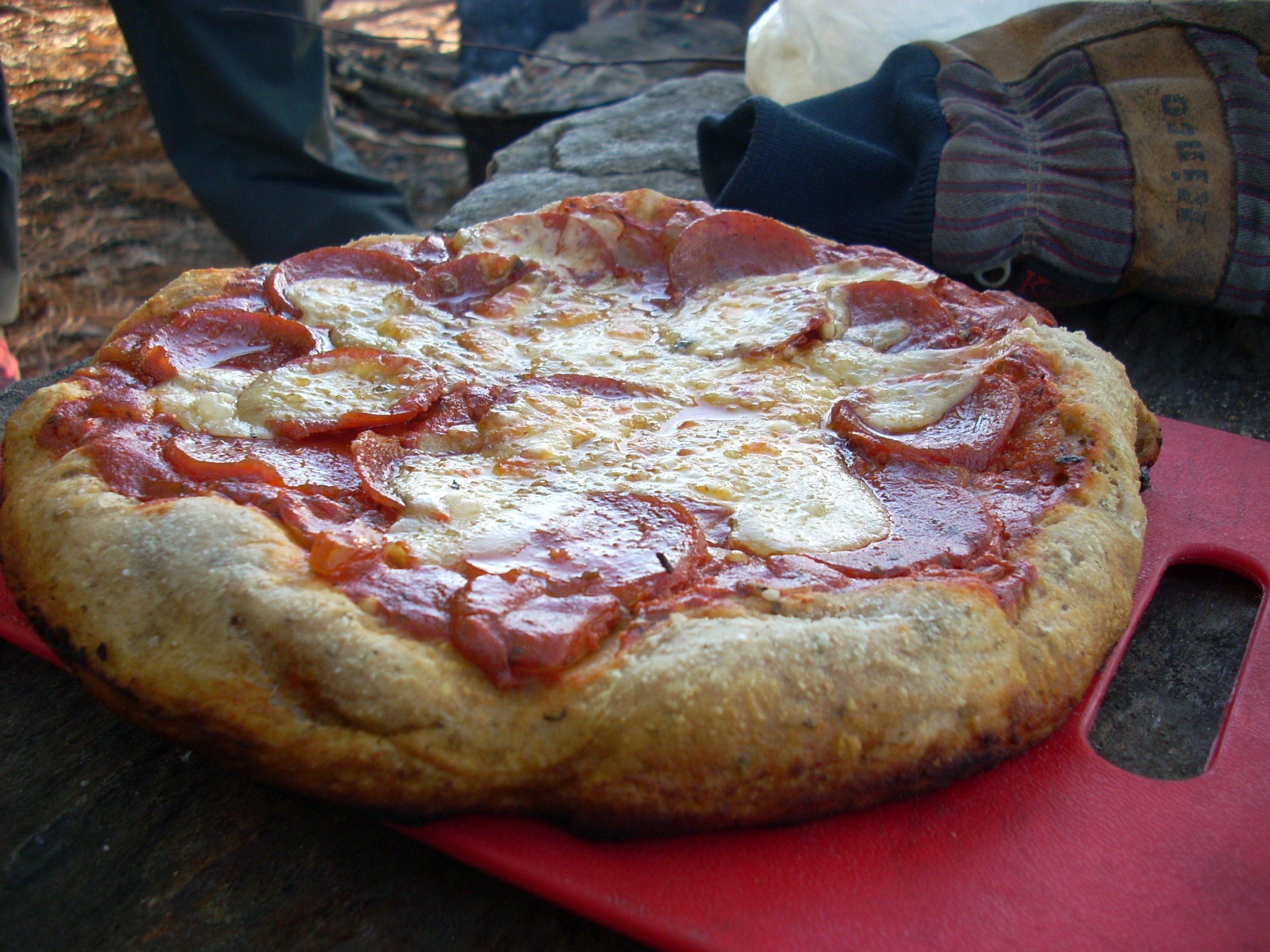 1. The Pizza Crust
Here's where I implore you not to skimp on this step. There are some sad alternatives (see below), but if you can build a fire big enough to bake over, nothing beats a yeast dough. This is my backcountry pizza crust recipe. As always, if you have a favorite pizza crust recipe you use at home, you'll be surprised how easily it converts to the woods.
3 cups of flour
1 package yeast (3/4 tablespoon)
2 tablespoons oil
1 tablespoon sugar
1 cup of warm water
You can pre-measure and combine the dry ingredients ahead of time during your food packing so that all you need to do in the woods is add the oil and warm water to the bag of dry ingredients. This dough recipe is ready to be baked right away – no need to rise.
Alternative Pizza Crust Options
If you can't bake your crust due to fire restrictions or other limiting factors, here are my opinions of the alternatives, ranked in declining morale.
Store-bought crust: pre-baked, frozen or refrigerated.
Pita
Tortilla
Bagel. If you get here, you're just eating lunch.
2. The Sauce
I've tried several more times than I should have to make a suitable sauce from dehydrated tomato crystals. I've also tried tomato paste with additions of oil, water, herbs, and salt. I've concluded that the pros do it better, and now I'd rather bring shelf-stable pizza sauce in a plastic squeeze bottle than make my own. Shelf-stable barbecue sauce is also a great option if you're varying from the traditional.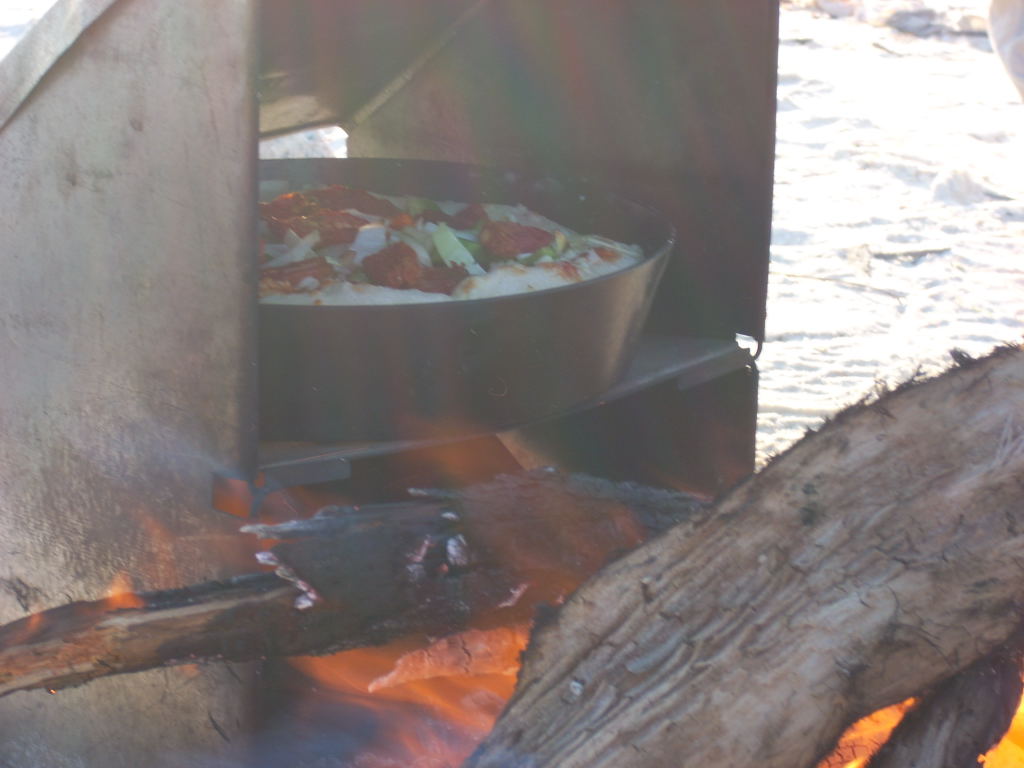 3. The Pizza Toppings
My cheese of choice is cheddar for its longevity outside of the fridge and its durability. Many grocery stores now sell olives packed in pouches with limited brine, making them perfect for camping. I usually choose a pepper as my fresh veggie of choice, as they tend to hold up relatively well. Onions, of course, are nearly indestructible. Pepperonis are easily found in shelf-stable packages, and you can also find pre-cooked bacon. Sun-dried tomatoes are another lightweight option.
4. The Tools
A deep-frying pan or dish that you can bake in, ideally with a lid, will help you achieve your backcountry pizza dreams. If you've got the room for it, a foldable reflector oven can make baking so simple that you'll be doing it every night of your expedition!
Your creativity is the limit for where your dinner goes from here! Pretty soon you'll find yourself in my situation: eating better in the woods than I do at home. Sometimes the best part of camping is celebrating being free of all your other responsibilities and having the time to craft the perfect pizza.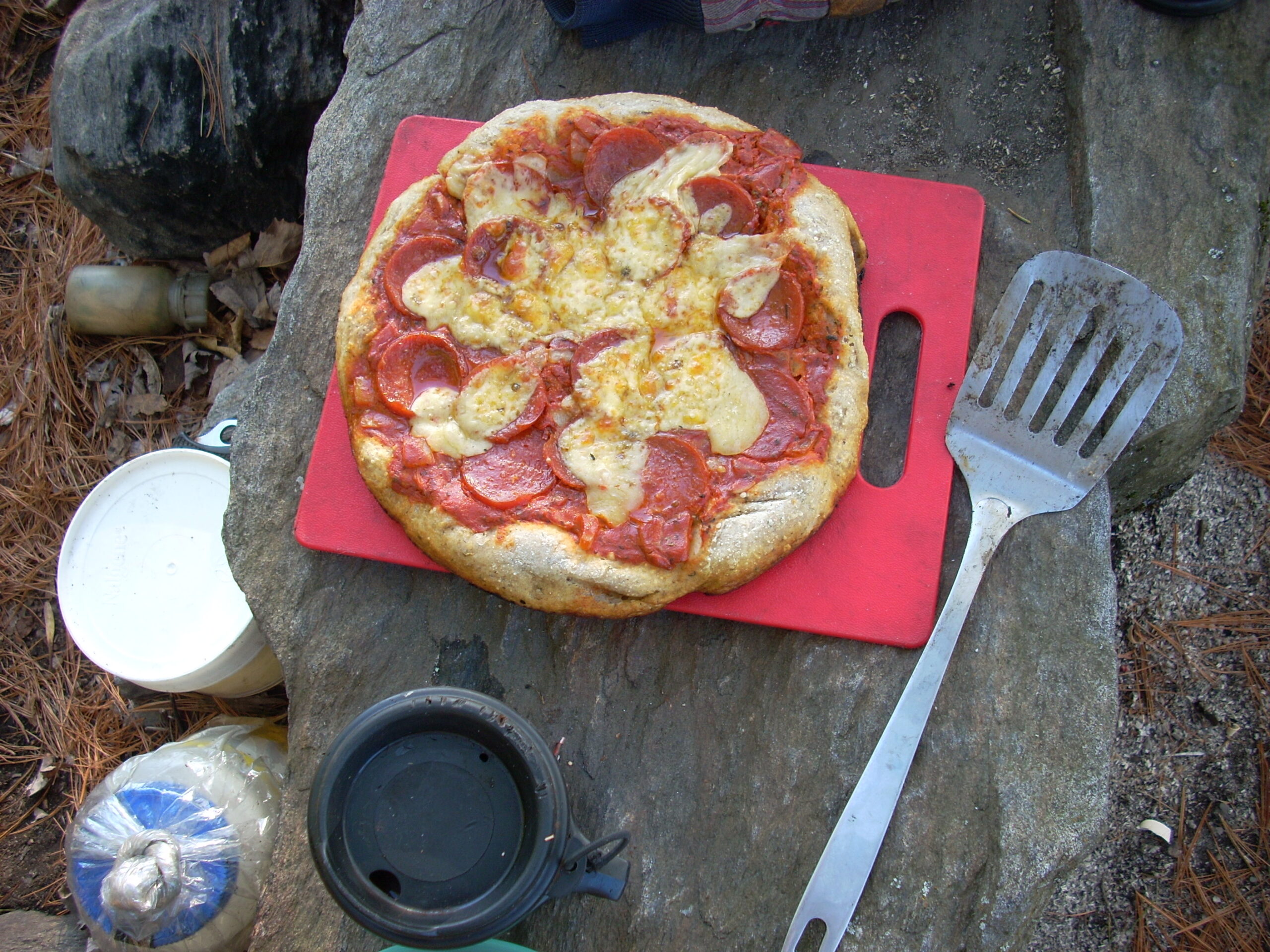 ---
About the Author
Renee Igo was an Outward Bound student at age 15 and has been instructing wilderness expeditions for the Voyageur Outward Bound School for the past eight years. When not instructing, she holds a variety of other teaching positions and raises sheep in Maine.