While my Outward Bound fieldwork is on hiatus at the moment, I find that now I'm upholding myself to Outward Bound's values more than I ever have before. I just finished a morning shift at a local grocery store; my workday started at 6 am and ended at 2 pm. Even though I'm not waking up to the fog hugging the mountains, surrounded by a community of eclectic, driven and diverse Instructors, I'm still waking up with an immense amount of gratitude for what my years in the field have taught me. As I get ready for work, I may not be waking up on the dirt, but I'm still waking up before the sun. Whether I'm instructing a course or bagging groceries, I'm still waking up me—with the same values—meeting every new experience with an open-mind, authenticity and compassion, above all. 
Every job has its purpose, and often enough, if you take the time to look, you can find the value that each one has in helping others. Many of us hope to 'make the world a better place' and that's achievable if what matters to you is the intention behind the little, often unnoticeable, daily actions you and others do. While I'm working at a grocery store, I'm interacting with a sea of strangers in brief encounters, and even if I may never see them again, I still meet them with the respect and attention I give to my fondest friends. Because what I value and find meaning in is creating relationships, making people laugh and feel at ease. 
In a time like this, I want to remind people that regardless of what your job is—or hope to be—it's a way for us to practice what we value. I can be stocking produce at a grocery store, inputting data, fixing cars or brewing coffee. Regardless of what I'm doing to sustain myself financially, I'm greeting those I meet with honesty, humility and patience. I'm trying my best to show up and be present. I'll navigate what I'm responsible for, how I can contribute and positively change the situation, and learn from the newness that presents itself. 
Working is a part of our lives. And no matter what you find yourself doing, remember that it's more important to do so with pride and dedication. I've had plenty of gigs that I assumed were temporary, and at a young age that mindset hindered my capacity to see lessons learned. Looking back on that, I recognize that mindset was devaluing the people that gave their time and energy to that work. The more life I experience, the more I see work as a part of who I am. And even off the clock, I have to work on my relationships and my hobbies. I can't stay close or connected to friends who live apart from me if I don't set aside the time to call or visit them. I can't write a book without honing my craft. And even at my job, bagging groceries or helping students learn how to orient a map, I greet my responsibilities the same—with positivity, patience and my utmost presence. It's not perfect every time—I get tired and uninspired too—but remembering what I value is what keeps me going and proud of what I do.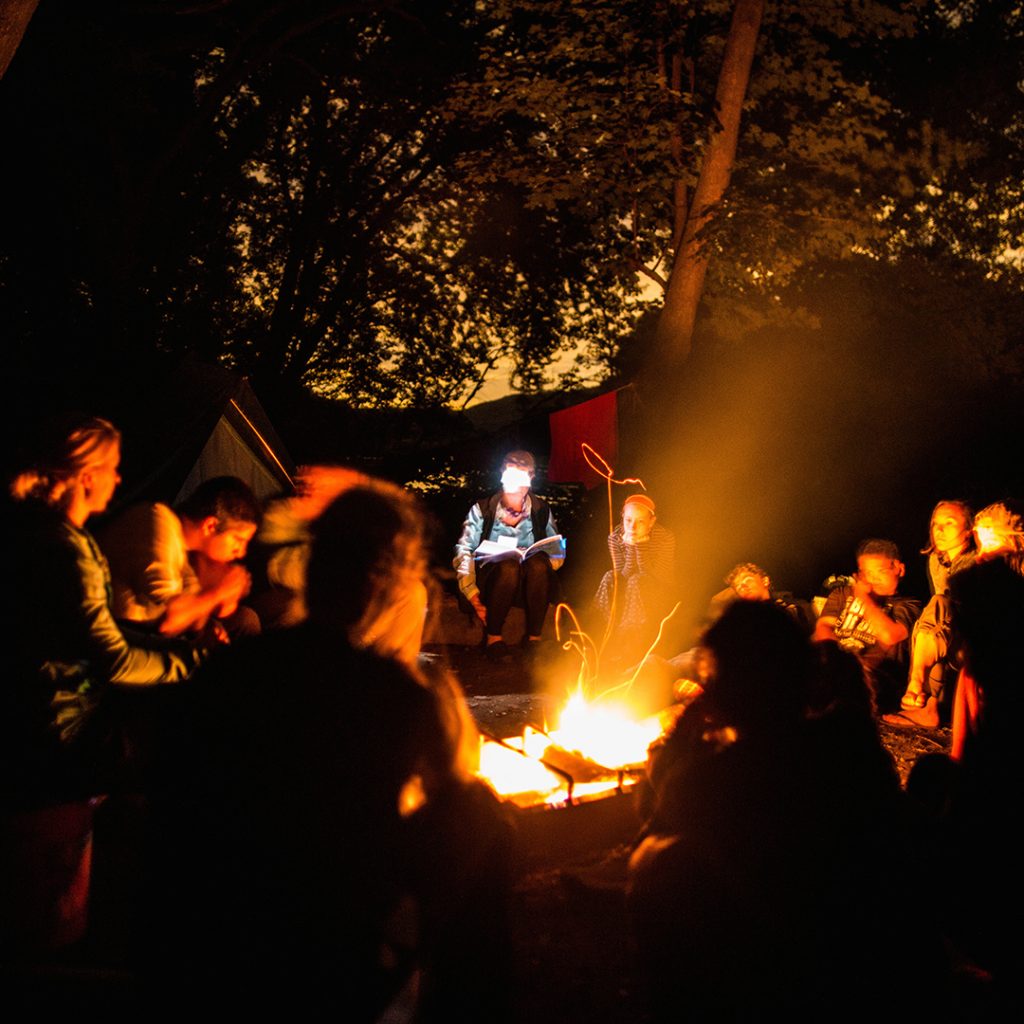 Bring Your Core Values to Everything You Do 
I miss instructing, feeling like a family with my students and co-Instructors, summiting mountains and building campfires. What I don't miss is who I am out there because that's who I am anywhere—when I'm bagging groceries, getting my oil changed, or filing my taxes. No matter what we're doing, we can strive to bring our core values to everything we do. And I think right now is an especially necessary time to ask ourselves if we're doing that in our day-to-day, socially-distant or not, lives.
It's routine for us (Instructors) to drum into our students that 'what you put in is what you get out' to any experience or task. I like to pull that one out of my bag of tricks when the crew is in a particular downer mood. Energy is contagious, and when they realize they have the power to shift their mindset it can be a true game-changer. The rain becomes a cleanse, not a burden, and the burnt rice becomes an inside joke, not a terrible meal. 
This may be the moment we prepare our students for. The true Outward Bound experience is when you go home after your course. Stepping into uncharted territory is scary, but what's often scarier and under-recognized is the transition home after that experience. Stepping back into the familiarity and certainty you know feels different, because you are different. It doesn't matter what I'm doing, or what any of them are doing, as long as you are doing it with heart, grit, honesty—whatever it is you value.
Appreciating Others' Work 
It's characteristic of our courses to have rotating jobs and responsibilities for each student. Not only is it helpful for each student to experience camaraderie through their work, and feel empowered to learn new skills, but it's essential that the jobs get done for their wellbeing. Cooking, for example, is done because we all need food. And it can be a new challenge for students, especially high-schoolers, to be given autonomy in the kitchen…and outdoors, with no microwaves or running water. We have no choice on an expedition; we have to cook our meals, there is no takeout on the mountaintop. This is a job that must be done, and students, while feeling stressed and annoyed sometimes with the limitations of it, also feel the satisfaction and pride that comes along with it when their hungry crewmates sit down around a fire to eat together and demand seconds before they even finish their firsts. 
For every job to be done, there's a purpose bigger than ourselves. It only takes a student or two to prepare the meal for the entire crew, and it's easy to get bogged down by the workload, but they're helping feed their family—this is a way that love and care is shown. My parents enforced family meals, and growing up I thought they were a bore and inconvenient to my selfish and social-oriented schedule. Now when I think about how I would do anything to be sitting around the table eating a home-cooked meal with my family, I reflect on the students I've had that gained an awareness around their own families' effort into feeding and cooking for them. The aha moments of gratitude. 
It's a simple notion and because it happens every day we don't think of it as a job necessarily—cooking and feeding your family, your crew, yourself. That can be hard work. And it's important to show appreciation for tasks like that and recognize that even if it happens to feel mundane, doing them with determination and dedication is what matters. 
Think about the service industry workers, many of whom are out of work right now, and how hard they work to create a place where people from all walks of life can come together and spend quality time together. Their work allows us to feel a sense of community. And right now, that's lacking. We go out to eat, for good food sure, but what keeps us coming back is the heightened communal spirit we feel, the people that work there and dedicate their lives to its mission. The people that are happy doing what they are doing. The people that know it doesn't matter what you do, but how you do it.
Finding Meaning in Your Job 
What jobs matter to you? And I don't just mean from a career, bill-paying, economic standpoint. Every job you do, meet it with a personal obligation. As an Instructor, it's my job to keep you safe. I tell my students out in the wilderness that it's not because I'm getting paid or that it's written in my contract, it's because I want to. I have to. It gives me meaning. 
It's reassuring to hear from grocery store customers that they appreciate the work I and my colleagues are doing. Thank you for coming to work. Thank you for making me feel safe. These are just a few of the small and kind words I've heard since I've started this gig. And it makes me feel respected and valued. I'd like us to practice that more—giving thanks for the conveniences in our lives that go unnoticed or unappreciated. Feedback, no matter what it is about, is of value. We're creatures of habit, and if we reinforce and identify positive habits or behaviors we respect and appreciate, it will heighten awareness, set the standard higher, and make people feel like the hard work they are doing is paying off in a positive way. 
During this pandemic, as we continue to practice social distancing, we have an opportunity to shift our perspective on what is important to us in a job. We've heard the term "essential businesses" referenced in abundance by our communities, and what's intriguing to me is what many agree or disagree upon as "essential." 
Of course, our most basic survival is dependent on feeding ourselves and keeping ourselves physically healthy, but wouldn't we as individual people with different experiences and values respectfully clash in opinion about what's essential? Isn't this at the foundation of what our biggest national and worldwide issues come from? What's essential to our humanity, preservation, and happiness?
At least for me, what is essential is what betters us as a people. Some people live to work and some people work to live. Regardless of what you do, think about what motivates you and provides meaning. We're not defined or limited to our jobs, we're defined and limitless to what we value. I love being an Instructor because I love helping students pinpoint what they value. That's why that work gives me meaning. But, the job doesn't start and stop in the wilderness. It's about bringing it everywhere you go. Instructing or not, I'll strive to be intentional, fair and compassionate with my work and community.  
Not Sure What's Next? Doesn't Matter
As you contemplate your next move, whether you're a high school graduate or ready for a new job, ask yourself how you show up to 'work' every day. It may be waking up early and treating yourself to the sunrise and a cup of coffee—demonstrating self-care. It may be going the extra mile and cleaning the house without being asked—demonstrating organization and helping others. It could be starting the project you've always talked about but haven't set aside the time to do so—demonstrating initiative and courage. Regardless of what you do, are you showing up with your values? Do you have an awareness of how the little things can positively and largely impact others? 
What we aspire and dream of changes as we grow and try new things, but what we value at our core is only strengthened. My experience with Outward Bound is far from over, and all the more tangible as I am in unfamiliar territory. My comfort is in my footing, walking steadily up a mountain, behind a group of students who huff and puff, complain and get tired, wish they could stop and rest, but who develop along the way an appreciation for hard work, the payoff that comes when you try your best at something that's not easy. Wanting to give up, take the easy way out, but face the situation with bravery and sincerity. That feeling is all the more satisfying when you give it your all. 
For those that are in the market for a job, ask yourself the bigger questions that are often satisfied with a simple answer. What matters to you? If it's giving someone your undivided attention when you're talking to them, then do that, practice it every day—on the clock or off. Are you working on a group project and feel like you're pulling more weight than your classmates? Tell them. That means you value fairness and feel like people should work for their worth. The little things we do each day add up, and if we practice what we value, then where we end up won't matter, what will is that we do our jobs with passion and pride. 
What will you get out of today? Simple. It's what you put in. 
About the Author
Blaine Weiss is an outdoor Instructor who works primarily with the Intercept program of the North Carolina Outward Bound School. With a background in film and writing, she seizes the opportunity to fuse her interests in the creative arts with her love of the outdoors.