The concert begins with our 'musicians,' people putting a pile of clothes, food, medical supplies, sleeping bags and tarps into backpacks, followed by getting dropped off in the middle of nowhere to begin a 1-2 week hike through the wilderness. Our main objective is to walk from point A to point B in X amount of time. The simplicity of our situation reminds me of the painfully familiar composition, Row, row, row your boat except in this case, it's Hike, hike, hike yourself……plus 45 extra pounds of gear on your back.
"Wait, what am I doing tomorrow?" they say, "Oh yes, hiking again."
"But what should I wear? Oh that's right, the only shirt and pants I have."
Simple.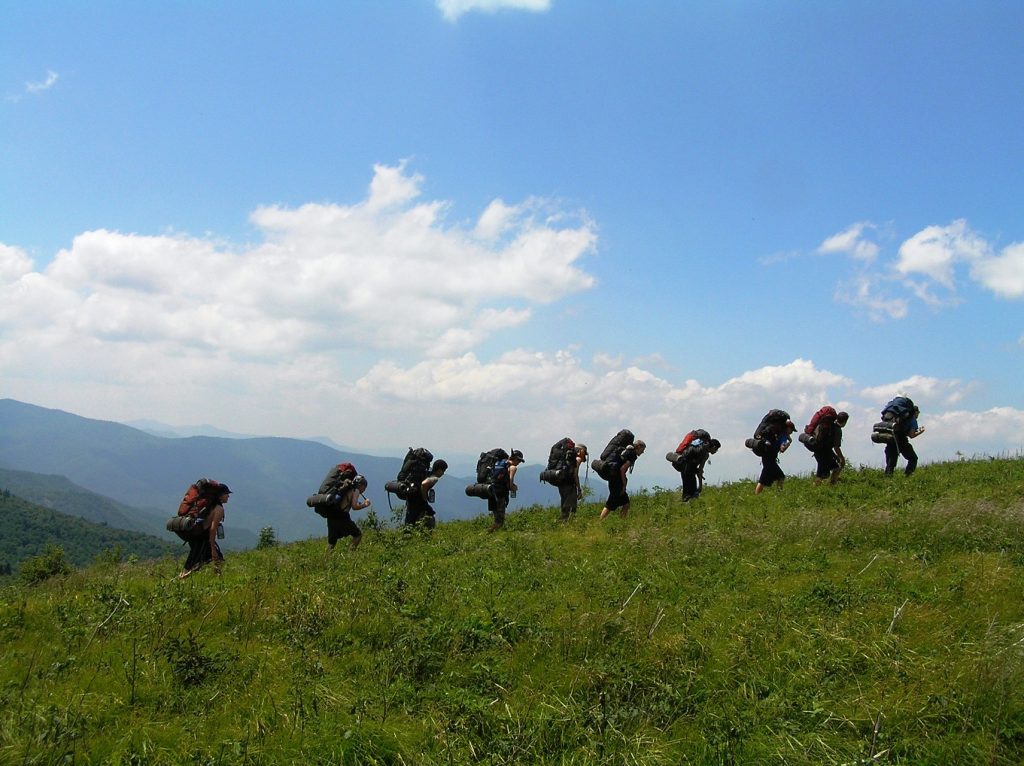 That simplicity becomes our reality. We hike, eat, sleep and repeat.
Since these 'musicians' are the only ones playing at this specific time and place, we are able to recreate and manipulate the sound. While everyone still comes bearing insecurities and their ideas of social propriety, we also recognize the delicacy and opportunity of creating a new community. Our new outlook changes, and sometimes personal habits alter as well. Leaders become followers and vice versa, inhibitions become liberated, weaknesses become strengths. Our new, temporary life in the wilderness allows this band of individuals to build a society that is created by and fitted to them. As an Instructor whose role is to help support and harvest a positive community, you find it's inevitable to have experiences that allow an ugliness, found in all of us, to emerge, but a lot of times you see in these communities what you wish the rest of the world could be.
As we trek on, the music becomes a steady drum accompanying the landscape's gradual alterations as we hike higher, lower and deeper, one low timbre of a heartbeat that we feel pumping life into this place. The magnitude of the scene before us, the height of the trees, the sound of the wind whipping through the valley, the ever encroaching mountains accepts the sound of our feet hitting the ground and we become part of the same striking force. It's a simple beat for most to follow, even for the beginning backpacker, however, simple does not mean it's easy. To move as a group can be at times the epitome of total agony. A blister, an uncomfortable backpack, an upset stomach, a mental breakdown – all part of this journey and pushes others to mental, physical and emotional limits. Sometimes we stop every 15 minutes, sometimes no one is on the same rhythm at all and we struggle to literally stay together every inch of the way. At this point as an Instructor, it is hard to lead, watch, follow and explain to students why we stay together. The easy answer is that it's simply safer, but there is more of course. In music, a band stays together because it obviously sounds better, but they also create something bigger than themselves when playing together. You come face to face with contrasting and similar sounds that you wouldn't have heard if played alone. And when forcing a hodgepodge of people that didn't get to choose their companions to play a song together, you can get a messy, loving, difficult, deep, complicated and surprisingly pleasing sound.
For most Outward Bound courses, the trip would end at 'point B.' We had made it to the final destination sporting new bruises, blemishes and a higher tolerance for each other. However, this group of WUrbaners* replaced their hiking boots with tennis shoes, changed their clothes and geared up for the urban part of our expedition.
*WUr·ban
/wₔrbₔn/
Noun
WUrbaners
A multi-week wilderness + urban expedition where teens get to experience the horror of being out in the wilderness without flushing toilets, electricity, and cellphone service paired with an Instructor's challenge of managing 10+ teenagers in a bustling urban metropolis of complicated bus routes, busy streets and a never-ending search for an open public restroom.
Don't be silly and start to think we stay in hotels with plush pillows and carpeted floors just because we are in the city. Oh no. We still carry our backpacks with food, clothes and tarps, and sleep in parks, zoos and churches. The trail ahead of us turns from dirt to concrete, and the occasional fallen trees and streams that had been our obstacles before are now transformed into a swarm of buses, cars and bikes. Not to mention we have to look out for the massive sea of people walking in every which direction. Then there's us. A line of backpackers wearing 70 liter backpacks trying to synchronize swim in a line while keeping our heads afloat and bodies unscathed. It's a drastic change of pace. We had transitioned from Row Row Row Your Boat and something like The Little Drummer Boy, to György Ligeti's études. Google it. I totally did. And if you don't Google it, it's a maddeningly complicated and fast-paced piano arrangement created for the sole purpose of making people dizzy. All this is highlighted by the fact that merely days ago we were simply hiking through the woods wondering how many miles we would walk until our next meal. Now, simplicity had been swallowed up by a black hole. We could no longer take a few steps away to 'water a tree' or set up camp on any piece of flat ground, or light a backcountry stove at our campsite. Cooking, eating, traveling and going to the bathroom all became very complicated.
Besides the added complications that can make an Instructor's eyes pop out, we are now provided an opportunity to shift our attention from nature to people, a whole lot of people. All around us, the city vibrates with the sound of dissonance, with poverty and wealth playing side by side. It is an uncomfortable and disjointed mixture of wonder and sadness over what has been created and destroyed through this constructive habitat. From working at soup kitchens to bus hopping our way through downtown, we interact with people all around us and experience a small sliver of what they do every day. We confront hunger, homelessness and waste, as well as achievements, community and culture. If the wilderness portion of the WUrban focused on building a strong community amongst one another, the urban portion focuses on how a strong community can bring about big changes. It is important to see groups of people work towards a collective goal that keeps hundreds of people fed, exposes art and culture to the public and creates a successful public transportation system.
As easy as it is to exaggerate the dramatic views and emotional euphoria, or for some the anguish and physical pain of these trips, it would be difficult for me to overindulge on the perspective gained through a wilderness to urban expedition. Some students, despite navigating the complex bus routes and crowded streets, preferred the city to the wilderness. With all the added difficulty of traveling as a group in the city, it was still a place of comfort and familiarity as well as stimulating and exciting. Others preferred the wilderness, feeling a sense of wild independence and physical stimulation, finding more opportunities to be who they wanted to be without the added pressures and expectations from their society back home. These different perspectives were the point of a course like this. Students experience the similarities and differences of surviving in two very different places. They are able to evaluate what they notice about themselves as an individual and as a team player. The wilderness gives students a chance to reinvent themselves, try a new role and challenge their bodies and minds. The city offers a chance to see how other people live and learn through its diversity.
The WUrban is an opportunity to see who you are, who you want to be, who you can be and what you can do.
It's challenging to describe the trips Instructors lead with students as well as the depth to our jobs. Like most careers, if you're not "in it," it's easy to picture a glorified version of the work. One can picture our silhouetted figures against a backdrop of snow-capped mountains or a group of students indulging in warm, chocolatey backcountry brownies after a strenuous hike. And yes, those things happen and are incredible, but there are many wheels turning behind the scenes. Hence we can refer to the slightly embellished yet relatable analogy to music. And since I'm going to hold on tight to this musical metaphor I've been hammering in, György Ligeti's études was created as a way to challenge how we think of music, a polyrhythmic piece with multiple independent patterns coming together to move as one. An intense level of independence and coordination was required to play his compositions. Whether we are in a wilderness made of mountains and wildlife or one made of buildings and people, contradicting forces challenge every participant on an Outward Bound course. We are all individuals fighting to move as one and to play one song together, confronting different views and opinions along the way. I won't assume to know an all encompassing outcome to a WUrban that relates to every participant. No one person hears and feels music the same way. However, my hope is that when we stopped on a long hike to allow someone to rest, we learned about compassion. When we quieted our own voice to listen to one another, we found respect. When we led and followed, we veered towards empathy. And if we fought along the way, we set aside pride to forgive. Easier said than done, I know, and a bit starry-eyed, but the WUrban is written as a challenging composition…. and I'll keep playing.
***
Interested in an Outward Bound expedition that includes an urban experience? Be sure to check out upcoming Wurban expeditions. 
About the Author
Tara Shackelford studied musical theater at Sam Houston State University, and graduated with a Bachelor's of Fine Arts in 2013. She is a certified fitness instructor, specializing in kickboxing and one-on-one coaching. Tara started her experiential education career at The Outdoor School in Marble Falls Texas. Her love for nature and working with young people lead her all over the country, from east to west. Tara has been changing the lives of individuals through her enthusiasm and passions. Tara is an avid beach volleyball player and she deeply enjoys composing her own music as well as playing piano and guitar. She currently works as an Assistant Instructor for Outward Bound California and leads backpacking trips with kids and young adults.