My first Outward Bound experience was as a student on an 8-day adult women's sailing course. When I first saw the pulling boat, First Mate, bobbing against the dock, I was sure that this little vessel would just be transporting my crew to a larger ship for our sailing expedition. Where would we sleep? Eat? Poop?
But we started loading First Mate to set sail that evening, and it became obvious that this 30-foot pulling boat would become our new home. We would set anchor in the twilight and lay out the oars to sleep on as the waves lapped the hull, dinner sizzling on the camp stove in the stern of the boat. Before dinner we gathered hungrily in the stern, knees and elbows touching, a salty breeze blowing through. We quieted ourselves from the day and listened to a quote… 'A ship in the harbor is safe, but that's not what ships are built for.' (John A. Shedd)
After eating dinner, we decided on a night watch rotation—taking turns to sit at the helm looking out for approaching vessels. In the silence of the starry night, we put our faith in each other to keep the crew safe.
We then moved through the rhythms of the day together. At dawn, it was time for our morning dip in the frigid waters. We divided up jobs for the day—navigator, cook, captain. Every crew member was necessary, and from that need, we came to really care about each other.
As we weathered many surprises together, my crew started calling ourselves the Sail Sisters. I never expected that waking up at 3am to cross a bay with the tide and winds would be magic. Rowing across a tranquil expanse before sunrise, the sun slowly rose ahead of us as the moon set behind, porpoises surfacing beside. And I never expected the salty sea would bring out so much laughter and companionship in people. When we returned to the harbor, we were worn by the wind, work and sun, unsteady with landsickness (briefly feeling as if you're still on a boat), and clutching our abs which hurt from having laughed so hard.
Boats Are Teaching Vessels
"One of the biggest differences between a sailing and a land course is the concept of space," Rachel told me. Rachel is a fellow Outward Bound Instructor in Maine, where we both instruct courses—I focus on backpacking and canoeing, and she focuses on sailing. "In both environments there is an expectation of being with the group 24/7, but on a land course there is always an option to physically walk away for even a minute—even if it's just a quick trip to the stream to fill your water bottle or to the woods to use the bathroom. On a sailing course, you need to work together to accomplish every task. You are physically and emotionally dependent on each other, which is beautiful and challenging."
A sailing course embodies Outward Bound in its most essential form—leaving the comforts of what we know in order to learn more than we ever expected. I asked Alicia Witham, the Associate Program Director of Outward Bound in Maine, what keeps her at Outward Bound. "I truly believe in the transformation that happens when you live on a pulling boat for a period of time. The boats are true teaching vessels for new technical skills and for insights into ourselves."
It's not easy to leave what's familiar and go Outward Bound. Nate is an Instructor and Course Director. "My most ridiculous sailing story?" He recounted, "On our way to Isle Au Haut we took an early morning start to get in line with the tides. We thought this would help us combat the southwesterly winds we would be beating into all day. We were in full foul weather gear smashing across the bay for hours and hours on relentless, steep and choppy seas. At one point, a lobster buoy got stuck on our rudder. I was holding onto my co-Instructor's ankles while he was desperately trying to muscle our rudder into place!"
Challenge is nonetheless often followed by calm and accomplishment. "When we came into the lee of Isle Au Haut, the wind died down, we unfurled our mainsail, brought our tails out from between our legs and took a moment to relax, drink, eat, apply more sunscreen and take a deep breath before the next adventure came to greet us."
In leaving the harbor, the boat becomes more vulnerable on the open sea, and we become more vulnerable as learners embodying new skills. "I enjoy watching the students take to the boats and master the skills to move them," Alicia said. Outward Bound is unique in teaching students to become masters, able to independently navigate the vessel by the end of the course. Onboard the pulling boat, as in their lives at home, students are learning to be 'crew, not passengers.'
Rachel talked about what it was like to step out of her comfort zone and become part of the crew when she was a student. "Something that I learned—or maybe realized—on my last sailing expedition is how much control we have as individuals over how much we learn in a given situation. I was nervous about doing things incorrectly and thus I didn't often volunteer to try new things or put myself in a vulnerable position in front of the group. There was another inexperienced sailor on that trip, but he just went for it more than I did and he subsequently learned all of the skills more quickly than I did. I realized that letting my fear get in the way was actually inhibiting my ability to learn and grow."
Leaving the harbor is not something that we can do alone. Leaving the harbor is about connection—to ourselves, our crew, the wind and the tides. It's about paying close attention and caring for each other.
Rachel said she didn't expect to learn the power of communal song. "On a pulling boat, when there is little wind, the crew must row to keep making progress. When we were tasked with rowing we often sang a silly improvisational song that kept us all focused, engaged and enjoying ourselves. This was a good reminder for me that there is community and joy to be found in any situation." 
The Voyage
"I have spent so much of my time in the past few years facilitating challenging and adventurous experiences for other people and I wanted to have my own such experience," Rachel reflected.
When they're not in the field, Outward Bound Instructors are often eager to find their own adventures. In October, a crew of Outward Bound staff set off on The Voyage, a 30-day sailing expedition in Florida Bay, the Keys, Marquesas and the Everglades. "I learned that planning a sailing adventure during hurricane season means you need to be flexible with your planning," Alicia noted. "Originally we were going to sail from Baltimore, Maryland to Oriental, North Carolina. Now we're sailing in Florida, due to Florence." And the crew may still need to be flexible with plans!
Before setting off on expedition, the crew is busily getting ready for the simple life that a sailing voyage affords, organizing gear and wrapping up loose ends at home. Rachel said, "One thing that will make me feel prepared is to take care of tasks in my life so that I can be fully present with those around me on The Voyage. I think I will have enough to be worried about with the day-to-day happenings." Alicia reassured me that "the beauty of the pulling boats is the simplicity of the gear that's needed to sail them. We don't need much, in terms of boat gear or personal gear. We make do with what we have, and if we don't have it we don't need it!"
Rachel is also getting ready for the expedition mentally and emotionally. "What fuels my desire to go on The Voyage is also what I am most fearful of," she said. "…The feeling of trying something new, being uncomfortable, not knowing what to expect, failure. As an adult it can sometimes feel like I am past my, "learning prime," and I want to remember that there is always room for learning."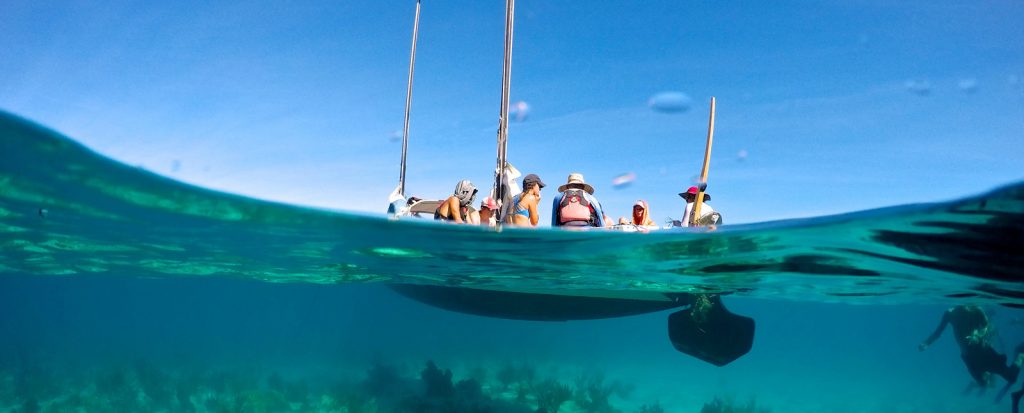 "The biggest thing for me to prepare is just to pump up my confidence and remind myself of all that I can contribute to a group of people. Even if I am having a hard time with the technical parts of the expedition I know that I bring many positive qualities to any group and I will make sure to keep these qualities fresh in my mind when I feel useless in other ways. I pride myself on my ability to be a team player and to be caring for those around me. I can deal with the unexpected, whether it be long days with little sleep or random encounters with fellow humans. I know how to cook a decent meal. Being confident in these skills takes a bit of the edge off of my lack of knowledge or experience with sailing."
Sailing expeditions range in length and are available for a variety of ages. Plan your next sailing adventure here.
About the Author
Nora Spicer has instructed backpacking and canoeing courses at Hurricane Island Outward Bound for five years. She has an MA in Environmental History from Harvard University and aims to bridge wilderness living and academic study through outdoor education. She is currently developing curriculum for an expedition-based semester program traversing US-Mexico borders by human-powered travel, and is traveling for research on Borderlands education.